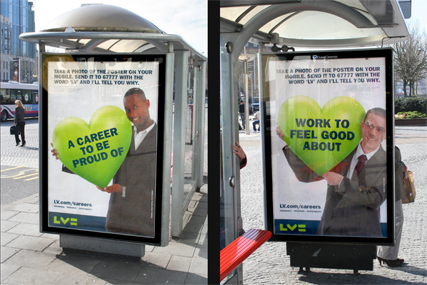 The ads, which will run on poster sites, bus shelters and on taxis, has been created by creative agency ThirtyThree.
They feature different staff members holding LV='s green heart logo, with different slogans such as "Work to feel good about".
People can choose the LV= call handler they would like to hear from by taking a photo of the ad, and texting in the picture. The chosen handler then calls them back.
For each text received, 10p will be contributed to Great Ormond Street Children's Hospital.
LV= is hiring staff across its 28 UK offices, including at its Bournemouth head office and smaller sites in Bristol, Croydon and Huddersfield.
Stuart Affleck, head of resourcing and development at LV=, said: "Using existing employees to tell jobseekers what LV= is all about, and what it's like to work here, should be a powerful technique to encourage new, talented people to join the LV= team."
Earlier this year, LV= refocused its marketing strategy on brand-led TV ads in primetime slots, to improve awareness of its mutual status.