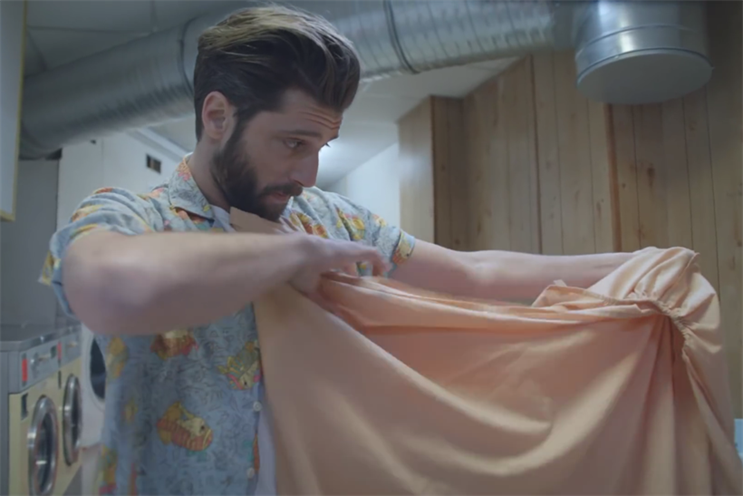 The rethink, which came complete with new strapline, "Find your magic", was conceived to help the brand keep up with changing gender ideas and to shift the brand's appeal up the age scale.
Rik Strubel, the global vice president of Lynx (and Axe, as it is called in most markets), said at the time: "We have been catering to teenage guys and we are now talking to his older brother, who is in university."
Following the first ad, from 72andSunny Amsterdam, which introduced the new messaging of individual men celebrating what makes them unique, the brand has turned to Argentinian agency Ponce for a spot on its hair styling range.
It was a big move to leave behind Bartle Bogle Hegarty's long-running "Lynx effect" campaign – described by Saatchi & Saatchi's group chief strategy officer Richard Huntingdon as "quite simply one of the greatest campaigns in advertising history" in a Campaign article in February.
Despite the shadow cast by BBH's work, Huntington argued that it was essential for brands to embrace new narratives of masculinity and says the new ad, while perhaps less impactful than the first, continues to do that.
"It's clearly a tricky brief to work styling into the overall brand story while making sure grooming stands on its own feet as a product range," he says.
"It's great fun and insightful about the real qualities that are endearing about men – though it lacks a little of the stature or gravitas of the original work from 72andSunny. It's a good job on a tough range extension, but the real test will be the main brand follow up."
Andy Booth, a creative director at VCCP, says that the latest ad continues and develops the relaxed, enjoyable feel of the previous one.
"The first ad was designed to launch the new positioning, and does it well, with a charm, wit and originality that isn't trying too hard," he says. "The shackles have been loosened on the second ad and the dials are turned up slightly in all areas – but it's still not trying too hard."
The James Blunt effect
The new ad's song is to the tune of You're Beautiful by James Blunt, who is perhaps an appropriate choice. Blunt – a former army captain who became a chart-topping troubadour, before gaining internet fame for the legendary humour of his Twitter replies – has a shifting identity that encapsulates the spirit of Lynx's new message.
You should be a journalist for the Daily Mail. RT @sweetfishtaco:@JamesBlunt gave me cancer with his shit music

— James Blunt (@JamesBlunt) March 21, 2016
I'm officially handing over my Cockney Rhyming title to @Jeremy_Hunt

— James Blunt (@JamesBlunt) February 11, 2016
That's Captain Bell-End to you, Hinchy. RT @dmhinchy: James Blunt is a major bell end

— James Blunt (@JamesBlunt) November 28, 2013
The tone of the ad is effective in building a connection with the viewer, says Logan Wilmont, executive creative director at Doner London. "It tries to capture the more rounded skills of being a modern man, rather than the overpowering smell of masculinity," he says. "It uses overstated irony, and feels a little more familiar because of that."
The overpowering smell of masculinity
That smell might be getting a bit funky these days, but it provided the stimulus for some terrific creative ideas from BBH, many of which are well remembered.
"Personally, I loved the old astronaut campaign where being an astronaut is the ultimate way to win the girl," says Wilmont. "This was a fantastic example of an idea that moved across every channel and kept the brand to relevant to a teen audience."
Of course, a brand cannot transform its popular associations overnight, so is Lynx doomed to stay linked to the laddish, sex-mad persona that brought it such popularity in the 90s and 2000s?
Not necessarily, says Sean Kinmont, founding partner and creative director at 23red, who believes that Unilever has handled the brand's progression in a way that will be plausible to consumers.
"It feels new and exciting, he says. "But what is impressive is that this transition appears seamless. Although the messaging has changed, the personality and tone of voice has remained the same – it's still Lynx. They have addressed male stereotyping under the radar and without fuss."
Booth says that as a brand with a young target consumer, Lynx should find it relatively easy to carry out a wholesale reinvention.
"Older consumers may continue to associate the brand with the past ads but they're probably not going to buy Lynx," he says.
"The new work is in line with the attitudes and aspirations of its current target market. This can only be good for the brand's reputation and there's no reason why these ads, although already good, shouldn't get better and better as the onus shifts from having to clarify the positioning to entertaining."
Bigger than just deodorant
One of the biggest signals of intent for Lynx was its work last November with CALM (the Campaign Against Living Miserably), a charity that aims to tackle the epidemic of male suicide – the biggest killer of men aged 25-40 in the UK.
The campaign saw digital posters, created by TMW, change every two hours to reflect statistics that suggest a man takes his own life every two hours in the UK, and culminated in a social media activation on International Men's Day on 19 November.
"Consumers today expect brands to have a social conscience, particularly millennials," says Wilmont. "The skill is making that connection in a relevant way. When it feels fake or disconnected, that's what triggers cynicism."
Kinmont says the affirmative attitude running through the TV ads gives Lynx permission to talk about "bigger issues" like suicide. "Rather than feeling cynical I suspect most Lynx fans will see it as natural part of the campaign point of view of what it now means to be a man," he says
But Booth has a word of caution: brands that want to associate themselves with such important issues need to be absolutely committed – and that means money
"It comes down to numbers," he says. "Marketing departments are in danger of getting into the habit of cutting off small chunks of budget and ticking the corporate responsibility box. There's nothing wrong with that – any good is good. But trust and integrity are more important to their consumers today
"The danger is in making a small commitment and portraying it as if it's something much bigger. You're not actually breaking any rules, but you are betraying your consumer's trust.
"It takes time to realign budgets and process inside companies and it's early days for 'responsible brands', so it would be harsh to judge. But brands with an appetite for moving towards longer, more meaningful corporate responsibility are the ones that will prevail in a world where the ongoing relationship with consumers will be king."
Revisit the Lynx Effect
The brand may have moved forward, but the ads created by BBH live on as classics of the form. Check out some of the best below.
"Ideal woman" (2000)
"Leather" (2009)
"You never know when" (2013)
"Angels will fall" (2011)
"Make Love. Not War" (2014)
"Touch" (2016)