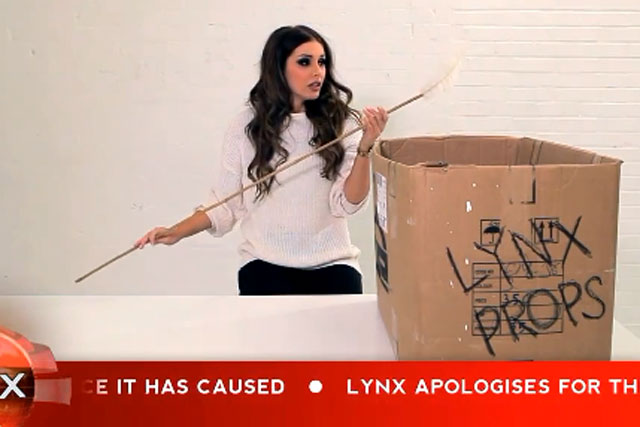 The campaign by TMW ran in June and July. It attracted 15 complaints, which were upheld by the ASA.
It promoted Lynx variant Dry Full Control and featured Pinder in various scenarios, including jogging, applying lip gloss and eating whipped cream off her finger alongside the brand's "what will she do to make you lose control?" tagline.
The end shot featured Pinder beckoning to the camera and viewers were asked to fill in the blank in the statement, "Lucy Pinder [blank]ing makes me prematurely perspire".
The ASA ruled that because activities carried out by Pinder were done in a sexually provocative way with a particular focus on her cleavage, coupled with the impact of the text, the ads were likely to be seen as degrading to women and were therefore likely to cause widespread offence.
The "sorry from Lynx and Lucy Pinder" response video, also created by TMW, was posted on Lynx's YouTube channel on Friday.
It features Pinder, uncharacteristically covered up in a white jumper, returning the props she used in the banned campaign and saying "sorry" at the end of the video.



The video has attracted 43,684 views and 100 comments on YouTube.