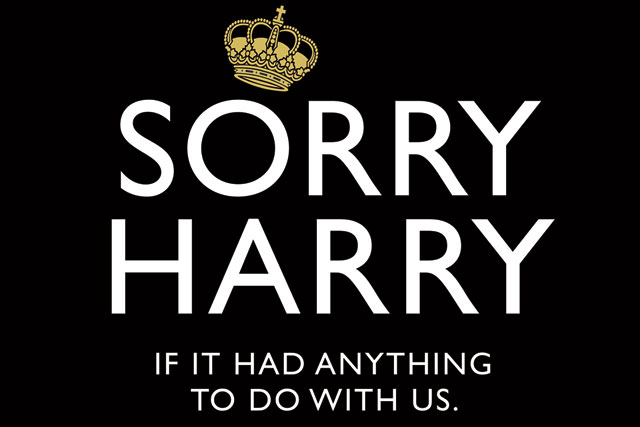 The ad by Bartle Bogle Hegarty states, "Sorry Harry if it had anything to do with us" above a picture of Lynx's newest scent, Lynx Attract and the brand's strapline "The Lynx Effect."
It uses the same recognisable typeface as the Government's "keep calm and carry on" posters.
The Unilever-owned brand's advertising has long used the strategy that its scent makes men irresistible to women, as seen in its latest creative by TMW to celebrate the brand reaching one million Facebook fans.
Prince Harry was pictured naked in Las Vegas last week during a private weekend spent with friends. The images first appeared on US celebrity site TMZ, which reported the Prince had been playing "strip billiards".
The UK press was contacted by the Press Complaints Commission (PCC) on behalf of St James' Palace last week to remind editors that the pictures of Prince Harry were taken in private, and that publication of the photographs would be an intrusion of the Prince's reasonable right to privacy.
However, the pictures had already circulated on the internet and on Friday (24 August) News International's tabloid paper The Sun put the pictures on its front page, with the headline, "Heir it is! The pic of Harry you've already seen on the internet."
The paper stated it was acting in the public interest and that the pictures raised concerns surrounding the Prince's security, while also stating that this case was testing the freedom of the press.
However, more than 850 people contacted the PCC by Friday evening, as reported by the BBC, about The Sun's decision to publish the pictures.
The PCC confirmed that nearly all the complaints related to the invasion of privacy and that the matter would be investigated.
The PCC said no complaints had been received from St James's Palace, instead all had been made by members of the public.
Follow @loullamae_es