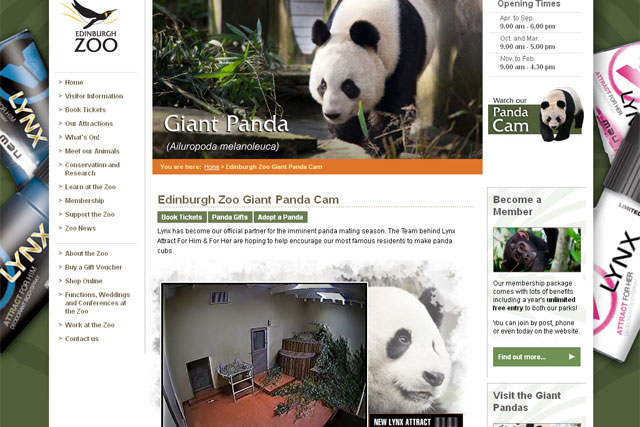 The sponsorship programme feeds into Lynx's existing body of marketing activity for Attract, its first unisex variant.
Edinburgh Zoo houses giant pandas Tian Tian and Yang Guang, on loan from China for a 10-year period, as part of a panda research and conservation programme.
Female panda Tian Tian's hormones are being monitored closely by zoo keepers, who believe that the best time for the pandas to mate may be nearing.
Neither panda will be wearing Lynx, but the brand has placed an ad next to the feed from the "panda cam" on the zoo's website.
Kieran Danaher, Lynx Attract brand manager, said: "With the launch of Lynx Attract For Him and For Her we've effectively doubled the power of the Lynx Effect – it's the perfect time to partner with Edinburgh Zoo and use our attraction knowhow to help out with panda-mating season."
Follow Loulla-Mae Eleftheriou-Smith on Twitter @LoullaMae_ES