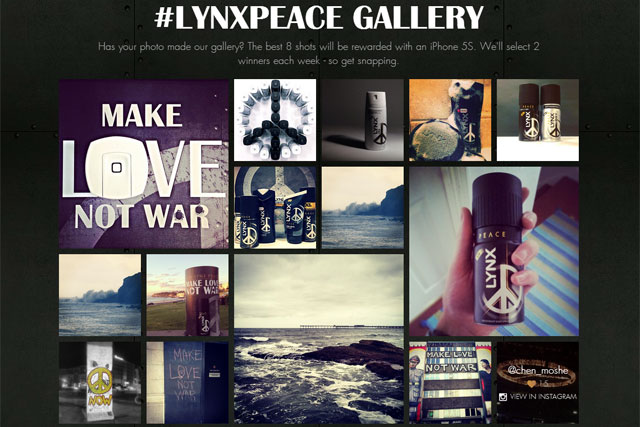 The "Peace invasion" was seen in 10 cities and marked the launch of the brand's new "Make love not war" campaign.
The main elements of the latest campaign, by TMW, centre on three areas: 'Make Beats Not War', 'Make Threads Not War', and 'Make Moments Not War', which aims to raise awareness around the Peace One Day project.
The Peace One Day partnership with Lynx looks to educate the brand's millions of fans about how they can contribute to resolving world issues in the run up to Peace Day on 21 September.
On a dedicated site, consumers can explore the different themes, from producer Naughty Boy's track that brings three leading artists together in one place, to five up and coming designers creating peace inspired T-shirts, to Young Photographer of the Year Matthew Lloyd's work finding local heroes.
David Titman, marketing manager at Lynx, said: "After sending someone to space in 2013, we wanted to push the boundaries even further this year – and what's more ambitious than inspiring world peace?
"Aside from creating an amazing new fragrance, we wanted to inspire our guys to focus their passions into something positive and helping to raise awareness for Peace One Day, a campaign we are hugely proud to be part of."