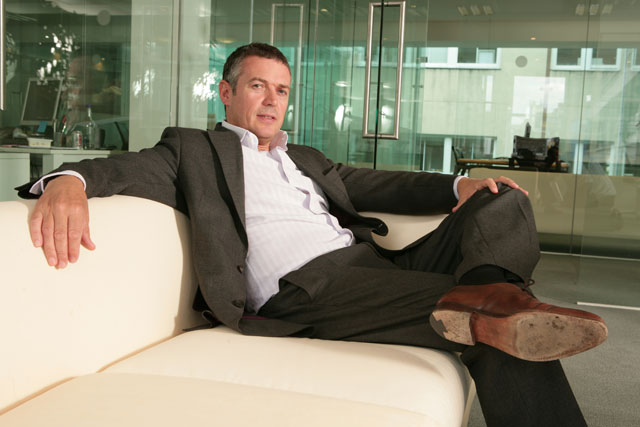 Arriving at their London hotels last week for the first of their 2012 biannual bonding sessions, M&C Saatchi agency bosses from around the world found goody bags awaiting them with T-shirts declaring "Maurice Thinks I'm Brilliant".
The more long-standing members of the club will have got the joke right away.
It harks back to Lord Saatchi's habit of ending his pep talks to the assembled executives by explaining how a piece of positive news for the network had come about. It had happened, he always insisted, because "we're all brilliant".
His Lordship no longer leads these meetings. That task now falls to Moray MacLennan, appointed as the worldwide chief executive three years ago and point man for 26 offices, the latest of which, in Abu Dhabi, is currently launching.
But, as the message on the T-shirts suggests, the need to massage the egos has become no less important.
After all, this is a group of people invited to join the M&C Saatchi family precisely because of their entrepreneurialism and reluctance to be told what to do by a network high command.
This can involve a delicate balancing act for MacLennan, who eschews the idea of "jelly-mould agencies where people sing the company song every morning", but admits the policy of light-touch central management means that nudging a network agency back into line when it goes "a bit off-piste" has to be done gently.
That, though, might seem the least of the challenges confronting MacLennan in bringing focus and credibility to a network that has taken an inordinate amount of time to find its feet and which has often looked more cobbled together than well thought through.
The evolutionary journey also included a number of false starts and miscalculations. Offices in Madrid, Cape Town, Singapore and Thailand opened only to close again, mainly because of personnel issues. And MacLennan acknowledges it was a mistake to assume that a US operation could be serviced out of Los Angeles, where the network had a presence, rather than New York, where it had virtually none.
The big personalities who launched M&C Saatchi in 1995 made the establishment of an international network almost compulsory. However, its structure was dictated by the early arrival of British Airways and Qantas, which needed agency representation in New York, Singapore, Sydney and Hong Kong.
"If I had my time again, I would have pushed for a more rapid expansion of the network at the beginning of our life," MacLennan reflects. "The reason we didn't was that the phone was ringing too often. There were just too many other things happening."
BA's departure for Bartle Bogle Hegarty in 2006 left the network looking lopsided. And hopes that the Royal Bank of Scotland would be the global client to unite it were dashed when the bank sold off the bulk of its international interests.
Wanted: a big client, please
MacLennan, who bears sole responsibility for seeking out global business, is looking to set up a strategy committee of executives from around the world to share the burden. But he concedes the network has to make the best of its situation.
Unable to rely on internationally aligned business, the network's hunger to win local accounts has been heightened, he suggests.
Moreover, it has added names such as Google, Vertu, Garmin, Etihad and Siemens to its client list within the past couple of years.
"You could argue that one big client can dominate your network and your culture," he says. "Does that mean I wouldn't like one? Of course I would."
It's a desire that perhaps explains why he chooses to ignore Amsterdam's claims as a European hub in favour of Geneva, the continental base of multinationals such as Procter & Gamble and Kraft.
MacLennan has certainly wasted no time since taking on the international role. Ten offices have been opened on his watch, bringing the network close to what he believes should be its optimum size.
Finding a global balance
It's all part of an effort to provide more of a counterbalance to its strongholds in the UK and Australia, where Tom Dery, the combative network chairman, is based.
"We're similar in substance but different in style," MacLennan points out. "We both like calling the shots and being in control. It ought to be a problem, but it isn't."
Certainly, the partnership has overseen a frenzied period of activity. The New York office - previously just a handling house for BA - is being relaunched properly under the command of Jeff Brooks, the former chief executive and chief digital officer at Euro RSCG in the city. It will rectify what Mac-Lennan calls "a glaring omission".
Meanwhile, a renewed confidence has been reflected in the re-opening in Madrid and Cape Town and a relaunch in Singapore before the end of the month.
So what next? MacLennan admits to being tempted by Indonesia and its 230-million population, although his more immediate preoccupation is how best to tap into Stockholm's wealth of digital talent. He is also hunting people capable of exporting some of the group's other offerings - from PR to mobile marketing and sponsorship - into key markets.
But ambition has to be tempered with pragmatism. The group's founders have vowed never to repeat the folly of the Saatchi acquisition binge of the 80s. As a result, 24 network agencies are start-ups where 20 per cent of the equity is held by local managers. "The strategy of owner/managers creates its own culture," MacLennan suggests.
The strategy may be cheaper but the process is often protracted. "The people we're most interested in are often the least likely to want to sell out," he says. "And they can be very difficult to find."
Another problem is that, even 17 years after the great Saatchi schism, people beyond the UK still confuse the two companies. "I've blagged my way on to pitches because the client thinks we are still Saatchi & Saatchi," MacLennan confesses.
Against the background, it's no surprise that the network's creative output is something of a curate's egg. London's Simon Dicketts and Sydney's Tom McFarlane share worldwide creative director duties, but only to a limited degree.
MacLennan insists Cannes Lions contenders are to be found within network agencies, but adds: "Although we like to win awards, we don't chase them."
It all adds to the difficulty of trying to pigeonhole the network. It is too big to be compared with micronetworks such as BBH and Wieden & Kennedy (both of which have global clients), and too small to sit alongside the major networks.
MacLennan believes such comparisons are irrelevant. "Clients don't care if you're a micro-network or McCann Erickson," he claims. "They want choice and we offer a genuinely different one. I'd even like to think we've found the global agency model for the next 20 years."
Now that really would be brilliant.
M&C SAATCHI WORLDWIDE
Key personnel: Tom Dery, chairman; Moray MacLennan, worldwide chief executive; Simon Dicketts and Tom McFarlane, worldwide creative directors
Staff: 1,900
Global roll-out strategy: 1995 London; Sydney and Melbourne; Hong Kong 1996 Auckland and Wellington 2001 Mumbai and New Delhi 2002 Los Angeles; Shanghai and Beijing 2003 Kuala Lumpur 2005 Paris 2006 Berlin 2008 Geneva; Madrid 2009 Tokyo 2010 Milan; Sao Paulo; Beirut; Cape Town and Johannesburg 2011 Moscow 2012 New York; Singapore; Abu Dhabi
Pan-regional clients: Coca-Cola; Etihad; Ferrero Rocher; FTI Consulting; Garmin; Google; Nestle; Pernod Ricard; Procter & Gamble; Reebok; Royal Bank of Scotland; Siemens; Travelex; Vertu; Yves Rocher.