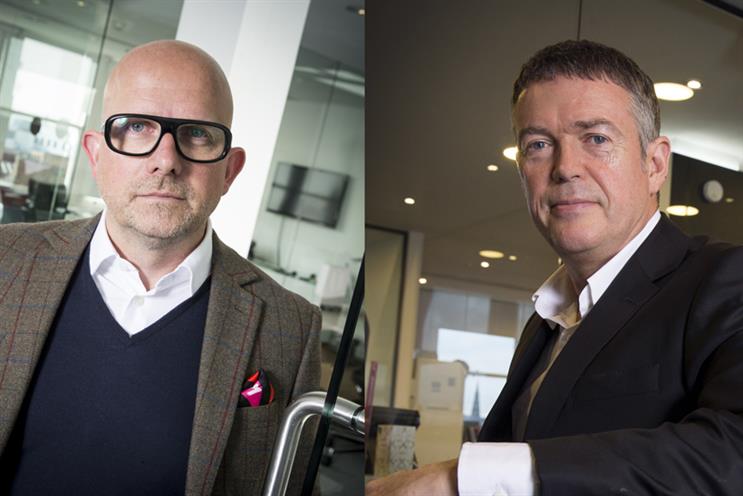 In a statement published on the agency's website yesterday, Moray MacLennan insisted Tindall was neither "bored with diversity" nor "a hindrance" to M&C Saatchi pursuing a diversity agenda.
Tindall would not be dismissed as chief creative officer, MacLennan confirmed after "having sat down with Justin and listened to him".
"I am convinced through both his words and former deeds that he can be part of the solution and is not part of the problem," MacLennan said.
He added: "Some people have questioned why we haven't dismissed him. My answer is that we will not dismiss someone because it is demanded on Twitter, we will do what is right knowing the facts."
In a Private View column in the November issue of Campaign, Tindall put forward a laundry list of things in the industry with which he is "bored", including being "bored of prioritising diversity over talent".
The comment sparked condemnation from industry figures, including senior people from ad agencies, media owners, and brand marketers.
In response to a particularly criticial letter from Cheil executive creative director Caitlin Ryan, Tindall apologised for his comments and lamented his failure to communicate his actual point of view on diversity.
Moray MacLennan's statement in full
This is to clarify our principles and beliefs as a company regarding Diversity.
Following Justin Tindall's article in Campaign and subsequent comment.
If I thought Justin was 'bored with diversity' he would not be working with us. If I thought that he was a hindrance to us pursuing a diversity agenda, he would not be working with us.
He is neither of those things.
What he wrote was wrong and he fundamentally messed up on the point that he was trying to make – that our industry's response to issues, such as diversity, is inadequate and superficial. I have sat down with Justin, and listened to him. I am convinced through both his words and former deeds that he can be part of the solution and is not part of the problem. Justin's words were not that he was 'bored with diversity', but he does know that his words were wrong and have upset people.
Some people have questioned why we haven't dismissed him. My answer is that we will not dismiss someone because it is demanded on Twitter, we will do what is right knowing the facts.
Stepping back, I would like to talk more personally about what lies at the heart of the Saatchi brand.
A few years ago, Maurice Saatchi spoke at our Worldwide Meeting about what it means to be Saatchi. He only spoke for three minutes. At the heart of what he said was "my brother and I arrived in the UK as two Iraqi immigrants. Shortly afterwards we started a company with a view to changing the world – we were determined to make a positive difference." That in part, explains why I am personally devastated that this has happened – because it does not reflect who and what we are.
So, we would like to explain our approach and progress in the area of diversity, recognising that there is still much to change, and we are far from where we need to be.
Overall principle:
M&C Saatchi believes in Diversity of Thought.
Similar people think similar thoughts
Diversity of people creates diversity of thought
Diversity of Thought is a creative necessity
I stood up at our Worldwide Meeting in 2016 and introduced this principle to make clear not only the obvious moral case for diversity, but also its role in powering better creative thinking and ideas. It is now one of the four core principles that underpin our company. I outlined how important it was to not only embrace diversity but to accelerate our efforts. That this should include both creating a diverse workforce and an inclusive culture that celebrates difference and ensures all voices are heard and listened to.
We have made progress, introduced some initiatives, but if there is one silver lining to this incident it is that we will now drive forward faster and achieve visible and tangible results quicker.
Clearly, what Diversity of Thought is based on is the absolute truth that we will build more powerful ideas for our clients through ensuring that people of different gender, age, sexual orientation, disability, race, religion, and social background work and flourish in all our companies.
Every group and company within our overall network will develop their own bespoke programmes. The worldwide diversity committee will develop a diversity roadmap for our company and initiatives and ideas are already being shared on our international diversity portal.
In the UK group the approach will be built around the ten steps outlined by the IPA, the industry body.
1) Develop a strong and clear understanding of the business case for diversity as it's relevant to your organisation. Only then will it resonate with leaders and people across the business.
At our worldwide board meeting in New York in May 2016 a business case was presented by Victoria Fox (CEO, LIDA) on behalf of the Global Diversity Committee to all CEOs across our 26 markets and 14 brands.
2) Develop a top down approach, with leadership commitment, and recognise this as a long-term behaviour change programme, there is no quick fix.
Senior employees from eight different cultures and companies led by Victoria Fox are responsible for driving our global diversity agenda. They make up the Global Diversity Group and are responsible for our network level plans. As a worldwide board we meet regularly and Diversity is a permanent agenda item.
The initial recommendation of this group was that diversity should be pursued first and foremost at a local rather than global level. Each local market defines and drives their own strategy due to differences in the diversity challenge by market. They report back to the worldwide board on progress at a local level.
3) Know who you are. Undertake a thorough audit of all your people in all departments and at all levels – gender, age, ethnicity, disability. Record and measure the data using analytics and figure out what good looks like to you.
We take a bi-annual audit of cross group diversity data to measure progress.
We are undertaking a quantitative survey that will be refreshed annually. This will be sent to every employee across the UK group to understand what areas we need to focus on as a priority.
We have commissioned Frank Douglas (a Caerus Executive who works with BBC, UBS, Bloomberg, Channel 4) to undertake a qualitative exercise to fully understand what is going on in the hearts and minds of our people. It will hold a mirror up to the organisation and help us define and then refine.
4) Ensure you have a balanced speaker panel for any events that you are running
This is top of mind for all events. A good example is that we are working with a number of leaders in the diversity field to inspire our senior management. In two weeks' time Sarah Kerruish and Emma Sinclair will address the worldwide board in Dubai.
5) Hire a Creative Pioneers apprentice or a STEM intern through the IPA Admissions programme. Entry level recruitment is a great way to inject diversity into your talent pipelines.
We are undertaking our own bespoke initiatives in this area, a good example is re-badging our 'Graduate Programme' to 'Future Leaders Programme' to ensure we are recruiting talent from a more diverse pool than university graduates.
6) Make Unconscious Bias training compulsory for all staff
In partnership with The Perception Institute (A US based not-for profit research based organisation solely focussed on Implicit Bias) we have introduced training sessions for all of our offices. The programme is underway with participation from all offices. It has started with all senior management and senior hiring managers and it will be rolled out to the full organisation in time.
7) Nominate up to three diversity champions within your agencies who represent diversity.
On a local level in the UK we have formed the UK Diversity Committee that is chaired by Victoria Fox (CEO, LIDA) and Tim Duffy (Chairman of UK Group) monthly. This committee is made up of sixteen representatives that span all the UK group companies and have representatives from minority groups.
8) Make employees feel good about themselves by creating a sense of community through groups and networks within the company which staff self-select to join.
This was one of the earliest recommendations of our UK Diversity Committee and we have already identified a lead for a women's group and a LGBTQ+ network, and we will follow suit with other networks in the near term.
9) Look outside of adland to learn how other industries are tackling diversity.
We have an external advisor who is European Head of D&I for a major financial institution who we engage with to gain an outside in perspective. We have found this invaluable and are currently engaging in a second 'advisory' relationship with someone from a client organisation who is very high profile in this area and will act as counsel.
10) Celebrate your success – provide us with positive stories and role models to amplify the message and inspire the next generation of talent both within and beyond your agency.
Across the group we have engaged with a number of outreach programmes that are taking us into less affluent communities to educate on this industry and the opportunities available that they might not be aware of. This is something very close to our hearts.
So, some progress.
But clearly there is a long way to go.
Some people think that the fix can be quick, but I disagree. What can be fixed quickly, though, is having the determination and resource to create a company that truly embodies Diversity of Thought, everywhere.
Moray MacLennan
Worldwide, CEO