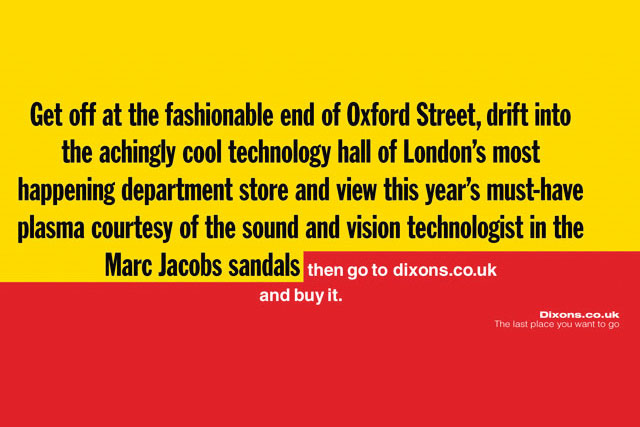 The Colombia-based SSP3 was recognised for its "operation Christmas" campaign for the Colombian Ministry of Defence that saw record numbers of guerrillas disarm during the holiday period.
Juan Pablo-Garcia and Maria Alejandra Urbina wrote the paper that led to the award.
M&C Saatchi was awarded its Grand Prix for its "the last place" campaign for Dixons. Neil Godber and Richard Storey wrote the paper.
The Stephen King Trophy for Agency of the Year was jointly awarded to Abbott Mead Vickers BBDO and Mother. The agencies achieved an equal points score after landing a range of awards.
AMV was recognised with awards for six campaigns on the evening: Department for Transport, Doritos, two for the Metropolitan Police, NHS Blood and Transplant, and Walkers.
Mother landed awards for its Ikea, Stella Artois, Stella Artois Black and GreenBottle activity.
Its work for Stella Artois was a gold award-winner alongside the Colombian Ministry of Defence and Dixons activity. Other gold winners were Dare, for its Department of Health "Smokefree" work, Fallon, for its Orange Gold Spots activity, and Wieden & Kennedy, for its "off-on" in-house environmental campaign.
The APG Creative Strategy Awards were held at Delfina in London Bridge and were co-hosted by the chair of judges, Russell Davies, the chair of shortlisting panel, Gareth Goodall, and the chair of the APG, Sarah Newman.
The full list of winners:
Gold
Colombian Ministry of Defence, operation Christmas (Lowe SSP3)
Dixons (M&C Saatchi)
Wieden & Kennedy, off-on (Wieden & Kennedy)
Orange Gold Spots (Fallon)
Stella Artois (Mother)
Department of Health Smokefree, real kids (Dare)
Silver
Metropolitan Police, choose a different ending (AMV BBDO)
Tooheys New (Saatchi & Saatchi Australia)
Department for Transport, named riders (AMV BBDO)
NHS Blood Transfusion Organ Donation (AMV BBDO)
Ikea (Mother)
French Connection (Fallon)
Promote Iceland (The Brooklyn Brothers)
Nike GRID (Wieden & Kennedy)
Fiat (AKQA)
Bronze
I Lohas (Coca-Cola Export Corporation)
Yeo Valley (BBH)
Cravendale, cats with thumbs (Wieden & Kennedy)
PepsiCo Walkers (AMV BBDO)
Stella Artois Black (Mother)
St John Ambulance (BBH)
Metropolitan Police, who killed Deon? (AMV BBDO)
GreenBottle (Mother)
Heineken, star player (AKQA)
Random House, Nigella Quick Collection (AKQA)
Doritos (AMV BBDO)
Special Awards went to:
Colombian Ministry of Defence, operation Christmas, for Best Channel Strategy and for Best Use of Research
Dixons, for Best Insight and for Best Brief or Input
Wieden & Kennedy, off-on, for Best Real Time Planning
Orange Gold Spots, for Most Progressive Thinking
Stella Artois, for Best Multi-Market Planning
Department of Health Smokefree, real kids, for Best Presentation to Judges
I Lohas, for Greatest Commercial Impact
Kronenbourg, by BBH, for Best-Written Paper