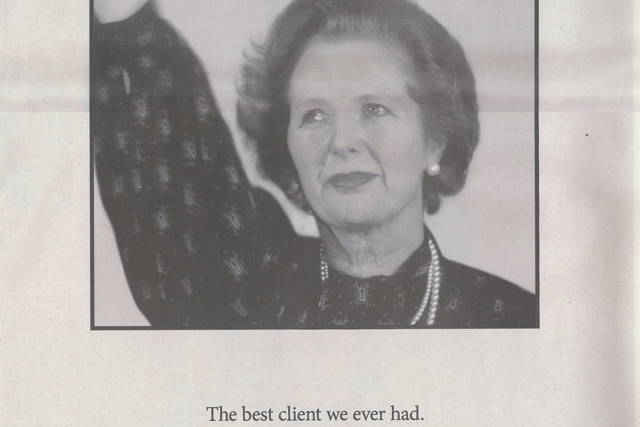 The ad shows a photograph of Baroness Thatcher waving a Union Jack flag above the tagline "The best client we ever had." The M&C Saatchi logo appears at the bottom right of the page.
At their former agency Saatchi & Saatchi, the M&C Saatchi founders Maurice and Charles Saatchi were responsible for the 'Labour isn't working' campaign which helped the Thatcher-led Conservative party win power in 1979.
M&C Saatchi's existing clients include Transport for London, Breast Cancer Care, the Royal Bank of Scotland, NatWest and HP Sauce.

When contacted by Campaign this morning, clients including Breast Cancer Care, Dixons Retail, Direct Line and TfL declined to comment on the ad.

Moreover, a spokesman for one of M&C Saatchi's major clients said the company "certainly wasn't offended" by the ad.