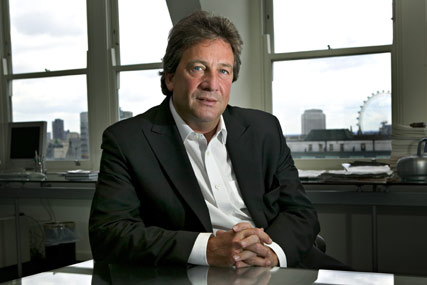 Pre-tax profits were down from £10.2m in 2009 to £7.8m. Operating profits rose 24.5% to £12.7m.
The company's pre-tax profits were lower due to the accounting impact of the £4.9m change in value of the share options it uses to incentivise its managers.
Due to the rise in the company's share price since 2009, the change reflects the increase in the amount it would cost if the options were to be exercised.
UK client wins during the year included The Mail on Sunday, Ikea and Bathstore.
The fastest growing part of the company in the UK was Inside Mobile, which the group acquired in September.
Advertising in the UK was up by around 7% with growth expected in the 2011 for advertising to be around 5% or 6% based on new business wins such as Garmin and BAE Systems.
David Kershaw, chief executive, M&C Saatchi said: "The new management team of Tim [Duffy] and Lisa [Thomas] has made a profound difference of winning integrated business in the UK.
"One comes from an advertising background while the other from a digital and direct background, which is a great model of how everyone else behaves in the building. Looking at 2011 I am confident we can grow to £14.5m."
In Europe like-for-like revenues rose 18%, the headline and operating profits were up 49% year on year.
However, America did not fare so well for the group, with revenue down by £300,000 due to start up costs for M&C Saatchi's Brazilian agency in 2009, which is set to merge with another agency from the same country later this week.
M&C Saatchi is set to acquire a 25% stake in a large UK data company. It has also acquired social media company Human Digital.