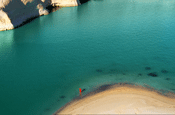 Silverjet hired M&C Saatchi, which held the BA account for 23 years along with Saatchi & Saatchi, to create the ad and film it in exactly the same locations as the original.
The ad, which breaks on Saturday, was directed by Hugh Hudson, the director for the BA spot and features the same soundtrack, Delibes' Flower Duet from 'Lakme'.
The company's marketing strategy is to offer almost exactly the opposite of BA by having fewer (but better) seats, better service, private terminals and 30-minute check in.
The ad attempts to demonstrate this by following exactly the same structure as the original, showing travellers and crew in exotic locations who join together to form an aerial shot of a face - but features a cast of just four people rather than the original's 600.