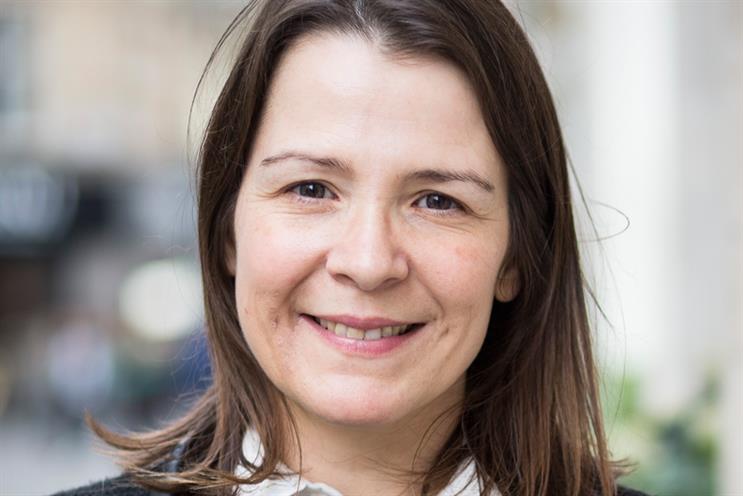 We mere mortals are easily influenced by climatic conditions – especially mortals of the London variety. Sixty minutes of warm weather is all it takes for layers to be removed, sunglasses dusted off and cold beverages imbibed on pub pavements.
So perhaps it is worth taking with a pinch of salt Campaign's assertion that the sun really was shining on Soho's Golden Square last month, and that the grand foyer to M&C Saatchi's offices at number 36 brimmed with an energy and optimism that has been sorely missing in recent years.
Up on the top floor, it would be easy to be distracted by the radiant views across the capital, but the infectious laughter of M&C Saatchi's new chief strategy officer, Raquel Chicourel, draws one back into the room.
Born and bred in Rio de Janeiro, Chicourel possesses a CV that would make any London planner walk with a swagger (including stints with J Walter Thompson, Bartle Bogle Hegarty, Publicis, McCann, Abbott Mead Vickers BBDO, Saatchi & Saatchi). For chief executive Giles Hedger (pictured below, left), she completes a new-look leadership he hopes will reinvigorate the agency.
While by no means comparable with the controversy of a footballer transferring from (for the sake of argument) Manchester United to Manchester City, the route that links Saatchi & Saatchi and M&C represents a lesser-taken path. Chicourel reveals that the move is one she agonised over – but more because of how close she came to leaving the industry.
"I'm not blind – I can see what's going on. I'd had some great years at Saatchi & Saatchi, but it wasn't home for me, it wasn't the place I wanted to build my future. Should I stay or should I go? I think a lot of planners are going through that dilemma," she says.
After pondering a switch to the client side, as well as options to assist start-ups in their early stages, she was persuaded to remain in adland by a love of creativity - and, in particular, a creative revolution she believes is going to push M&C Saatchi back to the forefront of a London ad scene ripe for renewal.
"At the moment it is survival of the fittest. I feel we are at the tail end of the holding company era, if I'm honest. As [Campaign global editor-in-chief] Claire Beale said in her recent article, we became a volume business as opposed to an ideas business. I feel independent agencies still have that start-up mentality and soul, and put creativity at the heart and helm in an uncompromising manner," Chicourel says.
"That was my thinking, and M&C was the perfect [opportunity]. A lot of people say that it is decaying from its glory days, but it's the biggest start-up in London. There is lightness, there is fluidity. If something is exciting, and it feels right, it's a goer - you don't have to wait for New York or Paris or the group to deliberate for three or four weeks. That is something that appealed to me a lot."
Avengers Assemble
Chicourel joins chief executive Hedger, chief creative officer Justin Tindall (pictured above, right), group chairman Tim Duffy and managing director Tom Firth as one of the five shareholders under the terms of the management buyout announced in 2016. Of the leadership team, only Hedger represented a slightly familiar face, with the two having crossed paths in planning circles.
Chicourel – a self-confessed sci-fi "nerd" – jokingly likens the ensemble to Marvel's 2012 film Avengers Assemble, given the eclectic mixture of styles, abilities and flaws. "Every meeting is a bit of a firecracker!" she says, that laughter filling the room once more. "But that is how it's supposed to be."
Intriguingly, in the statement announcing her arrival in January, Chicourel hinted that she has been given permission to "push the reset button" on M&C Saatchi's approach to strategy. Though unable to highlight specific changes she plans to make, the Brazilian does outline her ambition with a flourish of Trumpian rhetoric.
"The one thing Giles, Justin and myself each have in common is that we have seen 'great', because we've worked in outstanding agencies. I've been trying to come to terms with 'good' for a while. But I've seen what great looks like, and once that happens to you then 'good' is not good enough," she says.
"This building has seen 'great'," Chicourel adds, tapping the table for emphasis. "We want this place to be talked about again, to be influential again. We want M&C creative work to make cultural impact in the real world."
The work produced by this industry over the past 10 years has not nearly been as great as previously. Raquel Chicourel
In re-shaping the agency's planning resource – a team she praises as possessing a "maverick spirit" – Chicourel says she will lean heavily on her most "formative" years on Kingly Street.
"I was privileged to work with the likes of Jim Carroll, Charlie Rudd, John Hegarty and John O'Keeffe at a time when BBH was the best agency in the world. I thought I knew planning, I thought I was a great creative strategist, but when I started there I realised that I wasn't. They pulled me apart and put me back together in a completely new way, and I was completely transformed," she says.
"I've been lucky enough to have the most fantastic mentors. In planning, Jim Carroll and Nick Kendall are absolutely top of the charts, with Craig [Mawdsley] and Bridget [Angear], and, absolutely, Richard Huntingdon as well."
Big purpose
For Chicourel, a life in advertising has been a happy accident. While studying journalism at university in Brazil, and with designs on a career as a screenwriter, she was persuaded by friends to take JWT's graduate selection exam. The format – "all about finding angles and telling stories" – proved a pleasant surprise, and she aced the test, securing the top score.
Though still sceptical about taking a role at an ad agency, and conscious of a desire to find a "big purpose" to match her high-achieving parents (her mother worked as a doctor, her father an engineer specialising in dam construction), she accepted the offer. A move to the UK soon followed, and she has rarely looked back in 17 years, aside from a self-confessed "wobble" after the EU referendum result. A relocation from her beloved Hampstead to Muswell Hill with her three daughters marks the latest chapter of her London adventure.
Chicourel's affection for science fiction is one of her defining traits – and she talks excitedly about everything from classics such as War of the Worlds, 2001: A Space Odyssey and Blade Runner, as well as more recent phenomena including Westworld, Black Mirror and Stranger Things.
Affection for the implausible and downright silly has shaped her professional life, and shines through in campaigns she worked on for brands such as HomeAway and Mattessons. Though politely expressing her admiration for purpose-led work, including Always' "Like a girl", she is most animated when discussing work that "takes humour to the next level".
This may have proved a stumbling block when joining M&C Saatchi, given the agency's reputation for important but worthy work for its government clients. However, in light of ads such as the FCA's surreal campaign featuring the animatronic head of Arnold Schwarzenegger (pictured above), and the Royal Mail's shocking "Heist" film highlighting the dangers of data theft, Chicourel argues that there is "greater creative diversity" on show.
Chicourel claims she and Tindall "hit it off" from the moment they met, and says his restructuring and rebuilding of the creative department was a major factor in her choice to join M&C Saatchi – a decision she made long before controversy erupted as Tindall's comments in Private View around being "bored of prioritising diversity over talent".
While clearly reluctant to discuss the scandal, she insists that both M&C Saatchi and Tindall himself have "answered" the criticisms that bombarded the agency in the days after the comments went viral. A commitment to diversity on Golden Square will be proven in the months and years ahead, she insists: "Actions and behaviours matter more than words. Everyone has a role to play, and so I think it is a 'reset' moment on that front as well."
Make no mistake: Chicourel is dissatisfied with the status quo. She has a burning desire to put M&C Saatchi back on the map of London's top shops, and to galvanise a creative renaissance. Anything less would be a disappointment.
"I believe that the way the industry is today is not good; the work produced by this industry over the past 10 years has not nearly been as great as previously. In a few years, I would like to look and say, 'We are helping to reshape this industry,'" she says.
"Call me a dreamer, but that is how I would like things to be. Maybe reality will be a bit different."