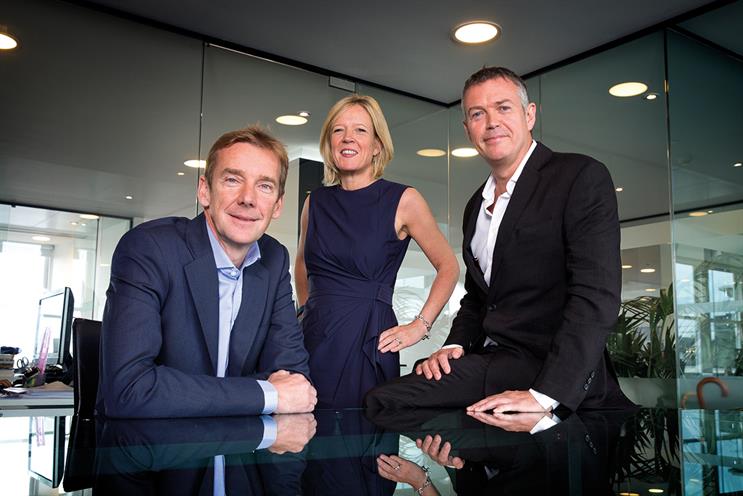 To be strictly appropriate, this feature should probably take up half the allotted space and reduce two decades down to a few pithy soundbites that capture 20 years of brutal simplicity of thought – the mantra that defines M&C Saatchi.
As it is, there's two pages of Campaign to fill, the growth of an international business empire to track and without doubt the ad industry's most compelling story to tell. M&C Saatchi is 20 years old and brutal simplicity is no friend to the indulgent journalist.
Thankfully, the story of Maurice and Charles Saatchi – their dazzling success in building the world's most famous advertising empire, the bitter dispute with their investors that saw them ousted from their business and the gritty chutzpah with which they began again, launching M&C Saatchi in 1995 – has been written. And written. And written. Maurice Saatchi once summarised it so: "Year one, 11 people in a room. Year ten, biggest agency in Britain. Year 20, biggest advertising agency in the world.
Year 25, Bang! Reversal of fortune. Splits, recrimination, litigation, bitterness. Fifteen years later, the two Saatchis are operating in 30 countries… the story has only just begun." But, frankly, if you don't know the history of the Saatchi brothers, then you shouldn't be reading Campaign. So let's not repeat it here. Brutal simplicity.
More brutal simplicity: by the time I sit down to conduct the necessary interviews, the gestation of this piece has suffered a blow. Maurice Saatchi doesn't want to get involved; he wants Campaign to celebrate the past two decades by looking forward, and apparently doesn't consider himself to be a distinctive feature of that purview. So instead of one Saatchi, I've got Moray Mac­Lennan (the worldwide chief executive), Tim Duffy (the UK group chairman) and Lisa Thomas (the UK group chief executive): the future of M&C Saatchi. And instead of an indulgent (if familiar) romp through past glories, I've got an equation. The future of advertising. Hmm. MacLennan reckons it's going to revolutionise our industry. Hmm.

Where does MacLennan keep all his shit? Not in his huge glass-and-chrome office, which offers up all the warmth and personality of an ice cube. This is M&C Saatchi's headquarters on Golden Square – all muscular imperiousness, best articulated by its aggressively confident entrance hall. The whole building pulses with an assurance born in advertising's glory days. Two decades after Maurice and Charles left their eponymous agency (or rather "it left us"), and a radical transformation of the ad industry later, and that assurance continues to thrive. It thrives in MacLennan's office.
In the middle of his large table, there's an ad; it's the coverwrap the agency has designed to run around this week's issue of Campaign. And in the middle of the ad is the equation.
We all stare at it: MacLennan, Duffy, Thomas and me. I'm not entirely sure I'm the only one round the table who doesn't really understand it. But at least Duffy makes a good fist of explaining.
It's basically about getting the right balance between art and science. Or, to put it another way, balancing dif­ferentiation (the ability of a brand to use creativity – in advertising, design, product innovation and so on – to create standout in its category) and deviation (the ability to close the gap between desire and purchase). Get the balance right and you maximise shareholder value.
The result is less about answering whether art or science is more important to marketing success, and more about maximising the input of both to drive real growth for brands. Duffy is clear on that: "This isn't about deciding between art and science, about which is most important. It's about ensuring you've got the relative values of them right, and it's also about celebrating their differences and, in fact, keeping them separate. Creativity shouldn't be shackled to data." Cue sighs of relief in creative departments everywhere.
Duffy reckons M&C Saatchi's research will bring some sanity to the rampant art/science debate, and he hopes it will result in marketers (and their chief executives) recognising the value of long-term brand-building campaigns. But is it revolutionary? Will it transform our industry? Or at least give it a leg-up in the boardroom when marketing budgets need defending? I don't know. Instinctively, applying a formula to what an agency does seems like a reductive move, but there's no doubt that M&C Saatchi has applied some very serious thinking to one of marketing's biggest debates, and it has allied with Unilever and Nielsen to conduct the research and test it against real-world results. The partners will come together next month to explain and explore the work that has gone into the study and how the resulting formula can be applied.
For M&C Saatchi, the equation will now start to reshape how the group works, driving the application of data and creativity more concertedly across the different divisions. Thomas says there will be new roles created called impact directors, and the group is now looking for a chief science officer – "someone who's a mathematician or a data scientist" – and a chief creative officer.

Enough about the future, though. Let's just rewind a little. It's hard to overstate the drama of M&C Saatchi's inception. As MacLennan says: "Only Russia invading Chechnya prevented the 'Saatchi split' leading the national news on both BBC and ITV. We were front-page news." It was, he admits, "fun for a while" but then "less so when my home phone was tapped and I received a writ for loss of earning from 'Oldco', as we called it. 'Saatchi & Saatchi vs Moray MacLennan' now has its rightful place in the loo."
The bitterness that characterised the split with Saatchi & Saatchi naturally petrol-ed the flames of the new M&C agency, and the rancour was channelled into building the new offer. "The mood was tense and frustrating until the (extremely expensive £750,000) legal battles concluded and we were allowed to work," MacLennan remembers. "Then it was pure exhilaration – anything less than one account win a week was disappointing."
MacLennan has been with the Saatchi brothers man and boy, joining the first agency as a graduate trainee, now running the M&C Saatchi network. He admits that gives him a certain perspective: "Myopic, clannish (it is a Scottish thing), one-eyed, insular, leading to paranoia and a tendency to think that everyone else is wrong and worse than us, even if they are right and better." It makes him "something of a fanatic". But he's quick to add: "The upside is spending your working life as a genuine supporter and loyalist rather than a mercenary." There are, let's be truthful about this, too many mercenaries in advertising.
So MacLennan is as qualified as any to elucidate on what makes M&C Saatchi. For starters, it was the opposite of what Saatchi & Saatchi had become: "The money men had taken over Charlotte Street [the iconic Saatchi & Saatchi HQ]. Their enemy was flamboyance, unpredictability and chutzpah. Being Saatchi was and is about self-belief, winning, romance and wanting to make an impact on the world.
"Capabilities may have radically changed, but the brand character is still the same and will be the same in 20 years' time."
Still, the Saatchis built their businesses at a time when advertising was in its prime, shaping culture and shaping political fortunes. Is what M&C Saatchi does really as important – and exciting – as it once was? MacLennan is clear on this: "Whether you think advertising is important or not depends on what you think we do. If you think we make adverts, then it is probably not that important, and never was.
"I was brought up to believe that we can change the world because communication changes the world, always has done and always will do.
"M&C Saatchi has been present at the most important times for the UK over the last 20 years: elections, the Euro referendum, the Scottish referendum – but it is not just about those more obviously important events. If you work in advertising, you can have more effect on more people than in any other career. In a couple of words or a single image, you can make people healthier, wealthier and happier. How can that not be exciting and rewarding?"
Of course, M&C Saatchi is no longer just an advertising agency. As the industry has been radically redrawn over the past two decades, so M&C Saatchi has gone from one agency to 17 group companies, spanning PR, digital direct, sports marketing and talent management. Keeping that Saatchi heartbeat pumping through an array of acquired brands has been an interesting challenge, but one that's addressed up front. "I suppose you can create a certain culture through the imposition of structures, reporting lines and ratios," Mac­Lennan acknowledges, "but ours is born out of bringing people together who share a similar outlook on life. We insist that anyone managing any of our companies has equity in their company: this produces a different culture – a federation of entrepreneurs rather than a network of managers. And when we do acquire, we avoid people who want to sell and convince fiercely independent talent that it can thrive and grow faster as part of our set-up."

So, Moray, what has surprised you most about the M&C Saatchi journey over the past 20 years?
"Almost everything. It surprises me that I am still here, that I haven't been found out yet. It surprises me that we are a plc, and not a bad one at that. It surprises me that we have just opened an office in Tel Aviv. The only thing that doesn't surprise me in the slightest is that we are still independent."
For the record, MacLennan flourishes a few charts that suggest the group has delivered more shareholder return over the past four years (372 per cent) than Interpublic (206 per cent), WPP (154 per cent), Publicis (129 per cent) and Omnicom (123 per cent). Revenues have shown steady growth, up 5 per cent to £169.4 million in 2014, and pre-tax profits leapt 17 per cent to £17.1 million.
The UK creative agency, which still symbolically sits at the centre of everything, has stuttered, losing flagship accounts such as Dixons and Direct Line last year, and its creative output has been – as people politer than me might say – patchy. But the sale of a majority stake in Walker Media to Publicis Groupe for £36 million and the acquisition of the digital shop Lean Mean Fighting Machine at least suggest that London is not treading water.
I ask MacLennan the stock journo question: what are his highs and lows? "The low would be parting with British Airways [a flagship account with which the agency made some of its most iconic ads, but which quit for Bartle Bogle Hegarty in 2005]. But every company will get punched in the stomach and kicked in the groin at some point, and it is how you react at that point that defines you. We vowed to come back stronger and hungrier than ever.
"I've got lots of highs, obviously. Fresh in the mind is the Scotland referendum campaign. I am not claiming to have played a significant role but, as a proud Scot and Unionist, the result made me happy."
And how will he ensure that the future holds more highs than lows? "The reason that Barcelona won the Champions League and New Zealand will win the Rugby World Cup is because they have the best players in key positions and keep things simple. It really is easier to complicate than to simplify. So, in that spirit of simplicity, my priority is to make M&C Saatchi as attractive as possible to the best people. And the best people in our business care about money, but not nearly as much as making an impact on the world."
And, finally, of course, the most important question of all: will M&C Saatchi and Saatchi & Saatchi ever merge? It has been speculated, and not without cause. Nothing would be sweeter for some of the people sitting in Golden Square. MacLennan's reply: "'And then, once again, there was one Saatchi.' The last sentence of the book."
Watch: M&C Saatchi's highlights from the past 20 years