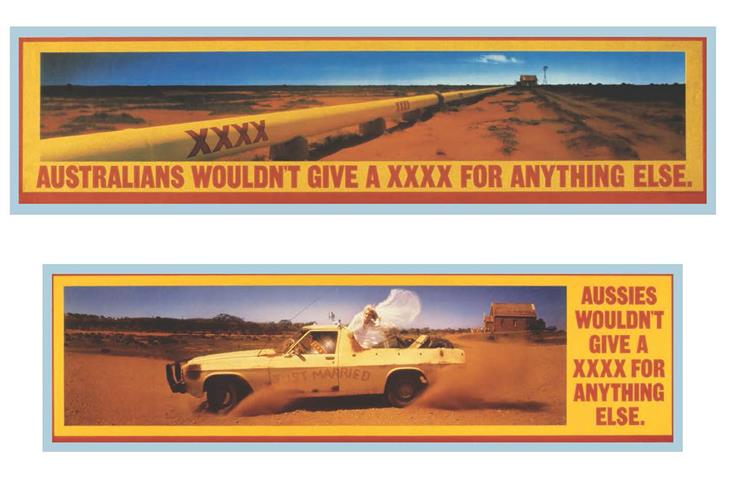 His catalogue of work includes some of the most memorable TV and press ads over the last 30 years, including work for Castlemaine XXXX and Schweppes.
Lowther described XXXX as both his most challenging and favourite ad in his time as a creative: the Australian lager was behind Fosters in trying to break into the UK market.
He said: "We had to go out to the Australian bush in temperatures of 120 degrees in the shade and film all this stuff in the middle of nowhere – it was great fun though. It was very challenging to come up with one idea that was funny, but also to keep it funny over a number of years."
Working with John Cleese on the Schweppes campaigns in the 80s and 90s, he said, produced memorable work because of the comedian's input into the creative process.
"We used to sit down and just giggle a lot really… the black and white one that was shot by Paul Weiland, that was a pisstake of all the Calvin Klein commercials at the time that were incredibly pretentious. John didn't understand at first, but after we sent him those ads he got it and said something like 'let's get the bastards!' He has a fantastic sense of humour."
Lowther says that humour and drama are the two key elements of his creative work over the years, but laments a lack of humour in the current crop of TV ads.
He says: "I don't know what's happened to our funny bone. Us Brits are good at humour, we used to have so many beer ads that were really funny. The digital business has sucked some of the long-term thinking out of advertising for short quick fixes. Digital is a very strong new media, as well as mobile and social, but they are just media – you still need the strong idea at the centre."
Lowther's favourite press ads:
Ministry of Transport "headlights" (1977) – chosen by John Webster as one of the 100 Best Ads Ever
The Health Education Council "everybody likes a drink. Nobody likes a drunk" (1975)
Intercity (1992)