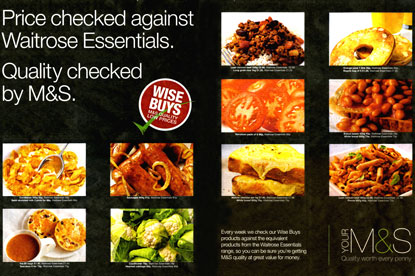 Earlier this month, M&S launched a series of press ads that compared the prices of its products with Waitrose's Essentials range.

The campaign, which was the first time that M&S had run ads specifically targeting Waitrose, showed a series of products, such as tea bags, penne pasta and teacakes, in which M&S beat Waitrose on price.

The ads carried the strapline: "Price checked against Waitrose Essentials. Quality checked by M&S."

However, in a report to be published today, the Waitrose commercial director, Richard Hodgson, states that the campaign has actually helped the supermarket chain experience its highest sales growth in a normal trading week since 2006, thanks to the ads highlighting both the quality and value of its Essentials products.

Overall, Waitrose saw sales of its Essentials value range rise by 17 per cent by value and 24 per cent by volume during the seven-day period.

Among the Waitrose products specifically targeted in the ads, sales of tea bags were up 96 per cent year on year, while penne pasta and teacakes saw sales increase by more than 40 per cent.