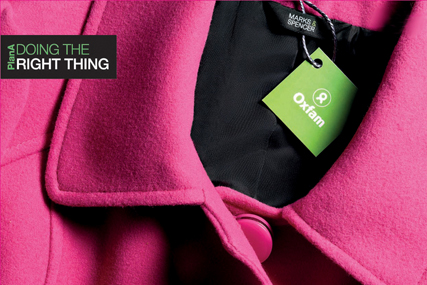 The retailer has unveiled 80 major new commitments as part of its ethical campaign, Plan A, as it looks to build customer loyalty and extend its sustainability strategy.
By 2015, the retailer aims to make sure at least 50% of its products have at least one sustainable or ethical quality and, by 2020, this will be extended to 100%. Examples of such a quality include Fairtrade or Marine Stewardship Council certification.
M&S also hopes to become the first major retailer to ensure full traceability of all key raw materials used in its clothing and home products and the first to ensure that the raw materials of palm oil, soya, cocoa, beef, leather and coffee it uses come from sustainable sources that do not contribute to deforestation.
Customers are being incentivised to get involved with a competition, 'Your Green Idea', which asks them to submit ideas for green actions for M&S to adopt. The winning idea will receive £100,000 to be spent 'greening' an organisation such as a school, charity or small business.
Sir Stuart Rose, chairman of Marks & Spencer said: sustainability was a key ingredient of business success, as it would enable the business to become "more efficient, develop new markets and build customer loyalty".
He added: "Plan A will reach further and move us faster – covering every part of our business and reaching out to forests, farms, factories, lorries, warehouses and into our customers' and employees' homes. It's therefore not just the right thing to do morally, but also makes strong commercial sense."