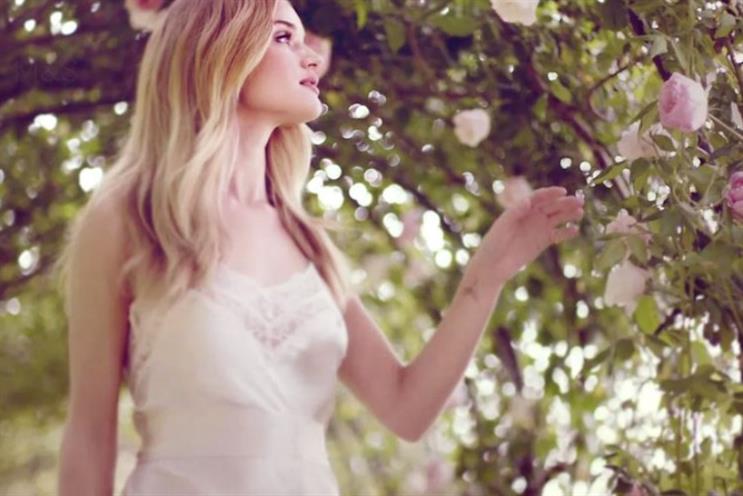 M&S announced its 2014 annual results yesterday, posting a 0.7% UK sales increase and its first profit since 2011, up 6.1%.
M&S is famous for running high profile fashion campaigns featuring celebrity ambassadors including Rosie Huntington-Whiteley, David Gandy, Ellie Goulding, Helen Mirren and Twiggy. Its marketing budget increased 13% in 2014.
But while food delivered a 0.6% like for like sales increase, general merchandise, which includes fashion, dipped 3.1% over the period.
Bolland declined to reveal how marketing spend is split between food and fashion but said the business was moving towards a more overarching brand strategy, unifying brand messaging with each arm "serving the other" in order to create a "clearer, more consistent message about the M&S brand".
Tactical fashion
He said over the period, dress sales were up 18% because its prints were "more on trend than they were before" and that it's 'Rosie for Autograph' range had performed strongly alongside on-trend fashion items such as its suede skirt.
M&S did not reveal the performance of fashion within the general merchandise arm but Bolland brushed off suggestions that high-profile fashion campaigns had failed to turn around the fortunes of the general merchandise business as "not true".
"We've had fantastic campaigns around things like the jeggings and tops," he told Marketing, "dresses have clearly had an impact."
In the first quarter of 2015, the business recorded a 0.7% increase in clothing and homeware sales, a move that significantly improved on 14 consecutive quarters of falling sales in its fashion department.
Bolland said there would be no "step change" in M&S's marketing approach, but the brand would continue to focus on a more "connected kind of communication" and improving customer engagement through, for example, better branded content online.
In store, the brand would also focus on showcasing more up to date fashion, setting aside 15%-20% of the range for new, on-trend styles. There would be more "newness" in store, he added,with the clothing range updated every two to three weeks.
---
Recommended