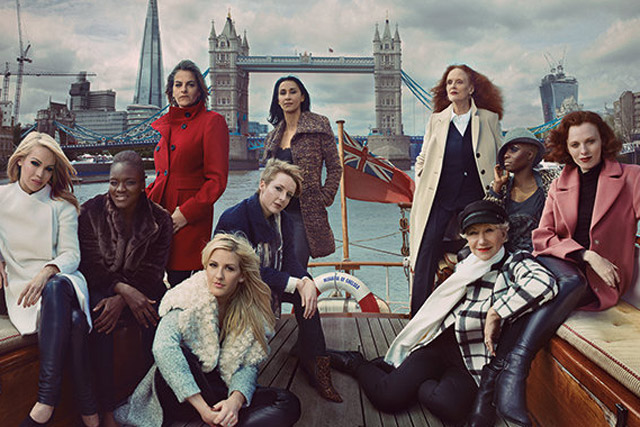 The campaign, featuring Dame Helen Mirren, Tracey Emin and pop singer Ellie Goulding, was the first to launch under the guidance of Patrick Bousquet-Chavanne, executive director for marketing and business development, and was shot by Annie Leibovitz.
The 1.3% fall is in like-for-like sales in the second quarter from July to the end of September across general merchandise sales, which covers clothing and homeware. The 129-year-old retailer saw like-for-like growth in the second quarter in its food sales however, which rose by 3.2%.
Overall, M&S group sales for the six months to 28 September rose to £4.9bn, up from £4.7bn for the same period last yea. However, pre-tax profit is down to £261.6m from £287.3m last year.
James McGregor, director of retail consultants at Retail Remedy, said that "M&S's history is based on the success of its clothing and yet it's clothing, these days, is proving to be its Achilles' heel.
"The multi-million pound advertising campaign of its Autumn/Winter range had lots of big stars but arguably lacked magic and for some reason failed to inspire."
Analysts Shore Capital said they are "concerned" that M&S "struggled to break-out in the domestic ladies-wear market".
The company said in a statement: "What this says to us, is that despite a demonstrably better and well received Autumn/Winter season, the challenges that the M&S brand faces to convince many more shoppers to spend more in its stores remains deep rooted. As such, it will take several seasons on sustained improvement before it can be expected to gain market share."
The brand has recently revealed a social media teaser campaign for its anticipated 'Alice in Wonderland'-themed Christmas ad, starring Helen Bonham-Carter, which revives the brand's 'Magic & Sparkle' strapline.
Chief executive Marc Bolland said M&S had made "strong progress" in the company's food, international and M&S.com divisions, marking the relaunch of the brand's womenswear collection as a "key priority".
He said: "In September we launched our first collection with the new advertising and improved store formats.
"Although only in store for three weeks of the half year, our autumn/winter collection has been well received by customers, and we have seen some early signs of improvement."
"While consumer confidence appears to be improving, there is little evidence as yet of this translating to increased spending in the retail sector. Given continued pressure on disposable incomes, we remain cautious about the outlook for the remainder of the year.
"However, we are well set up for the key Christmas trading period, with more innovation and choice than ever before."