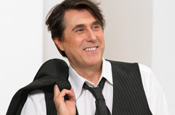 In an interview with a German newspaper Ferry said he admired iconography the Nazis used and the way they presented political rallies. Despite apologising later for any offence caused insiders say M&S will not be using him again.
Ferry has appeared in a number of print and outdoor campaigns for M&S's Autograph menswear range. The current campaign was shot by fellow musician Bryan Adams and includes Dan Gillespie-Sells singer with band The Feeling.
M&S was unable to comment on Ferry's remarks and said no decision had been made on who would be appearing in the next Autograph campaign. However insiders close to the brand say he will not be used for the campaign.