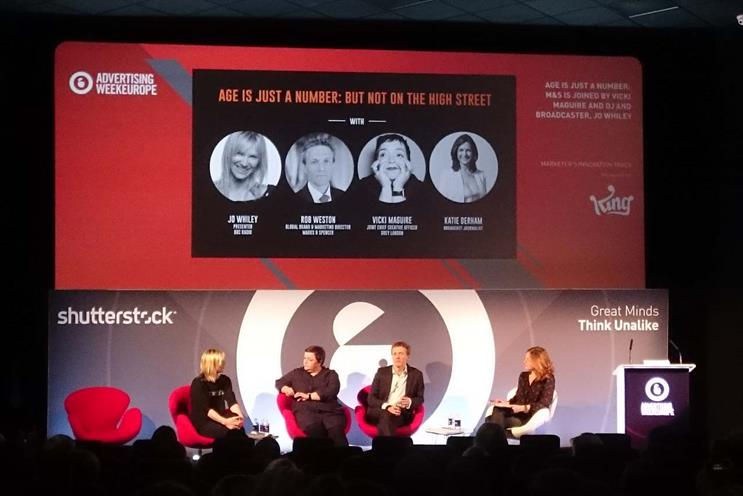 The retailer has suffered almost continual decline in its clothing sales over the last five years – although they returned to growth in the final quarter of 2016 – and analysts have blamed the malaise on difficulties reconciling what Weston admitted was a "mumsy" image with the need to recruit younger shoppers.
Speaking at a panel session at Advertising Week Europe, Weston said that with 33 million customers in the UK, it was "ridiculous" to think of there being a single M&S shopper. But he admitted that the challenge of speaking to a range of age groups caused angst for the business.
Weston said: "In certain communication channels, you feel as a marketer damned if you do and damned if you don't. This is where things like magazines become really hard.
"If we choose a younger model, we get lots of people on social media going 'you guys have forgotten us, you're chasing a younger audience'. But then if we use an older model everyone goes 'oh dear, sorry, you're reinforcing your mumsy image, and therefore I'm not going to shop with you either'."
The answer to this, Weston said, was attitude which could transcend age. Consumers wanted brands to "talk to me for who I am not what I am," he explained. "You're not coming to us because you're 50, it's because you want to wear stylish clothes, you care about ethics, that kind of thing.
"Categorisations of 40, 50, 60 plus are just meaningless," he said, pointing out that Ozzy Osbourne and Prince Charles are less than a month apart in age, but wildly different in attitude.
He added that the M&S food shopper is on average slightly older than its clothes shopper, but "nobody shops M&S food because we do 50+ bananas" – rather, they choose the brand because of an adventurous attitude to food.
M&S handed its £60m creative account to Grey London in August, ending a 16-year relationship with Rainey Kelly Campbell Roalfe/Y&R (which rebranded to Y&R London in January). Vicki Maguire, executive creative director at Grey, was also on the panel, along with radio and TV presenter Jo Whiley.
Maguire said that advertising had previously seen "an obsession with youth", but argued that was beginning to change, thanks in no small part to the messaging used by Unilever's Dove in the last decade.
"Dove took beauty from being about aspiration – I want to look like her – to inspiration: I want a bit of what she's on," Maguire said. "They stopped talking about anti-ageing and started talking about pro-ageing. I am the age that I am, and I'm going to do it right."
This thinking had informed the work Grey was creating for M&S, she said. "What we're selling is attitude not age. That is the difference – it's the difference between inspiration and aspiration."