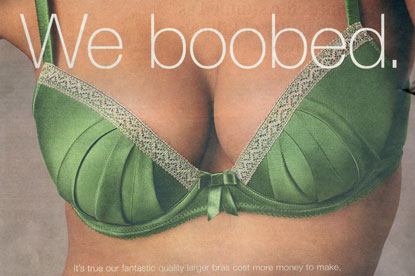 Under the headline "We boobed", the ad says the company had decided to charge more on the basis that larger bras cost more to make, but now admits that they "were wrong".

The climbdown came after a group calling itself "Busts 4 Justice" raised a nationwide outcry about the extra charge.

Group members had bought M&S shares and had planned to tackle the company's chief executive, Stuart Rose, on the issue at the company's annual meeting.

M&S will now reduce the price of its larger bras (size DD and above) by £2, and, from Saturday, will offer 25 per cent off all bras for a two-week period.