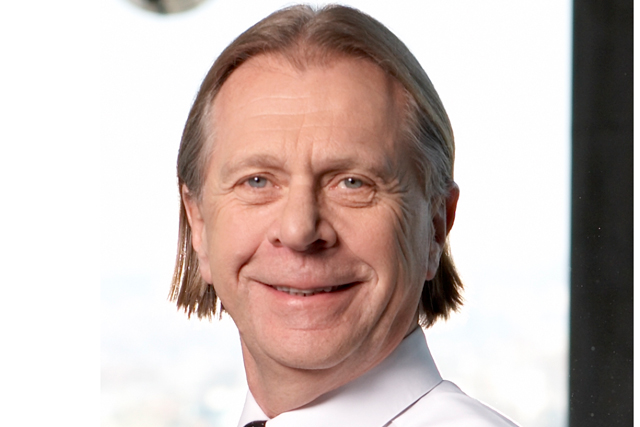 Marks & Spencer has reaffirmed its commitment to two vital strands of its marketing – celebrity-fronted campaigns and environmental programme 'Plan A' – by unveiling Joanna Lumley as its 'global eco-ambassador'. She will be the poster girl for its partnership with Oxfam and the pair's 'shwopping' campaign, intended to get people to donate their unwanted clothing so it can be resold or reused by the charity.
Marketing caught up with Steven Sharp, M&S executive director of marketing, at the campaign's launch to discuss the initiative, the retailer's wider marketing plans and what lies ahead for him.
Are brand campaigns such as 'shwopping' the future of Plan A?
I'm embarrassed to say it has taken us a while to come up with it. It was really sparked by a conversation with Jonathan Porritt (founder director of Forum for the Future, and on M&S' advisory board), who said we should use the company as a force for good, getting our 21m customers 'who believe you and love you' to change their behaviour.
The answer was staring us right in the face: do something with clothing. We sell 350m garments a year, and most end up in landfill.
Is the hiring of Lumley affirmation of your commitment to celebrity activity?
The reason we use celebrities in marketing is that it allows a shorthand way of getting our point across. It draws attention to a topic and Joanna is the perfect fit for this. She said to me this morning: 'I don't need the money, I'm too old. I don't need to be persuaded by money or anybody to do anything as important as this.'
We don't use celebrities for the sake of it, we use them where we feel there is a powerful, important reason. That is usually about getting people's attention and getting them to be able to understand our message.
Will the big-budget TV ad remain a central pillar of your marketing?
TV is still the biggest way of hitting an audience at one place at one time. However, that's not to say we don't do everything else. Increasingly our spend is online, especially social media. 'Shwopping' was the number-two trending topic on Twitter on launch day.
The Shwop Drops have QR codes that take you straight to the Facebook site so you can earn points and tell your friends. The whole thing is integrally linked to social media.
What is the feedback on the spring campaign, and what's ahead?
Spring has been a massive success. The 'read' with the customers for that campaign has been as high as I've seen anywhere in M&S.
The Gary Barlow song has gone down incredibly well - I think there's potential for that song to be used further.
You restructured last year, creating 'heads of brands' to oversee business units. How is that working? Those roles are bedding in very well and we are still looking for further people to join us. We're going to be recruiting more people into that type of function on the branding side.
We are now evolving the whole structure so we will not be replacing brand director Ali Jones directly - Rob Weston has taken over that function. The new roles will come under Rob, to spread out the work.
Having worked with Stuart Rose for a great part of your career, now that he has left, do you think there is still a lot more for you to do at M&S?
I'm only passing through M&S the same as anybody else who works here. This company is bigger and better than anybody and the only thing that you try to do when you arrive at M&S is to leave it in a better shape than when you found it.
Through my career, which is fairly long now, if you don't embrace change, then how are you going to survive? Change is there to be embraced as far as I'm concerned.
So will you end your career at M&S?
I feel like a footballer; I will go on until somebody kicks me off and says that I've got too slow.