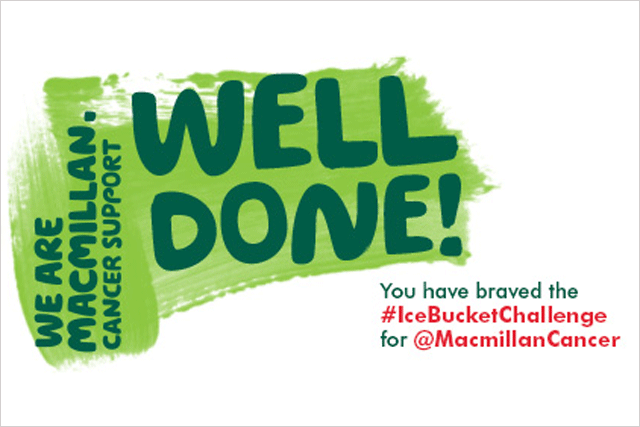 Amanda Neylon, the head of digital at Macmillian, said the charity got behind the Ice Bucket Challenge, which asks participants to pour a bucket of iced water on their heads, because it was criticised for being too slow on the uptake for the #nomakeupselfie social media campaign in March, which raised millions of pounds for Cancer Research UK.
The challenge began in the US, where it raised money for the ALS Association to combat Lou Gehrig's Disease – or motor neurone disease, as it is commonly known in the UK.
On missing out on the #nomakeupselfie campaign, Neylon said: "We were too slow – it was a big motivator to be much better the next time an opportunity came along.
"So, since #nomakeupselfie, I'd like to think that we've had some success with #tubestrike and #thatsmydad. We're trying to be bolder, we're listening to what's going on all over the world, and we're responding more quickly than we have in the past."
The charity said it started its own social media and search campaign for the ice bucket challenge as a response to its supporters, after noticing they were discussing it on social media and raising money for the charity by doing the challenge on their own accord.
However, Macmillan has come under fire for jumping on ALS Association's bandwagon and hijacking its campaign, particularly because cancer charities have a much higher profile than those for rare conditions like motor neurone disease.
Actually angry that @macmillancancer have tried to hijack the #ALSIceBucketChallenge in the UK. Imagine @MNDAssoc could have done with the £

— TM Football! (@TMFootballUK) August 19, 2014
Macmillan is asking people to film themselves doing the Ice Bucket Challenge, posting it online and donating £3 to its cause by texting ICE to 70550.
People can also donate to the Motor Neurone Disease Association by texting ICED55 £5 – or any other amount – to 70070.
Many agencies and brands have got behind the challenge, including the Engine-owned Jam. Watch others here.
This article was first published on Campaignlive.co.uk