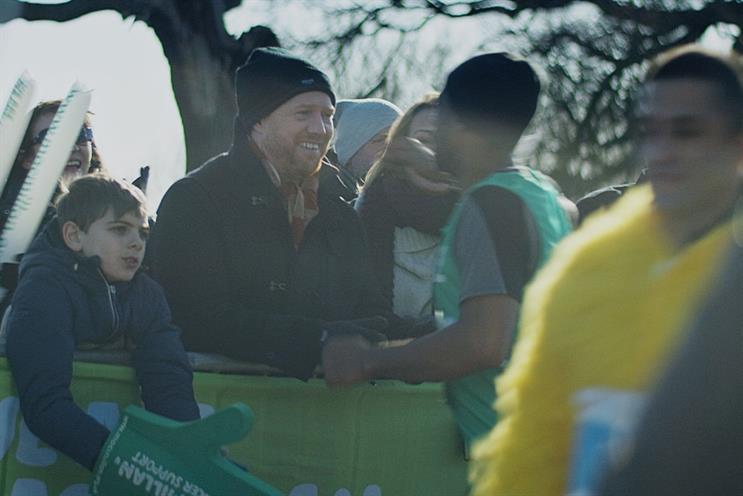 The emotive spot follows a man, who has been diagnosed with cancer, through his treatment. The aim of the campaign is to demonstrate the holistic support the charity provides, which comprises palliative care, information, physiotherapy treatment and financial advice.
Kate Barker, director of brand at Macmillan, told Campaign: "If you ask people what they think of when you say Macmillan, their instant response is often 'nurses'.
"We see this daily on our social channels when people message us to say how brilliant their nurse was, and we saw it again in the research groups at the start of this campaign.
"But we are so much more than nurses; we're physios, support-line officers, financial advisors and an online community with thousands of members."
The TV spot goes live on 1 August, after a delay of several months. The campaign was slated to go live in May but was postponed due to its use of the lyrics of You'll Never Walk Alone.
The song is strongly associated with Liverpool FC, and the ad's original launch date was scheduled to be shortly after April's ruling on the inquiry into the Hillsborough disaster.
This is the fourth year of the "No-one should face cancer alone" campaign, which Barker described as "very successful". According to YouGov's CharityIndex, Macmillan was the most recognised charity brand in the first half of 2016.
Barker said: "Key to its success is the powerful insight we discovered at the start of the campaign, which is that despite the fact that nearly all of us will be affected in one way or another, cancer can be a very isolating place."
Barker added the campaign had created "cut-through" in a crowded marketplace, resulting in Macmillan becoming one of the most trusted charities in the UK, although she wouldn't comment on the brand's future marketing plans.
The TV campaign will break on ITV during Coronation Street, and is supported by outdoor, radio and social activity. The spot was created by Emma Houlston, Colin McKean, Faustin Claverie and Thierry Albert, and directed by Nicolas Jack Davies through Pulse.