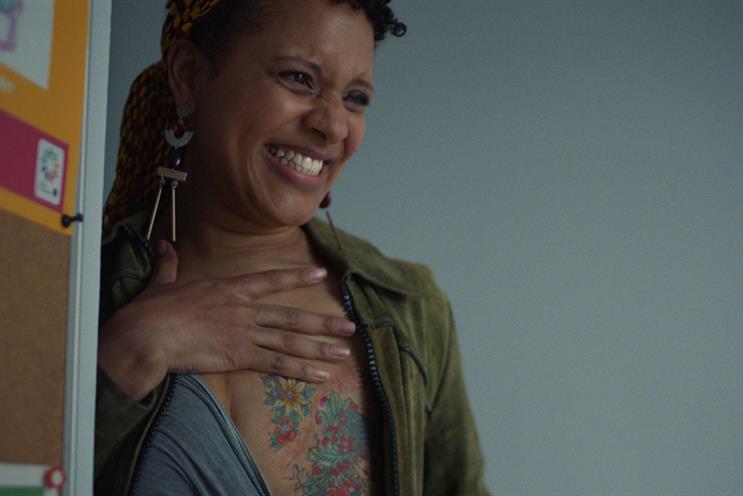 Compassion is pretty much a byword for Macmillan Cancer Support professionals. Ferociousness, not so much.
Changing this perception was the task the charity and agency AMV BBDO set themselves with their latest TV ad, 'Whatever It Takes'.
The ad saw success almost immediately after it was shown on TV, attracting increased donations and positive reception from people living with cancer and Macmillan's cancer support professionals.
Now, it has drawn praise from the creative community, winning the January/February Thinkboxes Award for TV ad creativity.
So how was the stirring ad put together? Why was TV the medium chosen and how did the teams navigate filming cancer patients, their loved ones and Macmillan professionals during the time of Covid?
"When almost one in two people will get cancer in their lifetime, it is something that affects us all. Macmillan's is a universally relevant cause, for a mass audience," says AMV BBDO's chief strategy officer Tom White.
"At a time when people living with cancer could feel cut-off, and donations were negatively impacted by cancer becoming the 'forgotten c', we needed to reach as many people as possible through the type of emotional storytelling that is best achieved with TV."
It was clear that Macmillan professionals were well-known and loved for their care and their compassion. "But the more we spoke to them and to people who'd had direct experience of Macmillan, the clearer it became that there was a steelier, grittier side that was often overlooked," White explains.
This added up to a positioning that they would do whatever it takes. "We wanted to show both sides of Macmillan - the tender and the tough aspects of their care – so that people saw the full picture and in doing so would think that if they or a loved one was given a cancer diagnosis, they'd want Macmillan in their corner.
"When you're someone living with cancer you want a compassionate warrior in your corner and when you're someone who might donate to us, you want to see the impact your donation will have."
AMV BBDO creative Scott Kelly takes up the story: "We were originally due to go into production in March 2020. Then all Covid broke loose. During the first national lockdown, the project was shelved and everything was up in the air. But with 98% of donations coming from the public, and other fundraising methods unable to happen, the new campaign was needed more than ever."
Production eventually started up again in the third quarter of the year."In light of Covid, we had to relook at the script," adds fellow creative Ben Polkinghorne. "We immersed ourselves into the world again, losing some scenes and adding others. Macmillan also offered us the opportunity to talk to nurses and patients firsthand. This was incredibly inspiring yet certainly put our own 'problems' into perspective."
The director Jonathan Alric was known more for his music and music videos (under the pseudonym 'The Blaze') than for commercial work but the creative team had been fans of his for some time and found his lack of commercial experience exciting.
"We wanted to make a film that showed an honest portrayal of what Macmillan nurses do. Not make an ad," says Kelly. Polkinghorne agrees. Alric is "such a talent," he enthuses. "His ability to vividly capture raw emotion is consistently chill-inducing. His work is always delivered so beautifully, you feel like you're actually there in person." Turns out, they both say, "he's also one of the nicest people ever."
The three-day shoot took place on the outskirts of London in the midst of the second national lockdown - and in a decommissioned hospital. "With Covid rife and with such a large cast, it was tricky," Polkinghorne acknowledges. "Especially as the script called for lots of intimate, up close and personal moments. There was a lot of testing and social distancing. Luckily, we had no Covid cases."
The shoot was "very moving and inspiring," Kelly remembers. "It seemed everyone in the cast and crew had their own story of how they'd been affected by cancer - either personally or through a loved one. People saw the shoot as a way of giving back. There was such a sense of energy in the air. And more than a few tears."
In post-production, editor Nicolas Larrouquere, who has previously cut music videos with Alric, played an instrumental part. "Rather than use more traditional angles and wides, we decided to only use close-ups and avoid shots with dolly or camera movements. This pulls you into the action and helps it feel real, rather than a set," Kelly explains. "Then the shots were allowed to live rather than be cut too short, which helped squeeze as much realism out as possible. We also ended up not using two scenes, which was unusual."
The music 'Spring 1' by Max Richter was on the very first edit - and remained. "All of us just fell in love with it," Polkinghorne says. "It felt natural and struck the right tone. It was perfect. We then crafted everything with the fine, talented folks at 750 and MPC."
The new 'Whatever It Takes' brand positioning and campaign launched on January 9th, spearheaded by a prime spot during ITV's The Voice.
"As soon as it went live we knew we'd made something special," recalls AMV BBDO business director Rachel Dymond. "The film has touched people around the world. It has driven them to share their own personal stories in comment sections, to donate and, most importantly, to reach out to Macmillan's support lines and online community when their help is needed more than ever."
For the client, Macmillan's head of brand Jo Juber, "The ultimate thumbs up is how positively the campaign has been received by people living with cancer and our incredible network of cancer support professionals. None of this would have been possible without their stories."

The creative team's favourite elements? The sausage dog on a mug, spinning in a microwave, still makes them smile. The simple moment of the tired nurse stretching. The track still gets them too. And all the brilliant performances. But, for them, the young girl touching the scar steals the show.
Looking back, what is Kelly and Polkinghorne's top tip for getting a great idea from script to screen? "The work doesn't stop when a script is sold in," Polkinghorne says. "We continued obsessing over every scene," adds Kelly. "Including what coffee mug to use."
Second place in the Thinkboxes' January/February winners' line-up went to 'Someday' by Uncommon for On The Beach. 'Faster Brings Us Closer' for Virgin Media by Adam & Eve/DDB was third.
Also shortlisted were 'It's A People Thing" for Halifax by New Commercial Arts and 'We Mean Business For Your Business" for Quickbooks by Wieden + Kennedy London.
WINNING AD
Agency: AMV BBDO 
Creative team: Andy Clough, Rich McGrann, Benjamin Polkinghorne, Scott Kelly  
Client: Jo Juber 
Production company: Iconoclast 
Director: Jonathan Alric
The Thinkboxes, in association with Campaign, are the only bi-monthly awards that celebrate the UK's world-beating TV ad creativity, in all its forms. They are judged by the Thinkbox Academy – 200 advertising and marketing luminaries who have been involved in award-winning creative work for TV.
Want to see more great work? Head to the Thinkboxes hub
Thinkbox is the marketing body for commercial TV in the UK, in all its forms. Its shareholders are Channel 4, ITV, Sky Media and UKTV. Thinkbox works with the marketing community with a single ambition: to help advertisers get the best out of today's TV.