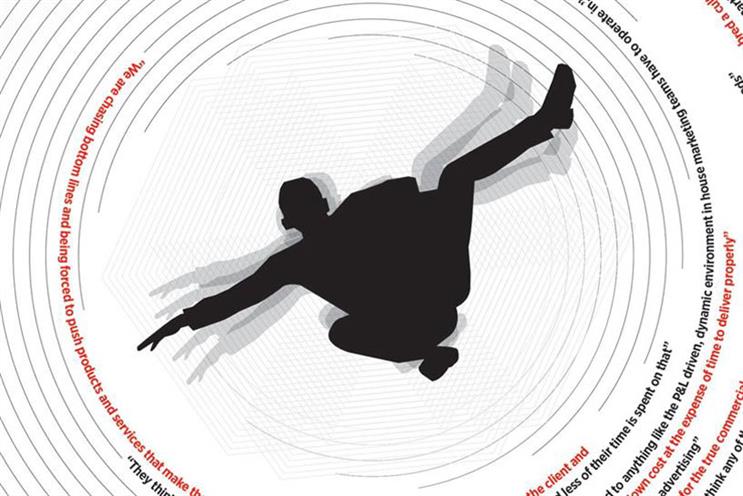 Early in 2015, the IPA Client Relationship Group commissioned Hall & Partners to explore the state of the client/agency relationship.
This was in response to anecdotal feedback that suggested the relationship might be troubled. The Marketing Society kindly agreed to sponsor the effort, as it recognised the issue and the importance of understanding it further.
The report, From Mad Men To Sad Men, has made for some pretty uncomfortable reading, but the findings have also provided some really interesting food for thought.
Overall, this study acknowledges that there is, indeed, a concerning rift in our client/agency relationships. Agencies appear to be enormously frustrated while clients are negative in their feedback about us. The chasm is significant.
The key pain points in the study suggest: agencies do not understand their clients' world ("They don't understand the numbers and can't build business cases, particularly creative agencies," one marketer said); agencies do not understand clients' customers ("It's a Shoreditch microcosm of people coming up with the same stuff – where's the challenge and innovation?"); and agencies do not understand the new world ("Agencies are largely behind pace. It's now all about putting customers first and designing seamless experiences – driven by tech and innovation").
The marketing role has clearly diversified and communications now make up only a small part of the marketing mix. Instead, managing the customer experience is taking up an increasing proportion of marketers' time and budget.
A report from Accenture even reported that "marketing is so inextricably linked to technology that, by 2017, chief marketing officers are projected to spend more on information technology and analytics than chief information officers".
In business today, it is rare to find a client such as John Lewis that so intelligently invests in both emotional brand-building communications and the customer experience. More often, clients focus on one or the other.
FMCG clients, based on the findings in the IPA report, are the ones most likely to invest in communications as the growth/awareness model is still functioning relatively well.
But many other successful clients have prioritised differentiation and growth almost exclusively through a better customer experience. And the results of those heavily investing in this space speak for themselves: Airbnb, ASOS, Starbucks, Uber, Simple, Zappos.com, Amazon, Giffgaff, Apple, Ovo Energy etc.
For agencies in the customer experience space, this is an exciting moment in time. Customer experience skills are in demand in the boardroom and an understanding of how to solve business problems through technology is at a premium. Most of these agencies are receiving briefs that include the words "business" and "transformation".
While data and analytics, and precise effect, have always been a given for those in the customer experience space, these agencies are also facing several challenges, which include:
1 A new competitive set, including Deloitte, Accenture and IBM, that are blithely reaching down into our world while we are still learning the language of theirs.
2 A need to ensure recognition for a modern type of creativity in this new age. At its very best, this is often invisible in the service of a better customer experience. Followers of Dieter Rams will know to which I refer, and please do reference the wonderful gov.uk case study so rightly celebrated by D&AD.
3 The need to upskill senior clients alongside senior agency folk, suggesting change management and education programmes are key.
4 Answering questions such as: how do we measure the value of customer experience without being fluffy? How much value should we place on short-term value generation (customer value management) vs longer-term, harder-to-measure metrics (CRM, customer experience management, lifetime value)?

In the face of this emergent focus on the customer experience and straining of the client/agency relationship, where do we go next?
There is no need to panic. Or, as Suki Thompson of Oystercatchers put it so eloquently at the IPA Commercial Conference last month, we should only apply "positive panic".
These are natural market forces at play, and agencies (and clients) have proven to be good at adapting.
Here are some first thoughts that agencies have had in response to the study. They are by no means comprehensive, but perhaps they will serve as useful starters to take to our clients to reinvigorate that shared agenda.
First, do we understand our agency's real strength? The client feedback in this study consistently suggests an agency cannot and should not claim to be all things to all men (Claire Beale's recent Campaign article is borne out: "Everyone doing everything is a zero-sum game").
According to this feedback, agencies need to embrace what they are good at. Love what you do, be a specialist at it and, in so doing, be exceptional. And it might mean the talent we hire is better-suited for the purpose, including more diverse talent from science, technology, engineering and mathematics (we still like and need our Shoreditch hipsters).
Next, do we understand our clients' world? Communications agencies will do well to embrace the demand for short-term results while being coherent around long-term effects. Few marketers can argue the case for the long-term effects, as much as we all wish it were so. Faster, cheaper, smarter and better are just a given.
On the other hand, those in the customer experience space might now need to leverage client budgets from operating expenditure to capital expenditure, which shifts the emphasis as to who is a stakeholder in a client organisation. We might be engaging with a tech-savvy chief marketing officer or a different client altogether – a chief technology officer or chief information officer. We need to be brave with our clients and expand our remit into operations if we are to deliver real, measurable change.
Finally, do we understand the new world – communications or the total customer experience? There is always going to be a need for communications as an awareness driver. But what we might need to acknowledge is that this will be an increasingly commoditised and oversupplied skillset (cf. the advent of the in-house model, media agencies as content providers etc). The opportunity to do extraordinary contextual work, such as the Geico "skippable ads", is exciting. But ad tech, data and algorithms are unavoidable in this new communications landscape.
By contrast, digital customer experience-led agencies will need to embrace the demand in the C-suite for digital-first business transformation programmes. That business value might be a drive for incremental revenue or cost reduction through reducing cost-to-serve, for example.
The report seems to suggest marketing is becoming boring by having to deal with the real world of money and ROI. However, this is an enormous opportunity for agencies that get themselves together, let alone the clients who work with us. As ISBA's Debbie Morrison said: "We need a joint 'big change' agenda to help client and agencies to navigate the constant marcoms evolution."
To quote the inimitable Bob Greenberg of R/GA in a recent Guardian article, this is by no means the end of Mad Men: "The connected age will yield a new generation of men (and women, thankfully) just as mad – and just as creative, but quite possibly more effective."

Leigh Thomas is the chief executive of Dare and chair of the IPA Client Relationship Group
An intermediary viewpoint
When Debbie Morrison (pictured), ISBA's director of consultancy and best practice, went to the IPA's Commercial Conference, she noticed something odd.
"Nobody, except me and a couple of people from Hall & Partners, was Tweeting anything," she recalls.
"There were no questions at the end either. I think all the agency chiefs were shocked."
While none of the criticisms levelled at agencies in the Hall & Partners report are novel, it's rare to have them packaged together and expressed so vociferously. The impression given by the 25 clients involved, from companies including Unilever, Premier Foods and Diageo, was that agencies were doing nothing right.
Morrison says: "I think things have got decidedly worse since November 2014 [when ISBA did a similar survey]. You might see a difference [in client attitudes] between big legacy agencies and small agencies created on newer models, but let's not kid ourselves: the environment is volatile and moving faster than anyone can keep pace with. The world has moved on and we're not keeping up.
"There's a massive oversupply of agencies and clients have built bigger rosters, so an agency's share of the time with a managing director is getting less and less.
"Clients are taking more stuff in-house, which I think is partly a reaction to not getting what they need from agencies but partly because it means they have got greater agility and more control."
Morrison says she frequently hears from clients who are frustrated that their agencies don't listen when they explain that their world has changed and, instead, simply try to sell services that the agency is equipped to provide rather than what the client needs.
She adds: "If I were a client, I would be looking for anyone who could simplify my life and drive business growth against a complex communications marketplace. If someone offered me a one-stop solution, I would find it appealing.
"But, at the end of the day, clients need agencies and agencies need clients. Otherwise, neither has a business."
This article was first published on www.campaignlive.co.uk