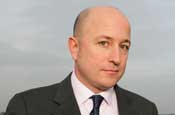 In an all-staff email leaked to campaign magazine, Martin Brooks (pictured), chief executive at Zulu, informed colleagues that Madden was leaving.

The email also included a quote from Madden, who said: "I may or may not be DM's answer to Thierry Henry, but even he can't score when he's not match fit. I had a very stressful 2006 and I simply wasn't ready to take on a job of the scale of Claydon Heeley. I've admitted this, and I'm moving on."

As well as holding the position of chief executive, Madden also took on the role of strategy director at the Omnicom network Zulu when he was appointed at the end of January.

Brooks told Campaign: "We've enjoyed having Richard in the agency for seven weeks but its clear that he needs time and space to work out what's best for him in the long term. We wish him all the very best."

Madden did not return calls.