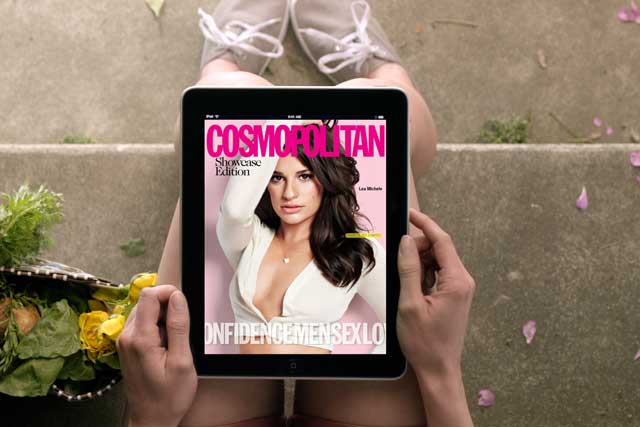 In the best of all possible worlds, the print brands with the poorest recent sales performances, in terms of newsstand and subscriptions, would be the ones making the greatest noise in the iPad space. They'd be the ones showing the greatest uptake - or, failing that, the ones showing evidence of clever thinking or a determination to make an investment in tablet-related infrastructure and personnel.
We've argued before that the tablet revolution could represent something of a digital reprieve for the consumer magazine sector. Publishers across the board failed to develop much traction on PC and laptop screens - now they'll attract very little sympathy if they don't make a concerted effort to develop sustainable digital business models in the tablet world.
So titles with lacklustre print ABCs in the January-June 2012 figures are arguably the ones in need of the greatest urgency here: for instance, women's lifestyle and fashion titles such as Company (down year on year by 20.5 per cent to 143,269) or More! (down 37.6 per cent to 106,065). Or, indeed, a women's weekly such as OK! (down 24.8 per cent to 355,969). Actually, picking on OK! is somewhat unfair - the whole weekly sector is continuing to shed circulation at an alarming rate.
So it's heartening to see a mainstream consumer title at the top of the ABC's digital edition figures - Cosmopolitan now has a paid average net digital circulation figure of 13,298. The next two on the list have more or less general interest credentials, too, with Men's Health on 12,142 and GQ on 9,652.
But then we're looking at the likes of the science and technology publication How It Works, The Economist, Total Film, Wired and New Scientist. And, yes, BBC Good Food, Elle and Harper's Bazaar are relatively well-placed - but Company is languishing in 22nd place on the digital league table and the women's weeklies are almost entirely absent.
Are there worrying signs that consumer magazines are preparing to miss the digital bus all over again? Not really, Zoe Bale, the head of press at Carat, argues. She says there's growing evidence that publishers are investing in the creation of a bespoke product for the iPad - and she says that's exciting: "The user experience is incredible and the interactivity potential, as demonstrated by lengthy dwell figures, is huge. The issue that remains is that, even with the best products out there, we still lack consistency in terms of trading, production and analytics from publishers."
In other words, she argues that, even if a publisher produces the best iPad app in the world, it won't necessarily find it easy to reap the advertising rewards.
And Vanessa Clifford, the head of press at Mindshare, agrees that it's easy to get ahead of yourself in this market: "There isn't a cut-off day by which every title has to have a tablet version. This is a platform that is still maturing in terms of reach and technology. We tend to assume that every title should have a video-enhanced digital publication rather than a straightforward replica app, but magazine brands have unique tones and editorial styles - and it's important that their digital evolution fits with this."
David Mulrenan, the head of press at ZenithOptimedia, agrees - and he says that the extent to which different publishers are at different stages of development is fascinating. But even the best of them offer incomplete propositions.
He comments: "Hearst, for instance, is very accountable on ABC Digital and has nearly a third of all its titles measured, but has yet to invest in accountable measurable technology that will provide valuable insights as to how and when readers consume the product."
And that, he implies, is rather significant: "It is important for publishers, agencies and clients to work together to develop the consumer experience. This can only happen through collaboration - because the full potential of tablets will not be realised through static ads."
But, according to Amy King, the head of press at MPG Media Contacts, we sometimes make rather glib assumptions about what consumers actually want.
She concludes: "If we take the celebrity weekly sector, for instance, how many readers have an iPad? In London, I think we sometimes get a bit carried away with the whole iPad thing. If you go around the country, not everyone has them. So it has to be right for a particular brand. It has to be seen within a wider context of what a publisher may be trying to achieve. Magazine brands these days are thinking about multiple touchpoints - it's not just about iPads."
NO - Zoe Bale, head of press, Carat
"The most recent ABCs gave us even greater reason to look at the digital editions of mags on the iPad. There is a clear indication that readers are consuming content other than through just the printed product or website."
NO - Vanessa Clifford, head of press, Mindshare
"As with all editorial (or media content generally), it's about ensuring you are delivering what the consumer wants, in the format they want it - and not every print brand needs a tablet publication just yet."
MAYBE - David Mulrenan, head of press, ZenithOptimedia
"In the last year, there have been encouraging signs, with 61 titles being measured on ABC digital editions this year versus 16 last year. However, individual publishers are at different stages of development when it come to levels of investment."
NO - Amy King, head of press, MPG Media Contacts
"There's absolutely no point in rushing into this if it's not appropriate for you. And these things take a lot of development - you have to make sure that it looks good and delivers a good experience."