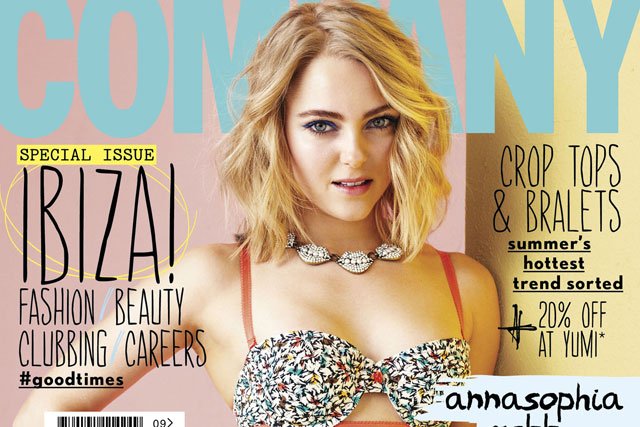 All glossies from major publishers recorded a dip in circulation in the latest report from the Audit Bureau of Circulations covering January-June 2013. Company reported the steepest decline, with its circulation falling more than 50,000 to 90,726 compared to the same period last year.
Speaking after the ABCs were published today, Anna Jones, the chief operating officer of Hearst Magazines UK, said print was only "part of the story" and referenced Company's recent multiplatform redesign.
Jones said: "We recently refocused the direction of Company magazine, to focus on a street-style fashion and beauty obsessed influencer audience and engage with them across print, web, mobile and also via a programme of events, with print being only part of the story.
"In a competitive and crowded market, engagement with this fashion-forward group has grown as a result, as have the commercial partnerships with brands wanting to target them."
Condé Nast's Glamour magazine maintained its position as the top women's paid-for glossy, posting a print circulation of 400,371, down 14.8 per cent year on year.
The top five titles remained unchanged, with Good Housekeeping, published by Hearst Magazines UK, close behind Glamour on 395,661 (down 3.2 per cent year on year), followed by Woman & Home, Cosmopolitan and Yours.
Look magazine, published by IPC Media, fell 19.9 per cent, while Kelsey Publishing's Psychologies also dropped 20.5 per cent. Glamour's sister title Cosmopolitan magazine saw a drop of 15 per cent.
Vogue, also from Condé Nast, put in the best performance among the fashion-focused titles, with its circulation dropping only 5.9 per cent to 193,007.
Shortlist Media's free weekly title Stylist topped the women's lifestyle magazine table overall with 435,768. In keeping with most free distributed magazines, its numbers remained consistent, lifting slightly year on year by 1 per cent.
Rob Lynam, the head of display at MEC, said he wasn't surprised by Company's fall in circulation as it "took a big hit in the last period as well".
Lynam said: "If you look at the trends over time, you almost get the feeling that publishers and consumers are giving up on some titles. You would expect weaker titles to start dropping off.
"What's more concerning in this sector is the longer-term trend of decline on big heritage brands, like Marie Claire, Glamour and Cosmo, that really dominate that sector and prop it up."

The results come after a challenging half-year for print glossies. Condé Nast scrapped its Easy Living print edition in May, despite being the only paid-for glossy magazine from a major publisher to increase its circulation in the last six months of 2012.
In a sign of hope for the waning market, titles aimed at the older women's sector generally slowed their rates of decline. Good Housekeeping reduced its fall in circulation to 3.2 per cent, after falling 8.7 per cent in the same period last year.
Meanwhile, Woman & Home, Prima and Yours all reported relatively modest circulation falls of less than six per cent.
Linda Swidenbank, the publishing director of Woman & Home, said: "The lifestyle magazine market is challenging and Woman & Home remains the third-biggest women's magazine.
"Its presence in the all-important upmarket forty-something female sector only gets stronger. Its mobile-optimised website continues to grow and it has doubled its UK web traffic from last year."
Hello! Magazine repositioned itself as a lifestyle title last year and is now classified as Women's Lifestyle in the ABC report, rather than the Women's Weekly category, with rivals such as OK! Its circulation declined 20.2 per cent year on year to 281,831.
Magazine ABCs: Women's Lifestyle/Fashion
| | | | |
| --- | --- | --- | --- |
| Title | June End 2013 | Prd/Prd % change | Yr / Yr % change |
| Glamour | 400,371 | -5.6% | -14.8% |
| Good Housekeeping | 395,661 | -3.3% | -3.2% |
| Woman & Home | 340,239 | -3.5% | -3.8% |
| Cosmopolitan | 300,255 | -2.7% | -15% |
| Yours | 274,030 | 0.7% | -2.4% |
| Prima | 250,628 | -2.1% | -5.2% |
| Marie Claire | 230,973 | -9.5% | -9.4% |
| Red | 202,463 | -7% | -10.5% |
| Look | 200,265 | -11.1% | -19.9% |
| Vogue | 193,007 | -5.1% | -5.9% |
| Elle (U.K.) | 170,286 | -12.3% | -10.2% |
| Grazia | 168,030 | -9.9% | -11.6% |
| Instyle UK | 147,219 | -11.3% | -9.9% |
| Essentials | 111,333 | -5.3% | -6.5% |
| Company | 90,726 | -29.7% | -36.7% |
| Vanity Fair | 88,377 | -9.6% | -12.2% |
| Tatler | 84,285 | -3.2% | -3.1% |
| Psychologies Magazine | 73,357 | -5.5% | -20.5% |
Average circulation per issue for the six-month period Jan 2013 to Jun end 2013
Source: ABC Consumer Magazine Report