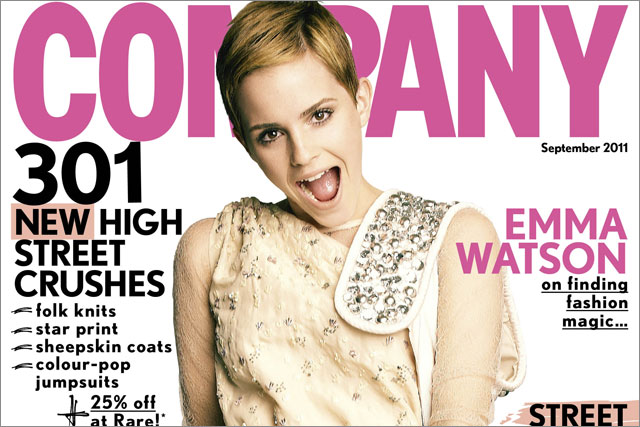 Company, the fashion, advice and celebrity gossip title, had an average circulation of 180,162 for Jan to Jun this year, marking a 17.2% drop period on period.
Hearst's Psychologies magazine, formerly a Hachette Filipacchi title, also posted a circulation drop of 9.6% period on period and 8.7% year on year.
Fashion title Cosmopolitan, whose sister magazine Cosmo Bride was closed as part of the Hearst UK merger, also plummeted 3.4% period on period and 3.7% year on year. The drop marks the first time Cosmopolitan has dropped below the 400,000 mark, pulling in a circulation of 386,852.
But Hachette Filipacchi titles Red, Elle, and NatMag's Harpers Bazaar maintained their positions overall, posting small increases year-on-year.

Sharon Douglas, circulation and marketing director for Hearst UK, said: "Company has been a challenge for us it's fair to say. We have reduced our retail marketing of it and put more resources into its editorial.

"But Harpers Bazaar was absolutely wonderful for us and had its 11th consecutive increase year-on-year."

Following on from the closure of NatMag's She magazine, Douglas said that Hearst was continually revising its portfolio, but was not looking to close any further titles at the moment.

Tess Mcleod-Smith, publishing director of Harpers Bazaar, said that a bumper fashion issue in March coupled with Kate Moss and Claudia Schiffer gracing the title's cover had helped to boost its circulation 0.2% year-on-year.

Mcleod-Smith said that the luxury sector of women's magazines would continue to grow, and claimed that advertising revenue for this year's September and October issues was up significantly.
But elsewhere in the women's lifestyle sector, Essentials magazine is once again the fastest growing magazine, posting a 9.9% year-on-year circulation increase.
The IPC monthly claimed an average distribution of 126,904 for the Jan to Jun 2011 period, a 0.4% increase period on period.
Meanwhile Conde Nast's ever-popular weekly magazine Glamour ramains the biggest women's lifestyle title, with an average circulation of 530,060, up 5.9% period on period and 0.7% yoy.
Simon Kippin, publisher of Glamour, said the fact Glamour had not changed its product or offered more gifts to boost its figures was testament to its editorial strength.

He said: "We have got the biggest gap between us and Cosmopolitan ever and are clearly right on top.

"I would be the last person to offer advice to Hearst, but I think that middle market in terms of the glossy young people's magazines is really squeezing Company out. I think it's part of a long decline. But overall it wasn't a particularly buoyant period."
Fashion titles Vogue and Vanity Fair dropped slightly period on period, posting 0.2% and 1.9% falls respectively.
Free women's weekly Stylist boasted a 1.2% year-on-year and 0.5% period-on-period rise, with an average circulation figure of 426,396, the third consecutive rise since the title's launch in October 2009.
Mike Soutar, chief executive of ShortList Media, the publisher of Stylist, said: "No longer just an innovative launch, Stylist is a fully-formed, market-transforming phenomenon. We have exciting plans to continue to grow its scale and influence."
European Magazines Ltd's Marie Claire posted the second highest drop year on year behind Company, at 10.4%.
Top 23 women's lifestyle magazines
Title
Publisher
Jan - Jul
Prd/prd
Yr/yr
2011
change
change
Glamour
Conde Nast Publications
530,060
5.9%
0.7%
Good Housekeeping
Hearst Magazines
430,878
-2.9%
2.0%
Stylist
Shortlist Media
426,396
0.5%
1.2%
Cosmopolitan
Hearst Magazines
386,852
-3.4%
-3.7%
Woman & Home
IPC Media
370,284
-4.0%
0.3%
Look
IPC Media

300,161
-3.6%
-4.2%
Yours
Bauer Consumer Media
285,890
-2.4%
-3.8%
Prima
Hearst Magazines
280,207
4.4%
-3.1%
Marie Claire
European Magazines
250,785
-5.4%
-10.4%
Candis
Newhall Publications
236,075
-4.8%
-7.2%
Red
Hearst Magazines
231,160
0.1%
0.5%
Grazia
Bauer Consumer Media
219,741
-2.1%
-3.9%
Vogue
Conde Nast Publications
210,766
-0.2%
0.1%
Elle (U.K.)
Hearst Magazines
197,136
-1.7%
0.8%
Company
Hearst Magazines
180,162
-17.2%
-17.1%
Instyle (UK)
IPC Media
175,113
-3.0%
-6.0%
More!
Bauer Consumer Media
170,033
-9.7%
-9.2%
Easy Living
Conde Nast Publications
158,038
-1.3%
-7.1%
Essentials
IPC Media
126,904
0.4%
9.9%
Harpers Bazaar
Hearst Magazines
118,740
-0.8%
0.2%
Psychologies
Hearst Magazines
108,631
-9.6%
-8.7%
Vanity Fair
Conde Nast Publications
100,560
-1.9%
-1.8%
Tatler
Conde Nast Publications
87,616
0.4%
1.4%