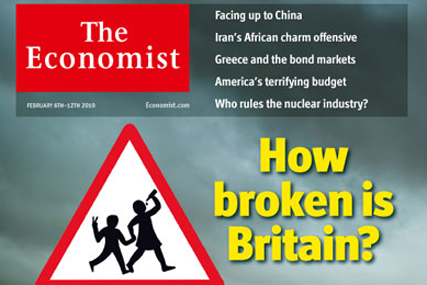 The slow, steady rise in circulation for the UK edition of the global magazine was aided by a cinema campaign, which ran during the reporting period, as well as continued interest from the public in finance amid the recession.
Inching closer in The Economist's rearview mirror is Dennis Publishing's news round-up The Week, which gained 2.5% period on period to reach an average issue circulation of 169,690 copies.
The title was up an impressive 9.8% year on year compared to The Economist's 1.2% gain.
Satirical fortnightly Private Eye is also on the up, gaining 1.8% period on period to reach 210,218 copies.
The sector's fall guy was right-leaning political weekly The Spectator, which suffered a 6.4% drop to 70,300 copies. It is an unwelcome start for new editor Frazer Nelson, who took over in September, but continues a declining pattern in place before his appointment.
Time's British Isles edition is also down, falling 2.8% period on period to 130,264. Fellow US publishing extension Newsweek enjoyed a 1.7% rise for its Europe edition to 192,239.
Like The Economist, The Spectator last year moved to restrict the amount of online content it gives away, while The Week is still yet to put its content online.
In October The Economist extended its barrier to archive content from more material more than a year old to content more than 90 days old, a month after The Spectator introduced a paywall with a limited amount of free access content.
Niche investment title Money Week is the success story of this period, with a 4% rise over six months to 42,953 copies. It is also up 10.4% year on year, while rival Investors Chronicle, published by FT Business, is down 1.4% year on year to 30,006.
MediaCom associate director Richard Isaac pointed out that the sector's figures are "not quite as rosy" as they seem in the top line numbers, with several year-on-year drops in the number of actively purchased copies.

The Economist's number of actively purchased copies is down 4.3% year on year to 145,810, or 77% of its total circulation.

"The Spectator has performed the worst, down 9% year on year on active purchase, but generally I think the sector as a whole has been fairly robust.
"Success stories include Money Week, The Week and The Oldie - all of whom have increased actively purchase sales. The sector resisted more severe decline partly due to the recession. Readers want to be informed on the state of the economy and politics, this sector offers depth of comment and analysis that digital is less effective at providing."
* In this sector The Spectator had 77.1% of copies actively purchased.
Top 10 News and Current Affairs Magazines
Title
Publisher
Jul-Dec 09
Prd/prd Change
Yr/yr Change
1
Private Eye
Pressdram Ltd
210,218
1.8%
3.4%
2
Newsweek
Newsweek Inc (UK Branch)
192,239
1.7%
-0.2%
3
The Economist
The Economist Newspaper Ltd
189,201
1.0%
1.2%
4
The Week
Dennis Publishing Limited
169,690
2.5%
9.8%
5
Time Magazine
Time Warner Publishing Bv
130,264
-2.8%
-3.0%
6
New Scientist
Reed Business Information Limited
101,060
-5.5%
-7.5%
7
Spectator
Spectator (1828) Ltd
70,300
-6.4%
-8.9%
8
MoneyWeek
Moneyweek Ltd
42,953
4.0%
10.4%
9
The Oldie
Oldie Publications Ltd
35,965
4.8%
14.6%
10
Investors Chronicle
FT Business
30,006
-0.1%
-1.4%