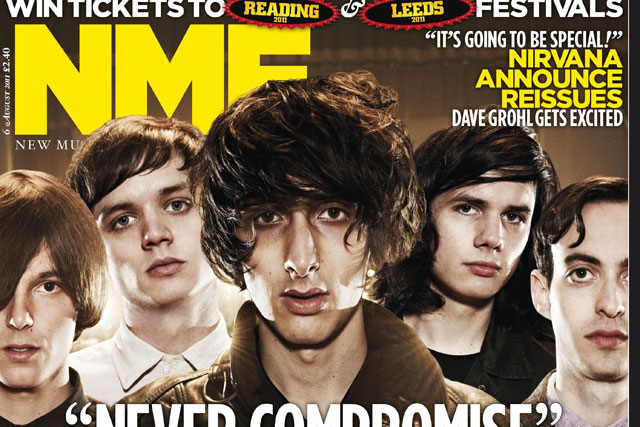 According to today's magazine Audit Bureau of Circulations (ABC) figures, the NME suffered a 14% year-on-year fall in its average circulation to 27,650 – continuing a trend of long-standing decline at the title.
In 2008, the printed issue of the title reported a circulation of 56,284 – more than double its current circulation.
Against this backdrop, in October last year, IPC appointed Emily Hutchings, previously publisher of weekly titles Now and Soaplife, as publishing director of NME and its sister title, Uncut.
Hutchings, who replaced Paul Cheal following his appointment as IPC Media digital publishing director, has been tasked with attempting build the reach and commerciality of digital versions and develop brand extensions of the title, while attempting to slow print sales that have declined by almost two-thirds from a high of 76,792 five years ago.
IPC said that despite its print sales decline, NME now reached more than one million consumers a week through its combined print and digital offerings.
During the second half of last year, the publisher launched NME Extra, an initiative to reward readers with exclusive access to additional content at NME.com.
The publisher said the title would also concentrate on international brand expansion, detailing how it has recently developed partnerships with international festivals and a soon-to-launch Indian edition of the magazine and website.
In the UK, NME sells fewer copies than any other rock music title. However, other magazines in the sector have not been immune from large print declines.
Future title Metal Hammer suffered the biggest year-on-year fall in the sector, as its average circulation dropped 15.7% during the last six months of 2011 to 35,259.
NME's stablemate, Uncut magazine, saw its average circulation drop 14.2% to 62,305 during the same period, while Bauer Media's Q title suffered a year-on-year average circulation decline of 12.1% to 77,522.
Earlier this month, Bauer announced that former editor Andrew Harrison would return to edit Q after the departure of Paul Rees, who had edited the magazine for almost 10 years.
Bauer's Mojo remained the biggest-selling monthly music magazine, despite is circulation slipping 7.5% year on year to 87,555 in the second half of last year. However, this average monthly sales figure marked something of a stabilisation, as the title saw sales grow marginally (0.3%) period on period – the only major magazine to achieve this.
Free title The Fly remained the most widely distributed magazine rock music magazine in the second half of last year, with an average circulation of 100,574 – down 0.4% – while Bauer's Kerrang! weathered the decline in sales better than most, with a year-on-year drop of just 2.2% to an average monthly circulation of 42,077.
Despite declining print sales, Rimi Atwal, publishing director of Kerrang!, Mojo and Q, declared herself pleased with "another solid set of results".
"Mojo's special Pink Floyd edition, our Q and U2 partnership with Bono's active involvement, and the very special Nevermind covers CD for Kerrang! are just three examples of how our brands engage with readers and their passion for music," she said.
"We are also excited about Andrew Harrison's arrival as the new Q editor. His proven track record in magazines and understanding of Q's eclectic audience makes him the ideal choice at an exciting stage of the magazine's development."
Overall, the average circulation of music sector titles was up 16.3% year on year. However, this can be attributed in large part to a number of new free titles that do not yet have yearly comparisons.
Junko Partners Publishing'' free The Stool Pigeon, Proper Music's free Propaganda, and RWD's free DIY Magazine helped push up the overall figure.
Of the other music magazines, Future's Classic Rock title's circulation dropped 7.9% year on year to an average of 62,354.
BBC Music magazine, which, since the corporation's sale of its magazine wing earlier this year, is now published by Immediate Media Company, saw its circulation hold firm at 42,735, a year-on-year decline of just 0.2%.
Gramophone, which like Media Week is published by Haymarket Media, saw its circulation drop 13.8% year on year to an average of 26,291 during the second half of last year.
The country's two leading film magazines, Future's Total Film and Bauer's Empire, both suffered drops in circulation.
Empire's average circulation fell 3.2% year on year to 167,056 in the second half of 2011 while Total Film's circulation dropped 9.9% over the same period to 70,268. However, Total Film did sell an additional 2,910 digital editions on average each month over the relevant period.
The rise in digital edition sales – via tablet computers such as the iPad – prompted the ABC to include this growing category in its half-yearly sales report for the first time. Gramophone was the only other magazine in the sector to list digital edition sales. It sold an average of 525 digital editions on average each month during the second half of last year.
Top Film and Music magazines
Title
Publisher
Dec end 2011

Prd/prd
Yr/yr
change
change
Empire
Bauer Consumer Media
167,056
-2.3%
-3.2%
Mojo
Bauer Consumer Media
87,555
0.3%
-7.5%
Q
Bauer Consumer Media
77,522
-3.6%
-12.1%
Total Film
Future Publishing Ltd
70,908
-1.3%
-9.9%
Classic Rock
Future Publishing
62,354
N/A
-7.9%
Uncut
IPC Media
62,305
-5.6%
-14.2%
Kerrang!
Bauer Consumer Media
42,077
-2.2%
-2.1%
Metal Hammer
Future Publishing Ltd
35,259
N/A
-15.7%
New Musical Express
IPC Media Ltd
27,650
-4.7%
-14.0%
Gramophone
Haymarket Consumer Media
26,291
N/A
-13.8%
Sight and Sound
British Film Institute
19,268
N/A
0.7%