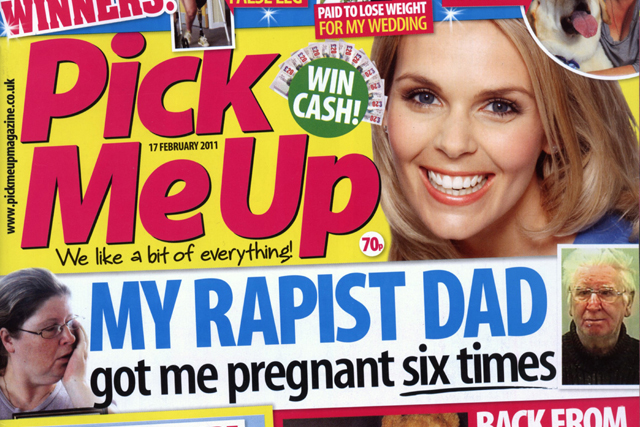 IPC's Pick Me Up, which has recently been tweaked to appeal not just to women in their late 20s, but also to a slightly older demographic, plunged 13% year on year and 10.1% for the period to 287,029.
Hubert Burda's Love It!, now on 242,315 copies, is down 14.5% year on year, falling behind H Bauer's Bella, both priced at 69p. However, it managed a period-on-period increase of 4.6%.
That's Life! was also down by double figures year on year. It is published by H Bauer and targets a younger readership than its market-leading sister title Take A Break. It fell 11.3% year on year to 335,772 copies for the six months to December 2010.
The magazine lost its editor Jo Checkley in March last year, when she was poached by Love It!. Checkley was replaced by Sophie Hearsey, previously deputy editor of Take A Break, in April.
Amy King, press director at MPG Media Contacts, said: "The real-life sector has had a shocker. There's not as much demand for it anymore – how much more outrageous can these real-life stories get?"
Take A Break, despite leading the real-life charts at 833,522, suffered a drop of 2.6% for the period and 7.4% year on year.
Chat, the second-most-popular magazine in the real-life market, owned by publishing giant IPC, also suffered, with a 5.7% fall year on year to 415,040 copies.
Drew Kirkland, group publishing director for weeklies at Natmag, said: "Big hitters like Love It! and Pick Me Up have had a phenomenal decline.
"In contrast to the real-life mags, it is the classic weeklies such as Bella and Best that have stabilised after a period of steady decline, which indicates that during the downturn, people are turning much more to titles that offer advice on how to feed the family healthy food, but cheaply, and so on."
The lower-priced end of the market seemed more resilient, with Natmag's Real People up 1% year on year to 218,276.
Kirkland attributed Real People's success to multi-packing with other NatMag titles (20 out of the 26 in the last period) and a fly-on-the-wall last year documentary that followed the editor and her team around the office, which "got the name out to a lot of people".
Hubert Burda's Full House was down 3.4% year on year to 173,999.
In traditional weeklies, IPC's veteran Woman's Weekly, which celebrates its centenary this year, was steady with a 0.1% drop year on year to 344,068 copies.
IPC's Woman and Woman's Own, which target slightly younger readers, were down year on year, the former by 2% and the latter, 2.3%.
Woman's Own had a new editor for the six months to December, after associate editor of Reveal, Vicky Mayer, took over from Karen Livermore, who moved across IPC's corridors to Woman in January.
Fiona Dent, managing director of IPC's women's weekly unit, said: "Consumers at the real-life end of the magazine market have been most affected by the economic downturn. There has been a reduction in repertoire and frequency of purchase in this sector."
Dent attributes negative circulation results for IPC titles Pick Me Up and Chat to their being "premium products" in a sector "most affected by the economic downturn".
Pick Me Up and Chat are priced at 82p and 70p respectively, compared to Hubert Burda's Full House (50p) and Love It! (68p), NatMag's Real People (67p) and H Bauer's That's Life (68p).
Top 11 real life magazines
Title
Publisher
July-Dec
Prd/prd
Yr/yr
2010
change
change
Take a Break
H Bauer Publishing
833,522
-2.6%
-7.4%
Chat
IPC Media
415,040
-3.6%
-5.7%
Woman's Weekly
IPC Media
344,068
1.6%
-0.1%
That's Life
H Bauer Publishing
335,772
-1.7%
-11.3%
Woman
IPC Media
309,878
-2.6%
-2.0%
Best
The National Magazine Company
294,161
-2.7%
-2.4%
Woman's Own
IPC Media
291,700
7.1%
-2.3%
Pick Me Up
IPC Media
287,029
-10.1%
-13.0%
People's Friend
DC Thomson & Co
282,766
-3.0%
-7.8%
Bella
H Bauer Publishing
245,286
-0.5%
-3.0%
Love It!
Hubert Burda Media UK
242,315
4.6%
-14.5%