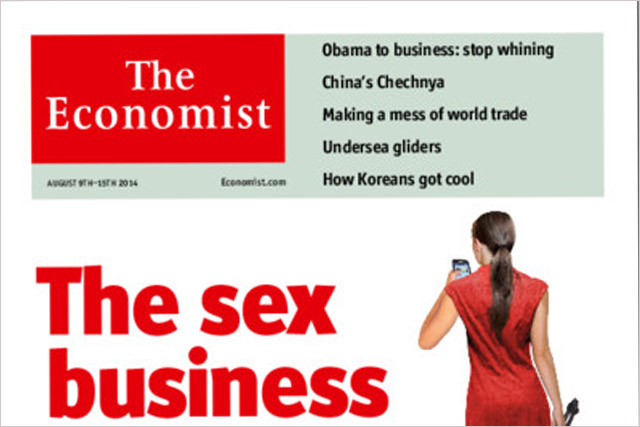 Broken down, The Economist's average print circulation between January and June 2014 was 201,950. Its average total digital circulation over the same period was 21,780. The combined figure of 223,730 represents a 1.2 per cent increase on the previous period (July to December 2013).
There is no combined print and digital year-on-year comparison available since the ABC only started using the metric in the second half of last year. But taken separately, The Economists' print circulation was down 3.5 per cent year on year, while its digital readership was up a massive 147 per cent.
A spokeswoman for The Economist said: "A significant percentage of our readers have migrated from print to digital, helping to fuel the 147% growth in the UK over the last year. We give our new customers the option to choose digital or print. We do not market one option more than the other."
If you strip out digital circulations, Pressdram's Private Eye was the most-read current affairs magazine with an average print circulation of 218,000. But the publication suffered for its lack of an online product and dropped to second in the ABC's rankings behind The Economist.
Private Eye's print circulation for January to June 2014 represents a 2.6 per cent decline on the previous period and a two per cent drop year on year.
In terms of combined print and digital figures, BBC History magazine also performed well, with average circulation for the period at 89,981. Its digital circulation was 11,286 – a 28.7 per cent increase on the previous year.
The Week, a title belonging to Dennis Publishing, whose charismatic founder, Felix Dennis, died aged 67 in June, also put in a strong performance.
Its average print circulation for the half year was 199,459, up 0.6 per cent on the previous period and 1.1 per cent year on year. The title claims it has 26,000 digital subscribers, but they do not qualify for inclusion in the ABC's report.
China Daily's European Weekly magazine, which only began publishing in 2013, recorded a print circulation of 92,547 for the period. The figure is a 1.9 per cent increase on the previous period and 5.9 per cent increase year on year. China Daily has no digital product included in the ABCs.
MoneyWeek had the biggest year-on-year increase in terms of its print circulation, rising 11.2 per cent to 57,851. The figure also represents a 1.9 per cent increase over the previous period.
James Tyrell, an investment director at Havas Media UK, said: "The obvious thing is that there is still an appetite for news and current affairs magazines.
"Also, what's interesting is that The Economist and BBC History made the top ten of all tablet editions, showing success in a fuller market that is usually dominated by specialist titles."
| | | | | | | | | |
| --- | --- | --- | --- | --- | --- | --- | --- | --- |
| Product | Combined Total Average Circulation | Combined Total Prior Period Change | Print Total Average Circulation | Print Total Prior Period Change | Print Total Prior Year Change | Digital Total Average Circulation | Digital Total Prior Period Change | Digital Total Prior Year Change |
| BBC History Magazine | 89,981 | 0.67% | 78,695 | 0.58% | 4.66% | 11,286 | 1.32% | 28.69% |
| China Daily European Weekly | 92,547 | 1.92% | 92,547 | 1.92% | 5.81% | | | |
| Investors Chronicle | 28,705 | 7.49% | 28,705 | 7.49% | 6.56% | | | |
| MoneyWeek | 57,851 | 1.87% | 57,851 | 1.87% | 11.19% | | | |
| Private Eye | 218,290 | -2.62% | 218,290 | -2.62% | -2.06% | | | |
| Prospect | 31,314 | 2.12% | 31,314 | 2.12% | 2.01% | | | |
| The Economist - United Kingdom Edition | 223,730 | 1.20% | 201,950 | -3.11% | -3.50% | 21,780 | 72.28% | 146.99% |
| The Oldie | 45,410 | 1.92% | 45,410 | 1.92% | 0.65% | | | |
| The Spectator excluding Australia | 54,256 | 0.34% | 54,256 | 0.34% | 3.07% | | | |
| The Week | 199,459 | 0.56% | 199,459 | 0.56% | 1.12% | | | |