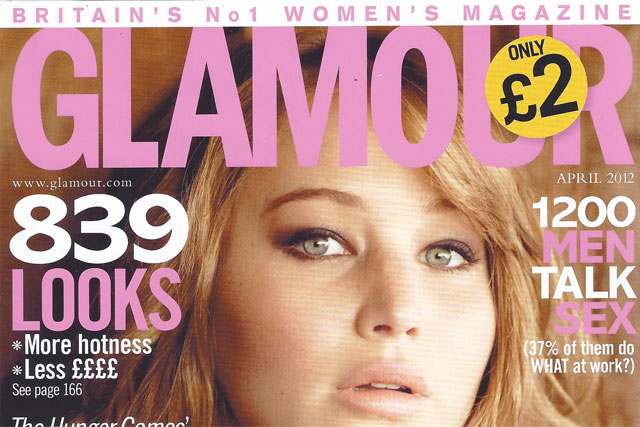 Condé Nast's Glamour reported a circulation of 470,138 in the six months to end of June, down 11.3% on the year.
However, it outperformed Hearst's Good Housekeeping which was down 5.2% on the year to 408,569, across a sector which has had mixed fortunes in the six months.
Hearst pointed to Good Housekeeping's multi-brand approach, including related products, books and the imminent launch of Goodhousekeeping.co.uk in September.
Glamour, likewise, has become much more than a pure magazine title, with its high-profile awards and other brand extensions.
The two big circulations falls were Bauer's More magazine, down a staggering 30.5% in the period to 106,065, while Hearst's Company was down 23.9% to 143,269.
At the start of the year, Company unveiled a new "streetwise" look that was designed to reflect the popularity of fashion blogging, as well as social media trends among young women. The cover price of the magazine remained at £2.
Other leading titles performed in line with the sector as a whole.
Cosmopolitan reported a circulation of 353,413, down 8.6% on the year.
It pointed to new print extensions Cosmo Body and Cosmo Beauty, which have helped the performance of the overall brand.
Like its rivals, Cosmopolitan also emphasised the performance of its digital and mobile offshoot brands.
Bauer's Grazia was down 13.5% on the year, but its managing director of lifestyle and advertising Abby Carvasso said the title was a strong performer in the sector.
She said: "Grazia is the only title to tap into the upscale environment every week, that is its point of difference. The demand from advertisers is at an all-time high."
Carvasso pointed to Grazia's September "special fashion" issue which will boast a record 150 pages of advertising.
Bauer's sister title More had a nightmare six months, down more than 30% on the period, to 106,065.
Carvasso justified the falls by saying the title had received no marketing or price-promotion in the six month period, ahead of its relaunch in Jun, adding that "the title will now be relevant to the people of today."
IPC's flagship title Marie Claire was up 1.7% on the year to 255,021 copies.
Women's Health, Heasrt Rodale's quarterly offshoot title of Men's Health which launched in February this year, reported a debut circulation of 100,289.
Other IPC titles, Woman & Home and Instyle, performed broadly in line with the market.
Along with More, the other big faller was Company, with the Hearst magazine falling more than 23% in the period, indicating that its January relaunch failed to resonate with consumers.
| | | | |
| --- | --- | --- | --- |
| Title | Publisher | June end 2012 | Prd/prd |
change
Yr/yr
change
Glamour
Conde Nast Publications

470,138
0.8%
-11.3%
Stylist
Shortlist Media

431,266
0.5%
1.1%
Good Housekeeping
Hearst Magazines UK
408,569
-8.8%
-5.2%
Woman & Home
IPC Media

353,731
-6.9%
-4.5%
Cosmopolitan
Hearst Magazines UK
353,413
-6.4%
-8.6%
Yours
Bauer Consumer Media
280,804
-0.7%
-1.8%
Prima
Hearst Magazines UK
264,312
-6.2%
-5.7%
Marie Claire
European Magazines Limited
255,021
-4.4%
1.7%
Look
Evarn

250,071
-10.8%
-16.7%
Red
Hearst Magazines UK
226,116
-2.2%
-2.2%
Candis
Newhall Publications

223,584
-0.4%
-5.3%
Vogue
Conde Nast Publications

205,033
-2.7%
-2.7%
Grazia
Bauer Consumer Media
190,053
-7.5%
-13.5%
Elle (U.K.)
Hearst Magazines UK
189,568
-2.8%
-3.8%
Easy Living
Conde Nast Publications

164,019
17.1%
3.8%
Instyle UK
IPC Media

163,432
-7.1%
-6.7%
Company
Hearst Magazines UK
143,269
-23.9%
-20.5%
Harpers Bazaar
Hearst Magazines UK
119,274
-0.6%
0.4%
Essentials
IPC Media

119,087
-7.6%
-6.2%
More!
Bauer Consumer Media
106,065
-30.5%
-37.6%
Vanity Fair
Conde Nast Publications

100,692
-1.8%
0.1%
Women's Health
Hearst-Rodale

100,289
n/a
-n/a
Psychologies Magazine
Hearst Magazines UK
92,302
-11.7%
-15.0%
Tatler
Conde Nast Publications

87,004
-1.2%
-0.7%