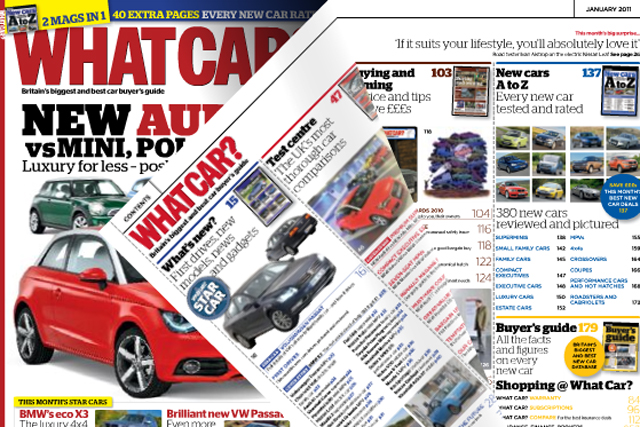 The title, which was redesigned in July, is owned by Media Week's parent company Haymarket. It recorded a steady lift in sales in comparison to the same period during 2009, up 5% from 83,102 copies despite a lacklustre car sales market in the ongoing economic downturn and the cover price increasing by 50p.
Andrew Golby, publishing director of What Car?, said: "We are delighted with our latest circulation figures. What Car? has outperformed the magazine market and the new car market to grow its sales through a period of market decline.
"What makes it all the more satisfying is that we've done it the old-fashioned way, by investing in the product and delivering a better magazine with 40 extra pages.
"We relaunched What Car? in July, and despite adding 50p to its cover price, sales have increased. When considering the cost of a new car, £4.99 is still a small price to pay for our expert test verdicts. Our editorial team deserves a lot of credit for our success."
Chris Davies, press director at ZenithOptimedia, whose clients include Toyota and Lexus, said: "The car sales market has not been that great as we all know, so there is a possibility that people are doing more research when looking to buy a car, however, I would think that a lot of that research would be done online.
"The success of What Car? obviously flies in the face of the market, so it's a really good result for them."
Also kicking in the nitrous was performance car magazine Evo, published by Dennis Publishing, which accelerated its copy sales by 1.6% during the final six months of 2010 to 65,691 from 64,674. The title rose by 1.7% in comparison to the same period in 2009 when it sold 64,580 copies.
The other winner during the period was the spin-off magazine from the BBC's successful motoring programme 'Top Gear'. Despite the departure of its editor Conor McNichols at the end of June last year, the title increased its sales by 0.6% during the last six months of 2010 from 190,375 copies to 191,539 copies.
However, it was a different story for the BBC Worldwide monthly when compared with the same period during 2009. It dropped 4.6% from 200,796 in the period.
Simon Carrington, publisher of 'Top Gear' Magazine, said: "'Top Gear' is now the UK's second-biggest selling men's monthly magazine.
"New editor Charlie Turner has overseen a significant new look for 'Top Gear', delivering content that we believe the readers will love and that gives us a platform for further growth in 2011."
Although its year-on-year performance was not all it could be, Hannah Murphy, print planning director at Carat, points to the title's ongoing success. She said: "I think 'Top Gear', because it has differentiated itself, is not really a core car buying magazine these days, it's more of a men's lifestyle title these days.
"Due to its mass appeal and companionship with the TV series, it's going to remain the market leader for some time. You really have to look at it as the second biggest selling men's monthly."
Those with less to shout about include Bauer Consumer Media's Car and Haymarket Consumer Media's Autocar, which both recorded a 6.5% drop in circulation during the period.
Car dropped from 62,443 copies to 58,380, and, in comparison to the same period in 2009, had slipped by 2.8% from 60,061 copies.
However, Autocar had a larger percentage dive, dropping 5.9% from a figure of 47,371 at the end of 2009.
Recording a slightly less damaging slip in the general sector was Dennis Publishing's Auto Express, which slipped 1.8% during the final six months of 2010, from 61,983 at the end of June, to 60,840 copies. Its 64,114 circulation, as reported at the end of December 2009, fell 5.1%.
The CSMA Club magazine, the free magazine for civil service employees, and related fields, plummeted by 29.7%, with a figure of 414,866 copies at the end of December 2009 to its current standing of 291,810 copies.
The title only reports annual circulation details.
Top 6 Motoring Magazines
Title
Publisher
Jul-Dec 10
Prd/prd Change
Yr/yr Change
1
BBC Top Gear Magazine
BBC Worldwide
191,539
0.6%
-4.6%
2
What Car
Haymarket Consumer Media
87,268
3.4%
5.0%
3
Evo
Dennis Publishing
65,691
1.6%
1.7%
4
Auto Express
Dennis Publishing
60,840
-1.8%
-5.1%
5
Car
Bauer Consumer Media
58,380
-6.5%
-2.8%
6
Autocar
Haymarket Consumer Media

44,557
-6.5%
-5.9%