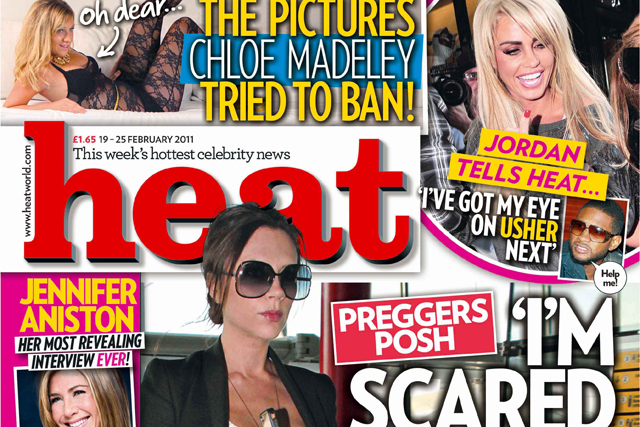 Heat, which launched in 1999 and has been a tremendous success for Bauer Media, sold an average of 370,132 copies in the second half of 2010, according to the latest ABC figures.
The magazine's editor during the period, Sam Delaney, stepped down from the role in December, to pursue "new opportunities". The role is being covered by executive editor Lucie Cave, while Bauer Media looks for a permanent replacement.
In the first half of the year it was selling 417,163 copies. A year ago, it was selling 458,858 – a level from which it is down 19.3%.
The 11.3% period-on-period decline was described as "worrying" by Vanessa Clifford, head of press at Mindshare, which places clients such as Nestlé, Ford and TK Maxx into celebrity titles.
Clifford said: "It's definitely disappointing. Period on period, Heat is just out of kilter with the rest of the market. Year on year, it's about the same, but when your decline is pretty much double most of your competitors, it's not a good sign."
Speaking to Media Week, Wybrew-Bond was at pains to point out Heat was "all sold at full rate" (£1.65) in the period except for five issues were in a pack with Closer or More and the "occasional grocery [chain]-specific 99p promotion".

"Heat has to underpin its premium price through being very newsy and setting the agenda in the celebrity market, which is what it's always been famous for and it just needs to make sure it does that this year and consistently."
Heat's circulation has been falling since the second half of 2006, when it measured 598,613 copies, although Bauer Media has extended the brand into radio and online.
The magazine's decline has been accompanied by fading interest in reality TV stars, with 'Big Brother' now off screen, although there is speculation it will return on Richard Desmond's Five.
Clifford said Heat has changed its tone. It no longer laughs at celebrities and has instead begun to laugh with them. It has also bolstered its fashion offering, but Clifford does not believe the changes have worked.
She said: "I think it's slightly lost its direction. I don't know what Heat really stands for anymore. It's a little bit celebrity, it's a little bit fashion. I know they'll say they've been moving away from 'Big Brother' and they were moving away last year, but it was a big part of Heat's content. It needs to re-find its niche."
This was disputed by Wybrew-Bond, who said: "I think it is still cheeky and irreverent. It's still the one that's known for being irreverent and witty and much cheekier in its tone."

Asked whether Heat has a long-term future in print, she replied: "Absolutely. Heat has quite a big footprint now across print, online and radio but print is the dominant part of that and I think the consumer in this market still very much wants a magazine to pore over images. Magazines bring depth."
Despite Heat's woes, the performance of the rest of the sector indicates there is life in celebrity magazines yet, albeit all titles used multipacking during the period.
Hello! was down by only 1.6% period on period and by 0.8% year on year, to 405,608 copies.
The magazine capitalised on the engagement of Prince William to Kate Middleton in November, bringing forward an edition to a Friday to mark the occasion.
Richard Desmond's stable of celebrity titles – New!, OK! Magazine and Star – were all hit by period-on-period falls, but only in the single digits.
New! retained its market-leading position with 562,284 copies, just 2.7% down, and Star managed 430,324 copies, just 2.4% down.
OK! Magazine was hit harder, dropping 5.8% to 450,946. It also had the least favourable year-on-year comparative, ending up 23.4% below its 588,546 circulation during the second half of 2009.
Closer, Bauer Media's offering for women with young families, slipped below 500,000 copies to 498,683. It was down 5.3% period on period and down 7.5% year on year.
IPC's Now was the only title to increase circulation period on period, although this was only due to it selling 248 more copies. The 0.1% rise took it to 338,328 copies, ahead of Natmag's Reveal, which fell 2.3% to 324,590.
In year-on-year terms, Now was the third-worst performer, after OK! and Heat, with a 14.2% drop.
Clifford does not believe the sector is suffering from readers getting their gossip online. Instead, she identified the problem as the lack of big celebrity stories, meaning readers were less likely to purchase multiple titles.