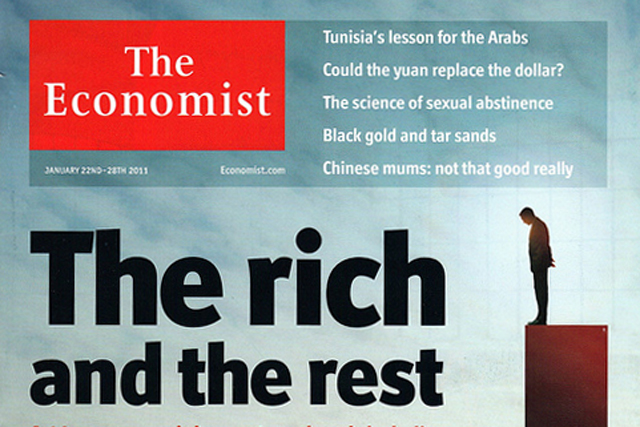 Greater demand for analysis and understanding of global events has helped UK circulation of The Economist grow to a record high of 210,204.
The figures, released today, also show a lift of 7.7% period on period while subscriptions increased by 17.9% over the year.
The increasing demand for the UK edition of the international news and current affairs weekly follows a strategic shift in The Economist's advertising by Abbott Mead Vickers BBDO, designed to appeal to the "intellectually curious".
Yvonne Ossman, UK publisher of the magazine, said The Economist in the UK had very deliberately chosen to broaden its audience, to move beyond targeting the business and finance audience and "reach out to the intellectually curious, people defined by their interest in different ideas and cultures".
Last summer, the magazine launched its first poster campaign in two years. The creative challenged non-readers' misperceptions of the publication as being dry and about finance, by highlighting the breadth and individuality of Economist editorial.
The 'Where Do You Stand?' ad campaign featured editorials about: the case for legalising drugs; giving prisoners the right to vote; and buying and selling human organs.
Globally, circulation of The Economist has grown by 3.7% to reach 1,473,939.
Ossman told Media Week: "We saw the opportunity for growth in the UK by positioning ourselves as no-longer being just the preserve of business men.
"I think people are looking for intelligent debate in society. We cover the issues that are important."
In November, The Economist launched three new free apps that offer consumers a weekly sample of articles chosen by the editor.
Ossman said: "The launch of The Economist on iPhone and iPad has provided Economist readers with greater choice over how they read the newspaper. This flexibility further strengthens the overall package we offer our readers, and ultimately encourages greater loyalty."

The sluggish UK economy, coupled with international political and civil unrest, has seen more people reach out for news and current affairs analysis, with circulation for the domestic sector rising 2.4% and the international sector 4.9% in today's ABCs.
Dennis Publishing's The Week achieved its 25th consecutive ABC increase, rising by 6.4% year on year (2.2% period on period) to 180.502.
The last six months of 2010 proved a tougher period for Newsweek Europe, down 3% and 4.2% year on year, and the Spectator, down 0.1% and static over the year.
Meanwhile, Private Eye, which suffered a slight dip of 0.3% period on period and 1.5% year on year, lost its position as the UK market leader in the sector.
Top 10 News and Current Affairs Magazines
Title
Publisher
Jul-Dec 10
Prd/prd Change
Yr/yr Change
1
The Economist - United Kingdom Edition
The Economist Newspaper
210,204
7.7%
11.1%
2
Private Eye
Pressdram
207,154
-0.3%
-1.5%
3
Newsweek - Europe Edition
Newsweek Inc (UK Branch)
184,203
-3.0%
-4.2%
4
The Week
Dennis Publishing
180,502
2.2%
6.4%
5
Time Magazine - British Isles (BI)
Time Warner Publishing Bv
125,833
N/A
-3.4%
6
Fortune
Time Warner Publishing Bv
109,137
N/A
2.1%
7
New Scientist - Worldwide Sales Excluding Australasia & US/Canada
Reed Business Information
97,160
-3.8%
-3.9%
8
Spectator
Spectator (1828)
70,295
-0.1%
0.0%
9
MoneyWeek
Moneyweek
45,207
1.2%
5.2%
10
Prospect
Prospect Publishing
31,932
4.8%
12.3%