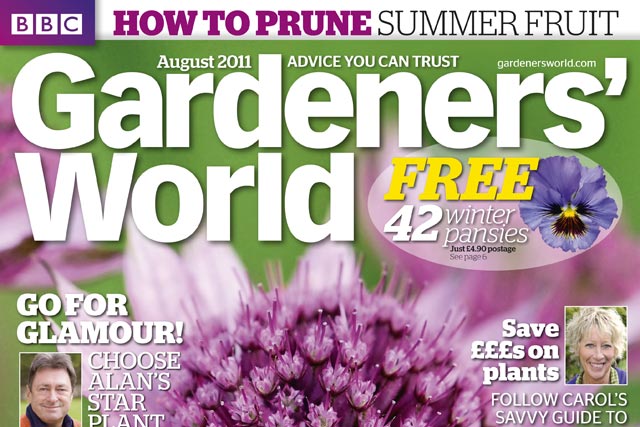 According to the Audit Bureau of Circulations (ABC) figures for January to June 2011, BBC Homes & Antiques, part of BBC Worldwide, had an average circulation of 58,701 in the first six months of 2011 – up 6.5% year on year, but a decline of 3.7% when compared to the final six months of 2010.
BBC Gardeners' World reported a circulation of 265,328, up 2% year on year, making it the biggest magazine in the group. When compared to the final six months of 2010, the circulation increase was a massive 24.9%, which can be attributed in part to the seasonal nature of the sector.
Dominic Murray, publishing director of BBC Gardeners' World and Lonely Planet, attributed the circulation growth at BBC Gardener's World to its March redesign, offering the right sort of value and growth in subscriptions.
Murray said: "As the figures show, it's quite a challenging market for magazines but we're delighted. We introduced a new design to coincide with our 20th anniversary edition in March 2011 and we've continued to invest in the right sort of value.
"We have seen some great success with our 20 best-plans supplement and covermounts and wall charts. Thirdly, we've invested in our subscriber club. They get a special edition, exclusive content and the best price."
The news will be welcomed by private equity firm Exponent, which confirmed a deal with BBC Worldwide buy all non-BBC branded magazines and the rights to publish BBC-branded titles, in a £121m deal earlier this week.
Country Living, part of Hearst Magazines, reported a circulation of 206,027 in the first six months of this year, up 0.9% year on year and an increase of 0.1% when compared to the final six months of last year.
However, Country Living, like many other magazines in the sector, actually reported a decline in actively purchased copies. Country Living's actively purchased figure was 167,041 during the half year, down 3.2% year on year and 3.1% on the period.
Ideal Home, owned by IPC Media, reported an average circulation of 205,778 in the first six months of 2011, an increase of 0.1% on the same period in 2010 and up 1.4% from the final six months of 2010.
Ideal Home reported an actively purchased figure of 197,801, down 0.6% year on year, but up 1.6% period on period and significantly higher than its competitor, Country Living.
Rob Lynam, head of press at MEC, said: "While it looks like the home interests sector has posted minor increases year on year, if you look at the numbers behind this, many actively purchased figures are actually down.
"The story's hidden, but many publishers have been giving away more copies free of charge to prop up their titles' circulations."
Among the IPC brands, Homes & Gardens had a circulation of 137,812 in the first six months of 2011, up 1.2% year on year and 0.4% on the period, Living etc reported a circulation of 97,098, up 4.8% year on year and 0.6% on the period, and Country Homes and Interiors had a circulation of 92,563, up 2.7% year on year and 2.6% on the period.
Yvonne Ramsden, publishing director, Southbank home interest group, IPC Media, said the figures followed a "good few years for the sector" and demonstrated that the market was "very resilient".
Ramsden said: "The figures are a reflection of the fact that people are still in love with their homes and moving away from viewing them as a transaction. People are becoming more family centric and not just seeing their homes as an asset."
Vanessa Doyle, press director at Initiative, said: "I think it's great for the industry that the homes sector did so well in today's ABC's.
"Previously, the story has been quite unforgiving and this must be a sign that the issues with today's mortgage market mean more and more people are improving rather than moving, and taking inspiration from the homes magazine market place."
Top 12 homes and gardens magazines
Title
Publisher
Jan - Jun
Prd/prd
Yr/yr
2011
change
change
BBC Gardeners' World
BBC Worldwide
265,328
24.9%
2.0%
Country Living
Hearst Magazines UK
206,027
0.1%
0.9%
Ideal Home

IPC Media
205,778
1.4%
0.1%
House Beautiful
Hearst Magazines UK
143,106
-13.4%
-5.9%
Homes & Gardens
IPC Media
137,812
0.4%
1.2%
Your Home
Hubert Burda Media
133,018
2.6%
2.0%
House & Garden
Condé Nast Publications
127,260
0.2%
-2.7%
25 Beautiful Homes
IPC Media
107,974
0.1%
-3.7%
Living etc
IPC Media
97,098
0.6%
4.8%
Country Homes & Interiors
IPC Media
92,563
2.6%
2.7%
GoodHomes
Kelsey Publishing
73,444
21.6%
4.8%
Elle Decoration
Hearst Magazines UK
70,323
2.7%
4.6%
BBC Homes and Antiques
BBC Worldwide
58,701
-3.7%
6.5%
Style at Home
IPC Media
52,576
N/A
N/A