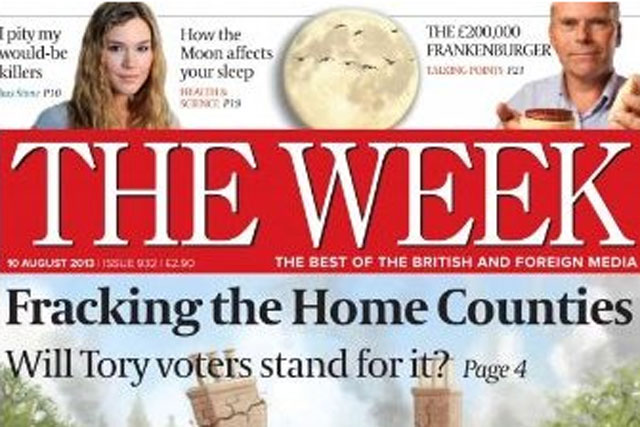 Private Eye remains the biggest current affairs magazine in the UK with a circulation of 222,880 in the first half of 2013, while The Economist's UK edition's circulation was 209,274.
Both Private Eye and The Economist reported slight falls in circulation, while their nearest rival The Week, published by Dennis Publishing, posted a rise of 3.1 per cent year on year to 197,225.
However, James Tye, chief executive of Dennis Publishing, said he was "frustrated" despite The Week's growing circulation.
He said: "It's fantastic to see The Week growing its circulation in print once again but also frustrating that we can't give our advertisers the full picture in this ABC release."
The Week claims to have around 2,000 digital, paying readers who have bought an edition through platforms such as iTunes that ABC would not acknowledge because of regulations demanding more data than The Week can supply.
Tye said: "I think it is time for the audit process to accept that not all publishers or indeed consumers want simple page replicas of their favourite brands on tablet devices."
Rob Lynam, the head of display at MEC, said current affairs magazines were a "strange category" in the consumer sector.
Lynam said: "They can be insulated from what else is going on. Since the recession kicked in and we saw lots of magazine categories haemorrhaging circulation, news and current affairs have actually done quite well because they cover quite a hot topic.
"They tend to be more subscription-based so they are not as open to the vagaries of changing weekly circulations. They have also become better at retaining subscribers because they know a lot about their customer base through this model."
The Week's boost in circulation could be attributed to more copies being distributed for free, Lynam said. The magazine is 83.9 per cent paid-for in the latest ABCs, compared with 87.5 per cent in the first half of 2012.
Lynam said: "The Week manages to increase its circulation in every period but, like some magazines, this has been influenced by giving away more copies for free, either for promotional purposes or to increase their circulation. The Week's actively purchased circulation is down year on year, although it is doing well in the market."
The business, science and UK and foreign news categories all showed growth, driven by the launch of new magazines such as Wonderpedia and China Daily that have been published for less than a year and so have no year-on-year change to report.
Title

Jun End 2013

Prd/Prd % change

Yr / Yr % change

The Economist - Continental Europe Edition

229,841
-2.1%
-2.2%
Private Eye
222,880
-0.9%
-1.4%
The Economist - United Kingdom Edition
209,274
-0.5%
-0.5%
The Week
197,255
1.6%
3.1%
The Economist - Asia Pacific Edition
141,661
-0.3%
-1.2%
China Daily European Weekly
87,464
N/A
N/A
New Scientist - Worldwide Sales Excluding Australasia & US/Canada
86,573
-2.6%
-2.3%
BBC History Magazine
75,193
2.2%
5.3%
Monocle
73,867
1%
2%
The Spectator excluding Australia
52,641
-1.2%
N/A
MoneyWeek
52,027
12.1%
5.6%
The Oldie
45,118
2.5%
6.6%
Limerick Post
36,392
0.9%
0.5%
Prospect
30,698
5.1%
3.7%
Investors Chronicle
26,938
4%
4.7%
BBC Sky at Night
23,731
-4.7%
-4.1%
The Economist - Middle East/Africa Edition
23,208
-1.9%
-7.3%
New Scientist - Australasian Sales
20337
-4.5%
-8.7%
Wonderpedia
19,210
-4%
N/A
New Scientist - US/Canadian Sales
18,262
-0.8%
-8.3%
Average circulation per issue for the six month period Jan 2013 to Jun end 2013
Source: ABC Consumer Magazine Report