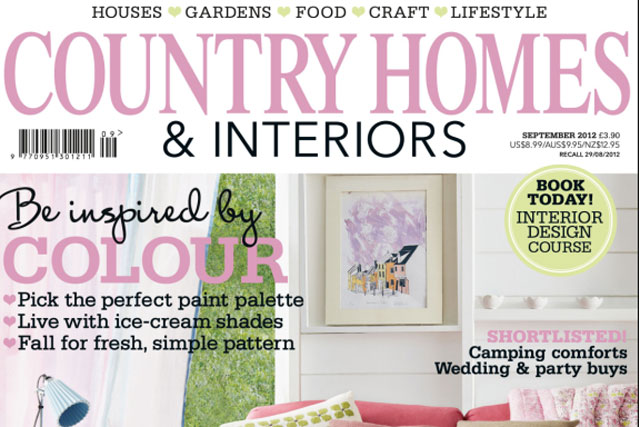 According to figures published by the Audit Bureau of Circulations today, Style at Home, which launched in May 2011, reported an average circulation of 80,111 copies a month in the first half of 2012, up 52.2% year on year.
Country Homes & Interiors increased its circulation to 99,676 copies a month, its highest in eight years, in the first half of 2012, up 7.7% year on year and 2.5% when compared to the last six months of 2011.
Ideal Home, which is also published by IPC, remained the biggest circulation magazine among the 'home interests' sector but its average circulation dropped to 193,203 copies, down 6.1% year on year and 1.1% period on period.
Jackie Newcombe, managing director of IPC Media's upmarket women's arm IPC Southbank, said: "IPC Southbank is the market leader in the home interest sector and our portfolio continues to outperform with an increasing market share.
"Our new launch, Style at Home, is delivering exceptional sales growth and we have impressive results for established titles such as Livingetc and Country Homes & Interiors, which has delivered its highest circulation figure in eight years.
"Outside print, we're expanding our reach through tablet editions and our housetohome online network is the biggest homes website in the UK."
Across the wider homes and gardens sector Gardeners' World Magazine is the biggest magazine reporting a circulation of 254,530 copies a month, down 4.1% year on year, making it the ninth highest circulation of the paid-for monthly titles.
Dominic Murray, publishing director, Gardeners' World Magazine, Immediate Media, said its standing as the ninth biggest paid for magazine was "all the more impressive given the awful weather we had this spring, and the fact that the garden retail sector has been trading at 11% down in 2012 so far".
Murray added: "I am really pleased with our result. Our performance was strong compared with some comparable titles. Our brand remains strong and our audience is incredibly loyal following investments such as the subscribers club."
Immediate Media publishes Gardeners' World under licence following its deal to buy BBC Magazines.
GoodHomes, which Kelsey Publishing bought from BBC Worldwide in 2009, had a circulation of 78,620 copies between January and June 2012, up 7.0% year on year and 3.3% period on period.
Some of the steepest declines in the sector were at Hearst Magazines UK: Country Living reported a circulation of 190,177 in H1 2012, down 7.7% year on year; House Beautiful's circulation was 126,497, down 11.6% year on year; and Coast's circulation was 38,657, down 9.3% compared to H1 2011.
There was better news at Hearst's Elle Decoration, which recorded a circulation of 70,655, up 0.5% year on year and 0.4% period on period.
Judith Secombe, group publishing director at Hearst's lifestyle group, said: "In this current competitive market and challenging environment, we have worked hard to build a range of activities and platforms around Country Living and House Beautiful in order to deepen our relationship with readers beyond the pages of the magazines. Buying the title is often the first step into the brand world.

"In the case of House Beautiful and Country Living, we have developed a range of additional print products, events and brand extensions (including sofa ranges) using the core brand strength as a platform. In both cases House Beautiful and Country Living have one of the largest and most loyal subscriber bases in their competitive sector."
Grand Designs, the accompanying magazine for the Channel 4 show which is published by Media 10, increased its circulation to 30,653 copies a month, up 10.2% year on year but down 0.5% on the period.
Zoe Bale, head of press at Carat, said: "The homes and gardens sectors are holding up better than some as people are improving their homes rather than moving. The luxury market and the cheap market are doing well; it's the middle that's suffering. It follows what's going on in the economy as a whole."
| | | | | |
| --- | --- | --- | --- | --- |
| Title | Published | June end 2012 | Prd/prd change | Yr/Yr change |
| BBC Gardeners\' World | Immediate Media Company | 254,530 | 17.5% | -4.1% |
| Ideal Home | IPC Media Ltd | 193,203 | -1.1% | -6.1% |
| Country Living | Hearst Magazines UK | 190,177 | -0.7% | -7.7% |
| Homes & Gardens | IPC Media Ltd | 131,555 | -5.3% | -4.5% |
| Your Home | Hubert Burda Media UK | 130,012 | -1.3% | -2.3% |
| House & Garden | Conde Nast Publications Ltd | 126,841 | -0.4% | -0.3% |
| House Beautiful | Hearst Magazines UK | 126,497 | -4.9% | -11.6% |
| 25 Beautiful Homes | IPC Media Ltd | 102,012 | 2.0% | -5.5% |
| Country Homes and Interiors | IPC Media Ltd | 99,676 | 2.5% | 7.7% |
| Living etc | IPC Media Ltd | 98,250 | 0.1% | 1.2% |
| Style at Home | IPC Media Ltd | 80,011 | 11.4% | 52.2% |
| GoodHomes | Kelsey Publishing Ltd | 78,620 | 3.3% | 7.0% |
| Elle Decoration | Hearst Magazines UK | 70,655 | 0.4% | 0.5% |
| World Of Interiors | Conde Nast Publications Ltd | 61,849 | -0.4% | -0.4% |