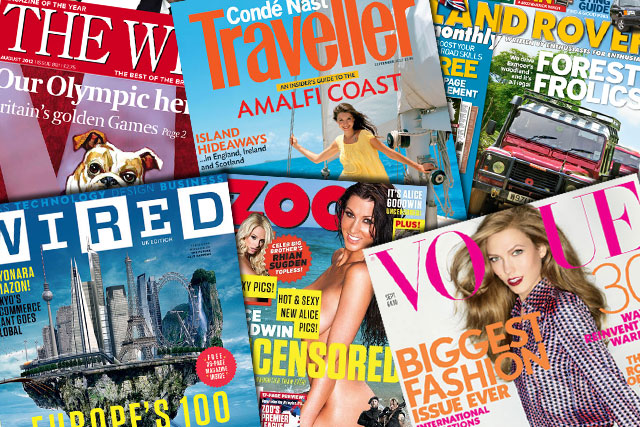 Once customer magazines are accounted for, total circulations of the leading actively purchased titles have fallen 13% in the last year, led by double-digit falls in the celebrity, women's lifestyles and men's lifestyle sectors.
Bauer's weekly fashion magazine, More!, led the falls, losing more than a third of its copy sales in the last year to settle just above the psychological 100,000 mark. Meanwhile, IPC's men's magazine Nuts slipped under 100,000 sales a week after falling 21% to 85,081, as did Bauer's monthly FHM, down 12.7% to 92,626.
Just over a quarter (26) of the leading magazines were able to achieve a sales lift during the period, a figure that drops to just one fifth (20) year on year.
Pockets of growth in print sales have been largely confined to the advertising-restricted kids sector, up 12% year on year, which has been led by phenomenal growth of the magazine based on the social networking site Moshi Monsters, up 38% in the last six months to 223,776.
In a year dominated by a sluggish economy and international political and social unrest, the news and current affairs sector remained popular among readers, posting a year-on-year increase of 5.4%.
Barry McIlheney, chief executive of the PPA, called it "yet another solid set of ABC figures that underline print's enduring position within today's multi-platform consumer magazine brands".
He added: "The millions of magazines distributed every day in the UK are hugely powerful in connecting consumers with their passions and interests, leading discussions and creating real influence."
During this period, 60 magazines opted to report digital edition sales figures, a significant rise from the 16 who reported in the same period in 2011.
This January to June 2012 ABC release also coincides with ABC's first-ever Digital Publications Certificate, which enables publishers to give advertisers access to a verified audience circulation figure for digital publications that do not fall within the current ABC digital editions rules.
McIlheney said: "The introduction of the new Digital Publications Certificate coupled with the impressive growth in the number of consumers paying for digital editions shows how tablets are already becoming established as a key platform for magazine brands."
| | | | | | |
| --- | --- | --- | --- | --- | --- |
| Rank | Title | % Actively Purchased | Jun End 2012 | Prd/Prd % change | Yr / Yr % change |
| 1 | Asda Magazine | 0.0% | 1,963,201 | 0.7% | -0.9% |
| 2 | Tesco Magazine | 0.0% | 1,931,673 | -4.3% | 0.2% |
| 3 | TV Choice | 100.0% | 1,277,850 | -2.0% | -5.7% |
| 4 | Tesco Real Food | 0.0% | 1,223,333 | 0.2% | 0.5% |
| 5 | What's on TV | 100.0% | 1,215,609 | -3.0% | -4.6% |
| 6 | Morrisons Magazine | 0.0% | 1,172,807 | 1.9% | 3.1% |
| 7 | Radio Times | 99.7% | 865,562 | -6.5% | -3.9% |
| 8 | Take a Break | 100.0% | 786,849 | -0.5% | -2.1% |
| 9 | Saga Magazine | 99.6% | 632,217 | 0.1% | 2.4% |
| 10 | Shortlist | 0.0% | 529,010 | 0.5% | 1.0% |
| 11 | Virgin Media Magazine | 0.0% | 500,000 | 25.0% | 25.0% |
| 12 | John Lewis Edition | 0.0% | 480,241 | -1.0% | 1.2% |
| 13 | Glamour | 99.8% | 470,138 | 0.8% | -11.3% |
| 14 | New! | 100.0% | 439,326 | -14.0% | -14.9% |
| 15 | Stylist | 0.0% | 431,266 | 0.5% | 1.1% |
| 16 | Closer | 99.9% | 430,918 | -7.7% | -6.3% |
| 17 | Slimming World Magazine | 99.9% | 420,011 | 4.3% | 20.2% |
| 18 | Good Housekeeping | 99.9% | 408,569 | -8.8% | -5.2% |
| 19 | Emma's Diary Pregnancy Guide | 0.0% | 403,025 | 2.7% | 1.6% |
| 20 | Chat | 100.0% | 368,334 | -1.7% | -6.0% |
| 21 | The Garden | 0.0% | 359,897 | 2.1% | 4.4% |
| 22 | Benhealth | 0.0% | 356,089 | 0.9% | 1.3% |
| 23 | OK! Magazine | 98.6% | 355,969 | -8.4% | -24.8% |
| 24 | Woman & Home | 98.2% | 353,731 | -6.9% | -4.5% |
| 25 | Cosmopolitan | 99.9% | 353,413 | -6.4% | -8.6% |
| 26 | HELLO! | 90.4% | 352,985 | -5.4% | -14.6% |
| 27 | Waitrose Kitchen | 0.0% | 351,442 | -0.7% | 1.4% |
| 28 | Woman's Weekly | 99.9% | 327,831 | -4.3% | -3.6% |
| 29 | Sport | 0.0% | 305,676 | 0.3% | -0.2% |
| 30 | That's Life | 100.0% | 305,074 | -6.6% | -5.1% |
| 31 | National Geographic Magazine | 97.3% | 294,709 | -2.4% | -3.4% |
| 32 | Heat | 97.3% | 290,003 | -10.9% | -11.2% |
| 33 | Star | 100.0% | 288,533 | -19.8% | -28.9% |
| 34 | Reader's Digest | 86.4% | 285,006 | -25.7% | -35.5% |
| 35 | Yours | 92.7% | 280,804 | -0.7% | -1.8% |
| 36 | Woman | 100.0% | 279,362 | -1.0% | -2.6% |
| 37 | BBC Good Food | 99.8% | 267,164 | -14.6% | -9.3% |
| 38 | TV Times | 99.9% | 265,550 | -9.9% | -8.5% |
| 39 | Prima | 99.9% | 264,312 | -6.2% | -5.7% |
| 40 | Best | 100.0% | 261,634 | -5.6% | -6.6% |
| 41 | Now | 100.0% | 259,318 | -1.1% | -16.1% |
| 42 | Marie Claire | 85.6% | 255,021 | -4.4% | 1.7% |
| 43 | BBC Gardeners' World | 97.1% | 254,530 | 17.5% | -4.1% |
| 44 | Look | 91.9% | 250,071 | -10.8% | -16.7% |
| 45 | Peoples Friend | 99.9% | 249,880 | -2.9% | -6.8% |
| 46 | Sainsbury's Magazine | 98.2% | 244,497 | -7.4% | -4.1% |
| 47 | The Economist - Continental Europe Edition | 67.6% | 235,058 | -2.8% | -2.4% |
| 48 | Reveal | 100.0% | 233,186 | -16.3% | -25.1% |
| 49 | Woman's Own | 100.0% | 232,107 | -3.4% | -5.6% |
| 50 | Bella | 100.0% | 229,242 | -2.3% | -4.3% |
| 51 | Moshi Monsters Magazine | 100.0% | 227,958 | 34.1% | N/A |
| 52 | Red | 96.2% | 226,116 | -2.2% | -2.2% |
| 53 | Private Eye | 99.0% | 226,046 | -0.9% | 9.6% |
| 54 | Candis | 92.5% | 223,584 | -0.4% | -5.3% |
| 55 | Odeon Magazine | 0.0% | 221,540 | 23.2% | 18.6% |
| 56 | Men's Health | 91.3% | 216,336 | -2.2% | -0.9% |
| 57 | Pick Me Up | 100.0% | 212,915 | -12.4% | -18.6% |
| 58 | The Economist - United Kingdom Edition | 76.4% | 210,386 | 0.0% | 0.0% |
| 59 | Vogue | 94.8% | 205,033 | -2.7% | -2.7% |
| 60 | High Life | 0.0% | 200,310 | 13.0% | 10.3% |
| 61 | Real People | 100.0% | 197,288 | -3.4% | -5.5% |
| 62 | Ideal Home | 96.5% | 193,203 | -1.1% | -6.1% |
| 63 | The Week | 88.3% | 191,401 | 2.1% | 4.2% |
| 64 | Country Living | 99.9% | 190,177 | -0.7% | -7.7% |
| 65 | Grazia | 95.1% | 190,053 | -7.5% | -13.5% |
| 66 | Elle (U.K.) | 92.4% | 189,568 | -2.8% | -3.8% |
| 67 | Weightwatchers Magazine | 99.9% | 187,546 | 2.2% | -6.2% |
| 68 | Love It! | 100.0% | 172,061 | -14.0% | -18.9% |
| 69 | TV & Satellite Week | 99.9% | 168,630 | -2.8% | -4.6% |
| 70 | Empire | 99.5% | 167,096 | 0.0% | -2.3% |
| 71 | Easy Living | 97.1% | 164,019 | 17.1% | 3.8% |
| 72 | Instyle UK | 84.2% | 163,432 | -7.1% | -6.7% |
| 73 | BBC Top Gear Magazine | 90.5% | 155,017 | -14.0% | -18.6% |
| 74 | Inside Soap | 100.0% | 154,657 | -1.8% | -6.3% |
| 75 | Full House | 99.3% | 150,168 | -12.7% | -10.7% |
| 76 | Ikea Family Live | 0.0% | 150,000 | 11.3% | 0.0% |
| 77 | TV Easy | 100.0% | 148,664 | -1.2% | -8.3% |
| 78 | The Economist - Asia Pacific Edition | 70.3% | 143,328 | -2.2% | -1.8% |
| 79 | Company | 99.8% | 143,269 | -23.9% | -20.5% |
| 80 | Homes & Gardens | 84.6% | 131,555 | -5.3% | -4.5% |
| 81 | Healthy | 100.0% | 130,031 | -3.2% | -18.8% |
| 82 | Your Home | 96.5% | 130,012 | -1.3% | -2.3% |
| 83 | House & Garden | 76.3% | 126,841 | -0.4% | -0.3% |
| 84 | House Beautiful | 100.0% | 126,497 | -4.9% | -11.6% |
| 85 | FHM | 82.9% | 123,844 | -12.0% | -20.4% |
| 86 | My Weekly | 99.9% | 121,283 | -2.2% | -2.7% |
| 87 | Total TV Guide | 99.9% | 121,052 | -1.5% | 3.1% |
| 88 | GQ | 83.9% | 120,139 | 0.0% | 1.6% |
| 89 | Harpers Bazaar | 73.4% | 119,274 | -0.6% | 0.4% |
| 90 | Essentials | 99.2% | 119,087 | -7.6% | -6.2% |
| 91 | Harrods Magazine | 0.2% | 109,913 | -8.4% | 4.7% |
| 92 | The Fly | 0.0% | 108,827 | 8.2% | 8.4% |
| 93 | More! | 99.9% | 106,065 | -30.5% | -37.6% |
| 94 | 25 Beautiful Homes | 99.9% | 102,012 | 2.0% | -5.5% |
| 95 | Vanity Fair | 87.9% | 100,692 | -1.8% | 0.1% |
| 96 | Women's Health | 100.0% | 100,289 | N/A | N/A |
| 97 | Country Homes and Interiors | 99.9% | 99,676 | 2.5% | 7.7% |
| 98 | Living etc | 99.9% | 98,250 | 0.1% | 1.2% |
| 99 | RWD | 0.0% | 96,652 | 0.4% | -1.7% |
| 100 | Four Four Two | 97.1% | 96,240 | 0.0% | 19.9% |
Follow @DurraniMix