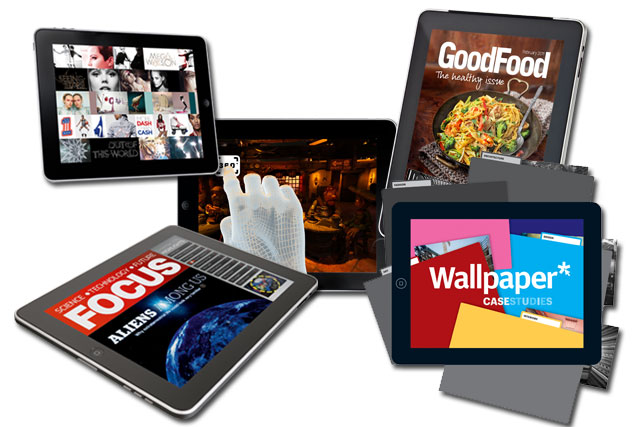 Not all publishers are rushing over to the tablet – Hello! is one sceptic. And not all have made it quite yet – Natmag expects its first app for Men's Health to be available in March (the publisher also points out it has made all its magazines available through Zinio).
Considering the iPad only went on sale in the UK at the end of May last year, it's no mean feat that at least 15 magazines have already launched app versions or spin-offs.
UK publishers as diverse as Condé Nast, Dennis and Northern & Shell have colonised the touchscreen world created by Steve Jobs.
Tech titles were natural early adopters. Among the first was Dennis with MacUser in May 2010, while the most recent was BBC Magazines with Good Food last month.
Other sectors such as fashion (Condé Nast's Vogue) and entertainment (Bauer Media's Empire) are also getting in on the act.
While this round-up coincides with the biannual release of magazines' audited print circulation, there is as yet no compulsion on publishers to reveal download figures.
Few have been willing to disclose their numbers, but credit to Dennis, which claims 73,429 cumulative downloads for the free iGizmo app and 7,800 regular monthly downloads for the £2.99 Macuser app. BBC Magazines also diclosed a figure of 36,037 cumulative downloads for Good Food and 22,000 cumulative downloads for science title Focus.
Future, which claims to have launched 17 iPad apps in the UK so far, had not supplied full data by the time of publication. Its apps include T3 and Classic Rock's Best 200 Rock Albums of the 70s.
Magazine iPad apps launched as of 17 Feb 2011
Publishing company name
Brand name - App name
App launch date
App downloads
App freq
One-off price if any
Bauer Media
Empire - Empire
Jan-11
n/a
M
£3.79
BBC Magazines
Good Food - Good Food
Jan-11
36037 to date
M
£1.99
BBC Magazines Bristol
Focus - Focus
Nov-10
22,000 to date
M
£3.49
Conde Nast
Wired - Wired
Nov-10
n/a
M
£2.39
Conde Nast
Vogue - Vogue
Nov-10
n/a
M
£3.99
Dennis
Evo - Evo
Dec-10
21430 to date
M
£2.99
Dennis Publishing
Mac User - Mac User
May-10
7,800
F
£2.99
Dennis Publishing
iGizmo - iGizmo
Oct-10
73429 to date
F
Free
Future
T3 - T3
Sep-10
n/a
M
Free
Future
Guitarist - The 50 Best Guitars To Play Before You Die
Dec-10
n/a
S

£1.19
Future
Doctor Who: A Celebration
Dec-10
n/a
S

£4.99
Future
Digital Camera - Photographer of the Year: Best photos from POTY
Dec-10
n/a
S

£0.59
Future
Classic Rock - 200 Best Rock Albums Of The 70s
Dec-10
n/a
S

£1.19
Future
Digital Camera - Best Landscape Photos
Dec-10
n/a
S

£1.19
Future
Total Film - 101 Best Movies Of All Time
Dec-10
n/a
S

£1.19
Future
Guitarist: 25 Guitarist Wallpapers
Dec-10
n/a
S

£0.59
Future
MacFormat - Make The Most Of Your Mac
Dec-10
n/a
S

£5.49
Future
MacFormat - iPad The Essential Handbook
Dec-10
n/a
S

£3.99
Future
MacFormat - The Essential iPhone 4 Handbook
Dec-10
n/a
S

£3.99
Future
Sportsbike Legends - Fast Bikes' Top Sports Motorbikes
Dec-10
n/a
S

£3.99
Haymarket
Autocar - Fast Cars
Dec-10
n/a
S

£2.99
Haymarket
Stuff - DNA
Dec-10
n/a
S

£1.19
Haymarket
Stuff - Live
Feb-11
n/a
W

Free
IPC Media
Wallpaper - Case Studies
Dec-10
n/a
D

Free
Reader's Digest UK
Reader's Digest - Reader's Digest
Jul-10
n/a
M
Free
Frequency key: M - monthly / F - fortnightly / S - single one-off / D - daily