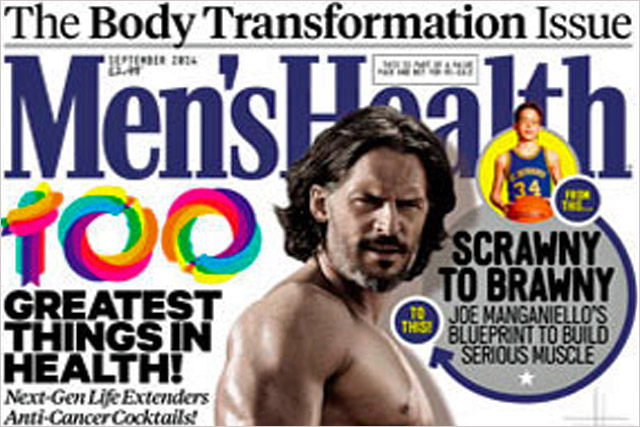 Despite leading the field, Men's Health's figures represent a 2.9% drop on the period between July and December 2013, when the combined circulation was 213,393. The losses came out of Men's Health's print figures. Its digital circulation increased by 20.
Men's Health's print circulation was 196,894 between January and June 2014, while the digital circulation over the same period was 10,360.
The July to December report was the first time that ABC measured combined print and digital figures.
Condé Nast's GQ was a distant second in the table, with a combined circulation of 125,024 in the first half of the year. The figure represents a 1.6 per cent drop on the July to December 2013 period.
On the plus side, the style bible continues to lead the pack in terms of digital readers, with an average circulation of 11,361, although that was down 7.1 per cent year on year.
Forever Sports, which is published by Haymarket Media Group's Network division in partnership with Sports Direct, reported an average month circulation of 62,277, its first since launching in March.
Jo Blake, the head of outdoor, newsbrands and radio at Arena, said the fact Forever Sports had "jumped into sixth place" proved that new print products could do well if they are "relevant to people's lives".
FHM, the Bauer-owned title, reported a combined average circulation of 86,534 in the first six months of 2014, down 10.3 per cent from the second half of 2013, the largest drop of any publication in its field over the period.
FHM's year-on-year print circulation decline (there is no equivalent available for digital) was even worse, dropping 21.8 per cent to 83,136. The magazine's average digital circulation was just 3,398.
Condé Nast-owned Wired, and Hearst's Esquire had combined average circulations of 56,017 and 58,538 in the first half of 2014, representing a 2.6 per cent and 2.4 per cent drop over the period, respectively.
Although Wired is classed as a men's magazine by ABC, Condé Nast estimates that 23 per cent of its readership is female.
Bauer's Zoo (the only paid-for weekly men's magazine since the closure of rival Nuts earlier this year) enjoyed a 1.5 per cent boost in combined average circulation over the period, lifting its figures to 29,976. However, a 21.5 per cent drop in print circulation over the last year tempered this good news.
ShortList Media's eponymous freesheet had a print circulation of 535,505, representing a 0.2 per cent rise over the period. It is the magazine's 13th consecutive increase in circulation since it launched in September 2007.
ShortList does not have a digital product recognised by ABC, but claims its website gets 2.2 million unique users per month.
Square Mile magazine, a Square Up Media publication, enjoyed bumper gains of 8.0 per cent over the period to 51,918. The print title, which is given away, was up 6.1 per cent over the year.
| | | | | | | | | |
| --- | --- | --- | --- | --- | --- | --- | --- | --- |
| Magazine | Combined Total Average Circulation | Combined Total Prior Period Change | Print Total Average Circulation | Print Total Prior Period Change | Print Total Prior Year Change | Digital Total Average Circulation | Digital Total Prior Period Change | Digital Total Prior Year Change |
| Esquire | 58,538 | -2.40% | 52,859 | -3.91% | 0.11% | 5,679 | 14.31% | 6.43% |
| FHM | 86,534 | -10.28% | 83,136 | -13.81% | -21.84% | 3,398 | | |
| Forever Sports Magazine | 62,277 | | 62,277 | | | | | |
| GQ | 125,024 | -1.59% | 113,663 | -1.05% | -3.49% | 11,361 | -6.67% | -7.11% |
| Men\'s Fitness | 48,323 | -11.15% | 48,323 | -3.96% | -14.95% | | -100.00% | -100.00% |
| Men\'s Health | 207,254 | -2.88% | 196,894 | -3.03% | -3.36% | 10,360 | 0.19% | -13.80% |
| Shortlist | 535,505 | 0.15% | 535,505 | 0.15% | 0.19% | | | |
| Sport | 304,160 | -0.01% | 304,160 | -0.01% | -0.50% | | | |
| Square Mile | 51,918 | 8.03% | 51,918 | 8.03% | 6.05% | | | |
| Wired | 56,017 | -2.57% | 47,881 | -2.84% | -3.03% | 8,136 | -1.00% | 0.39% |
| Zoo | 29,976 | 1.54% | 27,930 | -5.39% | -21.54% | 2,046 | | |