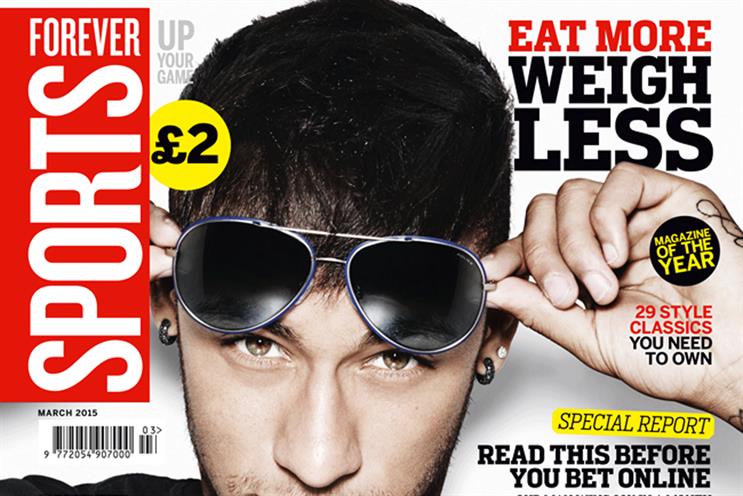 The men's magazine market has morphed into an increasingly complex affair, with Men's Health continuing to take the crown of biggest paid for (actively purchased) magazine in the sector, with more than 200,000 copies (print 190,666/digital 9,490). It represents the magazine's 12th consecutive period as the UK's best-selling men's title – and its digital edition accounts for 9,490.
Conde Nast's GQ posted an ABC of 125,090, an increase of 5.9% period on period and 2.7% year on year in UK actively purchased copies. The publisher is also keen to stress sales of digital editions for mobile, iPad and other tablet devices now account for just over 10% of total circulation at 12,516.
However, the men's magazines with the biggest reach in the UK are the two weekly freesheets – ShortList and Sport. ShortList's new ABC of 500,449 for the period July-December 2014 represents a drop of 6.4% year on year. However, the publisher says the fall reflects the company's strategy to scale back the availability of copies in tune with advertiser needs.
ShortList still claims to capture 40.6% of the men's market and is the only one to be distributed by hand merchandisers in 10 major UK cities and through a direct network into workplaces, retailers and airport lounges.
A spokesperson said: "The one-off adjustment, which ShortList Media announced in early December, does not reflect any falling away of consumer demand for the titles which remain as strong as ever."
Another notable performer is Haymarket's monthly Forever Sports, which has an ABC of 90,093 following a period-on-period increase of 45%. Launched in April 2014, the magazine is published through a partnership with Sports Direct and with its £2 coverprice is now the second most actively purchased men's title in the UK.
The magazine benefits from exclusive distribution deals with Sportsdirect.com and premium lifestyle retailers USC, Flannels and Cruise, and is also available on the newsstands in Tesco, Sainsbury's, Asda, Waitrose, WHSmith, Co-op and Morrisons.
Its unique route to market is credited by the publisher for giving advertisers like Gillette, Fiat, Porsche, Sky, Specsavers and Lacoste a fresh way to target hard-to-reach 18-to 30-year-old men.
Rachel Marks, publisher of Forever Sports, said: "We are incredibly proud of our ABC in such a tough market. It shows that when the product is right, in terms of content, price and distribution the audience can be delivered. 2015 will be a big year for Forever Sports – watch this space for an even bigger, better brand."
Elsewhere, the heavy losses continued in the sector, led by double-digit falls for T3, Healthy for Men, FHM and Men's Fitness. Bucking the trend is Bauer's Zoo, up 10% year on year, which has managed to increase its circulation since the closure of its only weekly rival, Nuts, last year.
Commenting on the men's magazine market, Daniel Booth, senior investment manager at Havas Media, said: "The men's market has never backed down and given in to declining circulation, and with new and dormant magazines entering the market, along with the growth of digital editions, we are starting to this sector in a positive light.
"But to properly analyse the men's market we now must look outside of the traditional print and digital editions. Brands continue to develop and revamp their desktop and mobile optimised products, resulting in their reach growing far beyond the peaks of yesteryear."
Magazine ABCs
| | | | |
| --- | --- | --- | --- |
| Title | Dec 2014 end | Prd-prd % change | Yr-yr % change |
| ShortList | 500,449 | -7 | -6.4 |
| Sport | 301,502 | -1 | -0.9 |
| Men's Health | 200,156 | -3 | -6.2 |
| GQ | 125,090 | | -1.5 |
| Forever Sports Magazine | 90,093 | 45 | |
| FHM | 79,189 | -9 | -17.9 |
| Stuff | 70,325 | | -9.1 |
| BBC Focus | 63,204 | | -9.8 |
| Esquire | 58,576 | | -2.3 |
| Square Mile | 57,533 | 11 | 19.7 |
| Wired | 54,024 | -4 | -6 |
| Men's Fitness | 45,799 | -5 | -15.8 |
| T3 | 42,934 | | -19 |
| Healthy for Men | 35,396 | | -18.6 |
| Zoo | 32,449 | 8 | 9.9 |
| Loaded Magazine | 30,510 | | |
Media Week is published by Haymarket