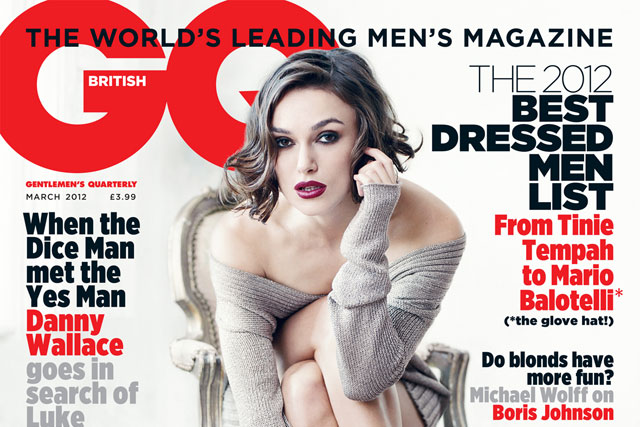 In total, 72 magazine brands have reported average circulation figures for their digital editions, more than quadrupling from the last reporting period, when just 16 reported.

Barry McIlheney, chief executive of the PPA, said: "In keeping with the rest of the industry, reporting standards are constantly changing. The ability to report digital edition figures alongside print circulation has been a step forward for publishers."

ABC rules mean that digital edition of a magazine - downloaded to tablets or smartphones through Apple's app store and the Zinio platform - must have less than 5% editorial difference to the printed edition of the magazine.

Natmag Rodale's Men's Health title is the leading digital title, according to the ABC rules, registering 7,779 paid-for downloads in the six month period to the end of December, compared to 1,746 in the previous six-month period.

The Men's Health print title reported an average print circulation of 218,368 in the period, indicating that it is still early days for digital offshoots of magazines.

Future's T3 gadget title came in second, reporting 7,327 downloads in the period.

However, this figure only includes Zinio downloads as Future's interactive iPad edition is not included.
Future claims that an independent audit records 14,223 dowloads of the interactive iPad edition in the same period.

Its interactive edition - audited by independent auditors Bright Graeme Murray - is not similar enough to the magazine to be registered with ABC.

Big name magazine titles reporting digital figures for the first time include Hearst-owned Company (1,642 downloads), sister title Good Housekeeping (1,413) Conde Nast's Vanity Fair (2,504) and Future's Total Film (2,910).
Downloading and subscribing to digital editions of magazines has become easier for customers following the launch of Apple's Newsstand - which groups digital magazines and newspapers in one place - in October last year.

Zoe Bale, press planning direct at Carat, said against the background of the decline in the men's print titles it was good news that men were coming back into the market through digital editions.

"These are small [circulation] numbers," she said, "but they will increase, particularly after the launch of Apple Newsstand in October and strong Christmas tablet sales."
| | | |
| --- | --- | --- |
| Title | Publisher | Total Average Net Circulation (Digital Edition) |
| Men's Health | Natmag Rodale | 7,779 |
| T3 | Future Publishing Ltd | 7,327 |
| GQ | Conde Nast Publications Ltd | 5,731 |
| Cosmopolitan | Hearst Magazines UK | 5,675 |
| Men's Fitness | Dennis Publishing Limited | 3,987 |
| Esquire | Hearst Magazines UK | 3,745 |
| MacUser | Dennis Publishing Limited | 3,648 |
| Stuff | Haymarket Consumer Media | 3,630 |
| Wired | Conde Nast Publications Ltd | 3,190 |
| Total Film | Future Publishing Ltd | 2,910 |
| Harpers Bazaar | Hearst Magazines UK | 2,880 |
| Digital Camera Magazine | Future Publishing Ltd | 2,549 |
| Vanity Fair | Conde Nast Publications Ltd | 2,504 |
| Elle (U.K.) | Hearst Magazines UK | 2,443 |
| New Scientist - US/Canadian Sales | Reed Business Information Limited | 2,352 |
| Edge | Future Publishing Ltd | 2,183 |
| HELLO! | Hello! Ltd | 1,932 |
| Digital Photographer | Imagine Publishing | 1,829 |
| Company | Hearst Magazines UK | 1,642 |
| MacFormat | Future Publishing Ltd | 1,499 |
| Good Housekeeping | Hearst Magazines UK | 1,413 |
| Elle Decoration | Hearst Magazines UK | 1,053 |
| .NET - The Internet Magazine | Future Publishing Ltd | 1,035 |
| Country Living | Hearst Magazines UK | 1,025 |
| Runner's World | Natmag Rodale | 983 |
| What Hi-Fi Sound & Vision | Haymarket Consumer Media | 965 |
| Conde Nast Traveller | Conde Nast Publications Ltd | 930 |
| Glamour | Conde Nast Publications Ltd | 928 |
| Cycling Plus | Future Publishing Ltd | 923 |
| Autosport | Haymarket Consumer Media | 872 |
| Vogue | Conde Nast Publications Ltd | 818 |
| Photo Plus | Future Publishing Ltd | 742 |
| Computer Arts | Future Publishing Ltd | 725 |
| Yachting World | IPC Media Ltd | 721 |
| Four Four Two | Haymarket Consumer Media | 717 |
| SFX | Future Publishing Ltd | 689 |
| Autocar | Haymarket Consumer Media | 681 |
| Tatler | Conde Nast Publications Ltd | 680 |
| House & Garden | Conde Nast Publications Ltd | 659 |
| F1 Racing (UK Edition) | Haymarket Consumer Media | 652 |
| Practical Boat Owner | IPC Media Ltd | 641 |
| Mountain Biking UK | Future Publishing Ltd | 620 |
| World Of Interiors | Conde Nast Publications Ltd | 609 |
| Golf Monthly | IPC Media Ltd | 579 |
| Imagine FX | Future Publishing Ltd | 570 |
| What Mountain Bike | Future Publishing Ltd | 568 |
| Yachting Monthly | IPC Media Ltd | 554 |
| Gramophone | Haymarket Consumer Media | 525 |
| Fast Bikes | Future Publishing Ltd | 496 |
| Motor Boat & Yachting | IPC Media Ltd | 492 |
| Triathlon Plus | Future Publishing Ltd | 479 |
| 3D World | Future Publishing Ltd | 440 |
| PSM 3 | Future Publishing Ltd | 407 |
| World Soccer | IPC Media Ltd | 392 |
| PC Gamer | Future Publishing Ltd | 379 |
| Auto Express | Dennis Publishing Limited | 352 |
| Linux Format | Future Publishing Ltd | 288 |
| XBox World 360 | Future Publishing Ltd | 244 |
| Motorboats Monthly | IPC Media Ltd | 211 |
| Windows - The Official Magazine | Future Publishing Ltd | 164 |
| Rugby World | IPC Media Ltd | 146 |
| What Digital Camera | IPC Media Ltd | 138 |
| Times Higher Education | TSL Education Ltd | 134 |
| Easy Living | Conde Nast Publications Ltd | 119 |
| Amateur Photographer | IPC Media Ltd | 85 |
| The Field | IPC Media Ltd | 73 |
| Country Life | IPC Media Ltd | 71 |
| Classic & Sports Car | Haymarket Consumer Media | 68 |
| Conde Nast Brides | Conde Nast Publications Ltd | 44 |
| Practical Motorhome | Haymarket Consumer Media | 35 |
| Practical Caravan | Haymarket Consumer Media | 15 |
| Motorsport News | Haymarket Consumer Media | 5 |