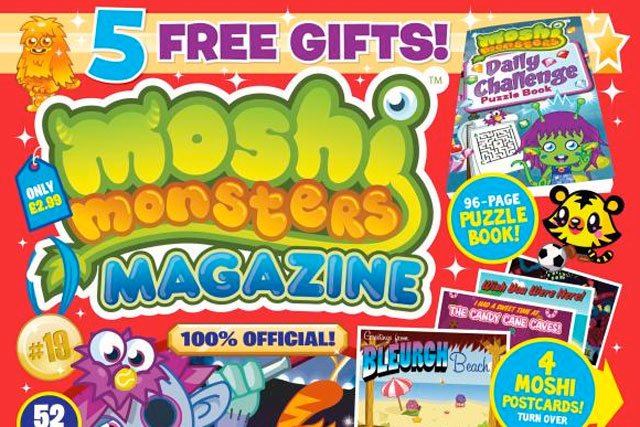 Moshi Monsters is an online game for boys and girls aged 6 to 12 that allowing them to choose a virtual pet monster and try challenges in the virtual world of Monstro City.

It has expanded into the real world with a series of products including toys, music, books, and Moshi Monsters Magazine, launched in February 2011.

The circulation of the £2.99 monthly has since grown to 227,958 copies, which is a blockbuster by the standards of pre-teen childrens' magazines and also higher than the biggest selling men's monthly, Men's Health.

The biggest-selling boys magazine, Ben 10, has a circulation of 58,529 copies, and the top girls' title, Sparkle World, stands at 78,816 copies.
Moshi Monsters Magazines' rise – the title is up 34.1% period on period – has been accompanied by the arrival of other magazines based on virtual worlds.

Bin Weevils, published by Egmont, has unveiled a debut ABC of 47,011 copies while Club Penguin, which is linked to the Disney-owned virtual world and published by Panini, also debuted with 49,100 copies.

Emma Munro-Smith, co-editor of Moshi Monsters Magazine, published by SkyJack Publishing, said: "It's a huge achievement and we're immensely proud given the challenging market. These latest figures show that if the content is appealing enough, kids will continue to engage with magazines."
The magazine has a policy of accepting advertising only from licensees of Mind Candy, the company behind Moshi Monsters, according to SkyJack chief executive Matt Yeo.
Other successes include Egmont's World of Cars, up 28.5% year on year to 40,505 copies, and Redan Publishing's Sparkle World, up 20.7% year on year to 78,816 copies.

Immediate Media's Girl Talk Art, a new launch, debuted with 59,000 copies, helping the girls' primary sector to increase by 22.5% overall to 347,494 copies.

However, some titles appear to be losing their audience with Egmont's Ben 10 down 17.8% to 58,529, Immediate Media's Doctor Who Adventures down 36.2% to 31,093, and Immediate's Girl Talk down 19.5% to 52,417 copies.
Title
Publisher
Jun End 2012
Prd / Prd % Change
Yr / Yr % Change

Pre-teen - general

Moshi Monsters Magazine
Skyjack Publishing

227,958
34.1%
N/A
First News
Newsbridge

62,903
24.8%
18.5%
Bin Weevils
Egmont Magazines UK
47,011
N/A
N/A

Primary - boys

Ben 10
Egmont Magazines UK
58,529
-9.5%
-17.8%
The Simpsons Comics
Titan Publishing Group

51,728
-19.3%
-20.3%
Toxic
Egmont Magazines UK
43,003
3.6%
6.2%
World of Cars
Egmont Magazines UK
40,505
-1.2%
28.5%
Simpsons Comics Presents
Titan Publishing Group

36,196
-11.9%
-19.1%
Doctor Who Adventures Magazine
Immediate Media Company
31,903
-34.2%
-36.2%
Spider-Man Magazine
Panini UK
28,612
6.7%
2.2%
Star Wars The Clone Wars Comic
Titan Publishing Group

25,067
N/A
N/A
Strike-It!
Panini UK
25,027
-4.9%
N/A
Primary - general
Club Penguin Magazine
Panini UK
49,100
N/A
N/A
All About Animals
Immediate Media Company
20,690
4.0%
-15.9%
Primary - girls
Sparkle World
Redan Publishing

78,816
18.1%
20.7%
Disney's Princess
Egmont Magazines UK
66,010
3.3%
4.4%
Girl Talk Art
Immediate Media Company
59,000
N/A
N/A
Barbie
Egmont Magazines UK
53,246
0.4%
0.4%
Girl Talk
Immediate Media Company
52,417
1.9%
-19.5%
Go Girl
Egmont Magazines UK
38,005
-7.5%
2.7%