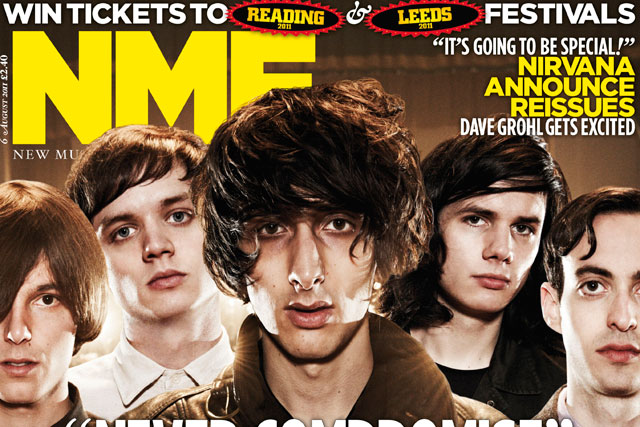 IPC Media's flagship music title suffered a 14.3% year-on-year fall in its average circulation to 29,020, according to new data from the Audit Bureau of Circulations (ABCs).
Despite appointing new editor Krissi Murison in 2009, and a relaunch last year, IPC has been unable to prevent its continuing decline to its lowest figure since the ABC started auditing its sales in 1954.
The NME's circulation is less than half its high of 76,792 five years ago and is now selling fewer copies than any other rock music title in the half-year period.
However, its publisher decided to highlight improvements in its digital reach than its falling print circulations.
Paul Cheal, NME publishing director, said: "Digital has expanded, and continues to expand NME's overall audience.
"We have started to leverage this reach with the magazine. NME was the first music magazine to use QR codes to direct readers to more exclusive content online.
"We are continuing to explore this exciting opportunity and will be unveiling further innovation in mid-September."
Two other leading music magazines also saw their circulation suffer a double-digit drop.
Average monthly circulation of Bauer's Q magazine dropped 10.1% year on year to 80,418 while a IPC title Uncut dropped 10.9% to 66,004.
Bauer's Mojo remained the biggest selling monthly music magazine, despite is circulation slipping 4.8% year on year to 87,262 and pushing it under the 90,000 mark.
Free title The Fly remained the most widely distributed magazine rock music magazine in the first half of the year with an average circulation of 100,386 – down 7.2% – while Kerrang weathered the decline in sales trend better than most with a year-on-year drop of just 2.2% to an average monthly circulation of 43,033.
A handful of new free entrants into the music sector caused the average overall monthly circulation to seem quite buoyant at 541,210 for the first half of the year – up 22.6% year on year.
Junko Partners Publishing's free The Stool Pigeon, Proper Music's free Propaganda and RWD's free DIY Magazine helped push up the overall figure.
Several titles in the sector, including BBC Music, Classic FM and Gramophone, were not featured on the ABC half-yearly report as their circulations are only assessed once a year in February.
Future title Metal Hammer and Classic Rock magazine were also absent after switching from six-monthly reporting to yearly.
Both of these magazines last reported their circulations in February and will again early next year.
The country's two leading film magazines, Future's Total Film and Bauer's Empire, both suffered drops in circulation.
Empire saw its average circulation drop 4.5% year on year to 171,013 in the first half of the year, while Total Film's circulation dropped 5.6% over the same period to 71,823.
Clair Porteous, group publisher for Future's film portfolio, said: "Total Film continues its commitment to developing must-read entertaining content across all platforms, growing its overall brand reach to over 1.48 million every month.
"Despite a challenging and highly competitive print sector, Total Film is leading the way online and in social media, establishing an incredibly valuable audience of engaged and influential 18- to 30-year-old film fans."