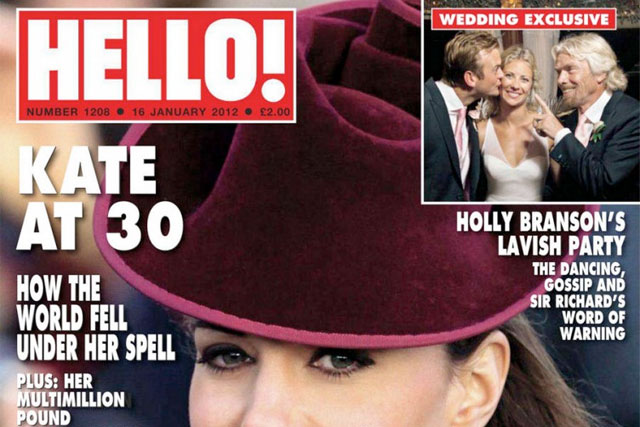 According to circulation figures published by the Audit Bureau of Circulations (ABCs) today, the Northern & Shell-owned OK! Magazine and Star title along with Hearst's Reveal posted circulation declines in excess of 20% year on year.

OK! Magazine's average circulation was 355,969 copies in the first six months of 2012, down 24.8% year on year, while its sister title Star's circulation was 288,533 copies, down 28.9% year on year.

Zoe Bale, head of press at Carat, said: "The Northern & Shell magazines have suffered from a lack of investment, and not having brand extensions. Also, readers aren't just after celebs - they want fashion or real life as well."
OK! Magazine's main rival Hello! is closing the gap on OK! and reported a circulation of 352,985 copies a week, although that was a decline of 14.6% year on year and 5.4% period on period.
Stan Myerson, group joint managing director, Northern & Shell, said: "The market continues to have its challenges but despite this, OK! Magazine has maintained its position as the UK's best selling glossy celebrity weekly, selling over 36% more copies than Hello! at the UK newsstand."

"It continues to be a tough trading environment for all magazines including the women's weekly magazines but by focusing on editorial excellence and excellent value for money, we have maintained our dominant market position and I am confident we will come through this challenging period in strong shape.

"Together with our other titles, New! - which maintains the UK's top selling celebrity weekly title - and Star, we continue to offer the largest platform in this marketplace."
Reveal posted an average weekly circulation of 233,186 between January and June 2012, making it the smallest circulation magazine in the sector and representing a decline of 25.1% year on year and 16.3% compared to the last six months of 2011.

Bauer Media's Closer was the only celebrity magazine to report a single, rather than double, circulation decline year on year. Its circulation was 430,918 a week in the first six months of 2012, down 6.3% year on year.

Heat reported a circulation of 290,003, down 11.2% year on year (the second smallest decline after sister magazine Closer) and 10.9% period on period.

Nicky Holt, publishing director of Heat and Closer at Bauer Media, said: "Readers are buying into the Closer brand, that's what's holding it up [against the market]. We've continued with our strategy of adding value.

"The market drop is not great for any of us; readers don't have as much money and so are buying fewer magazines. From both magazines' point of view you've got to try and have the best magazines possible."

Now, the IPC Media magazine, reported a circulation of 259,318 copies in the first half of 2012, down 16.1% year on year but a decrease of just 1.1% period on period (the smallest PoP decline in the sector).

Sandy Gale, publishing director, Now, said: "The sector remains highly competitive and the younger consumers of celebrity magazines are particularly hard pressed at the moment.

"Despite this Now grew its share of the market by 0.8%. We put this performance down to continued editorial innovation which creates a quality editorial mix of gossip and style that Now's readers crave."

Bale said: "Younger readers are getting their gossip on Twitter, Facebook and online so it does not mean they are not across the brand elsewhere. Publishers need to invest online, and particularly in mobile.

"The magazine circulations are getting smaller but other platforms are getting bigger. You can't really just look at the ABC figures in solus any more. The brands that do well will be the ones that invest in the future even if there isn't an immediate return."

Bale said although the long-term issue for the celebrity sector is the shift online, the year on year comparisons were made worse by the lift of the Royal Wedding last year.

"Without the wedding it's not so bad a picture," she said.
Title
Publisher
June end 2012

Prd/prd

change

Yr/yr

change

New!
Northern & Shell Magazines

439,326
-14.0%
-14.9%
Closer
Bauer Consumer Media
430,918
-7.7%
-6.3%
OK! Magazine
Northern & Shell

355,969
-8.4%
-24.8%
Hello!
Hello!

352,985
-5.4%
-14.6%
Heat
Bauer Consumer Media
290,003
-10.9%
-11.2%
Star
Northern & Shell

288,533
-19.8%
-28.9%
Now
IPC Media

259,318
-1.1%
-16.1%